Telecommunications network specialist Ciena Corp. (NASDAQ:CIEN) reported fourth quarter fiscal 2010 revenues and earnings per share (EPS) above the Zacks Consensus Estimate.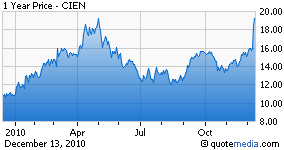 Adjusted loss per share of 22 cents (including stock based compensation expense but excluding one-time charges) was up from the year-ago quarter's loss of 12 cents per share. Earnings per share were better than the Zacks Consensus Estimate of a loss of 26 cents.
This was the second full quarter to include the operations of Nortel Networks' Metro Ethernet Networks (MEN) business, acquired on March 19, 2010. The quarter included $17.0 million in acquisition and integration-related expenses associated with the acquisition of the optical networking and carrier Ethernet assets of Nortel's MEN business.
Revenue
Total revenue of $417.6 million in the fourth quarter of 2010 was up 136.9% year over year from $176.3 million. Revenues increased 7.0% sequentially from $389.7 million. Total revenue includes $255.6 million (61.2% of total revenue) from the acquired MEN assets of Nortel Networks as of March 19, 2010. Revenues were above the Zacks Consensus Estimate of $404.0 million.
Revenues (including Nortel's contribution) in the reported quarter includes $341.4 million in product revenues (81.7% of total revenue) and $76.2 million in services revenues (18.3% of total revenue).
Sales to international customers represented 50.0% of total revenue in the quarter versus 41.0% in the previous quarter. This indicates that Ciena is gaining an increased international presence. The company had one 10.0% plus customers in the quarter, which accounted for 15.0% of total sales.
Margins
Adjusted gross profit leaped 130.4% year over year to $182.3 million in the fourth quarter mainly due to increased revenues. Gross margin came in at 43.7% as compared with 44.9% in the year-ago quarter due to a lower revenue base in the year-ago period.
Total operating expenses upped 117.4% year over year to $195.3 million in the quarter due to higher research, development and marketing expenses. Adjusted operating margin came in at -3.1%, an improvement from -6.1% in the year-ago period.
Balance Sheet & Cash Flow
Ciena exited the quarter with $688.7 million in cash and short-term investments, up from $470.0 million in the previous quarter.
The company used $25.8 million in cash from operations versus $130.0 million cash used in the previous quarter. This includes the effect of $27.8 million of cash spent on acquisition and integration-related costs and a $2.0 million for changes in working capital.
Guidance
Although Ciena enjoyed a recovery in customer activity and growing demand, it apprehends macroeconomic conditions to remain volatile. Ciena expects first quarter 2011 revenues to be in the range of $410.0 million to $430 million, in line with the Zacks Consensus Estimate of $418.0 million. Adjusted gross margin is projected to be in the low 40% range, consistent with the company's near-term expectation.
The company did not provide any earnings per share guidance; however, the current Zacks Consensus Estimate for the first quarter is pegged at a loss of 19 cents versus 21 cents in loss in the year-ago period.
We anticipate a recovery based on the favorable operational execution, new product line up, which will lead to a gradual improvement in results in 2011. However, near-term results are expected to remain under pressure due to increased expenses, slowdown in carrier spending, intensifying competition from Cisco Systems (NASDAQ:CSCO) and continued losses.
We have a long term Neutral recommendation on Ciena.
Ciena currently has a Zacks #4 Rank, implying a short term Sell rating, given near term pressure on the stock and a downward estimate revision.