Perhaps our best pick was SunPower (NASDAQ:SPWR) at $4.40 a couple of years ago. The shares have been on a tear, reaching more than $40 before earnings when we argued that some cooling off was in order (here, you have to scroll down a bit).
This duly happened, but it has gone a little further than we imagined on the Q2 results and a soft overall market. So we revisit to see whether there is much upside at these ($34) levels.
The first question is, did the Q2 results warrant the sell-off?
Non-GAAP revenue was $621M, a little soft with respect to Q2 2013 ($650M) and Q4 2014 ($683.7M)

GAAP revenue was $508M with net income $14.1M, in line with expectations, but again lower than Q2 2013 ($576.5M) and especially Q1 2014 ($692.4M)

2014 guidance wasn't changed

The pipeline is now a whopping 8 gigawatt (GW), up another 500MW for the quarter
GAAP gross margins did decline sequentially from 23.5% to 18.5%, but this is a one-off result from the timing of a financial recognition from an older project, so margins should be back up the next quarter

Non-GAAP gross margin was a healthy 19.5%

ASPs were stable in the quarter
You see that revenues have actually fallen and they missed by $2.44M, even if EPS came in 3 cents ahead at $0.28. Quarterly variation doesn't mean all that much as revenues and margins can be impacted by product and project mixes and the timing of revenue recognition.
For instance, when Vishal Shah from Deutsche bank asked about the soft margins in Asia Pacific region, CFO Boynton replied:
On the project side, we did develop a large-scale project in 2012 at a lower margin. So it's a mix issue. ASPs and margins, though, are strong and will revert to higher margins in the next few quarters. (Q2CC)
Competitive advantage
SunPower holds a few good cards in what is generally a near commodity industry:
Cell efficiency

Durability

Innovation

Total

Projects
Cell efficiency
One of SunPower's competitive strengths is that its solar cells are at the (commercial) top end of conversion efficiency. Here is CEO Wenger:
"Other manufacturers' cells," Wenger said, "are on average 16 percent efficient. We're 24 percent efficient. That means you need 50 percent less roof area for the same power output, 50 percent less steel, 50 percent less labor. On a per-unit basis, this is more expensive, but on an energy basis, it is not." (Greentechmedia)
The 24% Wenger mentioned is from the lab, its top commercial cell. The Maxeon cell produces 22.8%, which is still well ahead of most, if not all competitors.
The high efficiency of its cells allows SunPower some pricing premium and makes the panes a prime choice for space constrained situations like rooftops. The high cell efficiencies also give the company a leg up in certain foreign markets where space is at a premium, most notably Japan.
And SunPower isn't sitting still (and nor is the rest of the market, of course). The company is on track to achieve commercial cells with a 24.5% conversion efficiency (Q2CC) by 2016.
Durability
Here as well, SunPower has some unique features, like a rather unprecedented 25-year warranty:
SunPower "plowed through 3 million module-years of data, just like an insurance company," Wenger said. "We learned our product is not only a great performer, it's more reliable." The result is SunPower's offer of "a 25-year performance warranty and a 25-year product warranty," Wenger said. "For 25 years, if anything goes wrong with that panel that is a defect of our product of any kind, we will replace it at our cost. The industry standard for that piece is five to ten years." (Greentechmedia)
There is a lot of data on the durability in the investor presentation for last year's analyst day. For instance, SunPower has also worked with third party cells in projects, which are producing the following durability figures: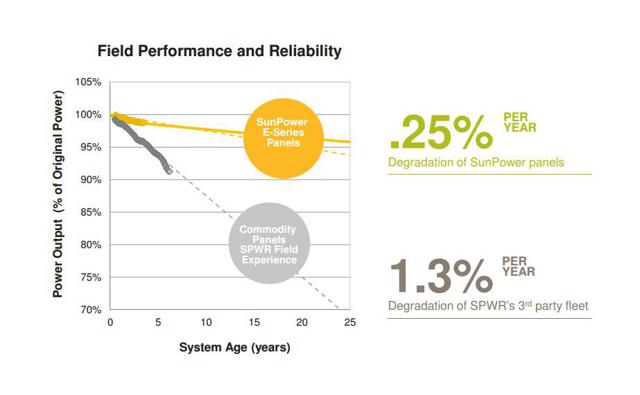 Click to enlarge
And if you're still not convinced, the next slide gives third party results (and a lot more).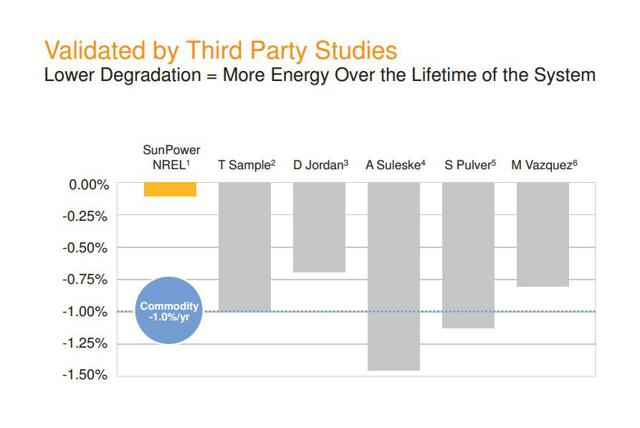 Click to enlarge
Innovation
SunPower also produced some noteworthy innovations, like its C7 tracker which:
... combines single-axis tracking technology with rows of parabolic mirrors, reflecting light onto 22.8 percent efficient SunPower Maxeon™ solar cells, which are the world's most efficient commercially available solar cells. Using mirrors to reduce the number of cells required to generate electricity lowers the LCOE by up to 20 percent compared to competing technologies. For example, a 400-megawatt C7 Tracker power plant requires less than 70 megawatts of SunPower solar cells. (worldfutureengeneeringsummit)
It's noteworthy that this C7 tracker is even getting traction in what should be the most difficult market for any American (or foreign) solar company, China, where SunPower engaged in a joint venture to produce and sell the C7.
During the Q2CC, CEO Wenger argued that the C7 experienced accelerated demand in excess of the 15MW of C7 cell receiver packages shipped in the quarter already. This success of SunPower in China, while still small, is significant nevertheless:
We're not aware of any other major US or foreign company selling solar cells in China - world markets are dominated by Chinese cell manufacturers.

China is the largest market for solar energy in the world by some margin, projected to install up to a whopping 14GW of new capacity this year alone.
There are other innovations enabling the company to position itself and escape the forces of commodification:
Oasis Power Blocks, these are standardized optimized for lowest LCOE, highest quality, and fastest construction. Basically, these are plant modules that can be flexibly configured and scaled.

Greenbotics, a technology acquired late last year that enables SunPower to automatically clean panels while reducing water needs by 90%.

SunPower Spectrum (acquired this quarter, so no in-house innovation as such), a recent DG project management and CRM software suite that simplifies the sales, installation and service processes for their dealers.
Total
Energy firm Total (NYSE:TOT) of France took a big stake in SunPower during the long solar energy winter when prices were falling hard and many companies struggled to survive. This has been a beneficial partnership, not only for the financial support, but also helping SunPower to globalize.
Projects
The solar energy market is notoriously cyclical. There is a general strong downward trend in pricing due to all kinds of economies (cell efficiency, using less materials, economies of scale, efficiency improvements, innovative breakthroughs, etc.).
However, the balance between supply (production capacity) and demand has a habit of getting out of whack, producing a glut in panels and a period of rationalization, reduced capacity formation and bankruptcies. We just went through one of the worst of such periods.
In order to produce more stable and predictable demand and generate higher margins, solar companies have increasingly moved to projects. This, to quote the analyst day presentation from last year, shifts the value proposition from dollar per watt to cents per kilowatt hour (kWh).
There are basically two kind of projects:
Utility scale: big arrays of solar panels on dedicated terrain used to generate electricity just like any other power plant. These can be owned by utilities, by the solar company themselves, or jointly.

Distributed projects in which residential or commercial customers buy or lease panels and put excess electricity back to the grid.
SunPower, once again by virtue of its high efficiency cells, should have a competitive advantage in these distributed projects and this is indeed what Trefis argues:
We believe that the distributed solar business could provide a lot of growth potential for SunPower going forward considering the improving economics of rooftop solar, the availability of better financing options and the possibility of higher retail electricity prices which could make solar installations more compelling for customers of electric utilities. SunPower has a competitive advantage in the distributed solar market since its monocrystalline panels have a higher conversion efficiency and a smaller size (system capacity being equal), making them ideal for rooftops and space-constrained commercial installations.
SunPower is a fairly new player in this space but we see from the success of the likes of SolarCity (NASDAQ:SCTY) what kind of opportunities this segment holds. Added revenues are generated by stuff like:
Designing projects to create the lowest levelized cost of electricity (LCOE)

Lower balance of system (BOS) cost (consisting of the design, construction, mounting, inverters, etc.)

Incorporate adjacent solutions (e.g. energy management, storage)

Manage projects themselves (entirely or partly)
Holdco Projects
This strategy was first announced during the Q1 conference call. It's a strategy aimed at alternative financing in order to reduce capital outlays and increase NPV of projects. The holding company contains more than 500MW in projects (residential, commercial and utility) already.
It provides the option to:
to hold assets, sell them individually to strategic buyers or other yield vehicles or sell equity of a holdco to the public, whichever maximizes the benefit to SunPower shareholders... Additionally, we also have the option to take it a step further and decide to sell the project to our own yield co, further improving NPV. (Q1CC)
During the last (Q2) CC, the company added the possibility to use complex financing instruments like asset-backed securities. The Q1 CC gave an illustrative example:
This is a simple example of how our holdco strategy is expected to positively impact Power Plant project NPV. As shown on the slide, selling at COD with the SunPower advantage increases the value between 30% and 60%. Let me put that in real terms. When we sell a project at COD, as we did with our projects in Israel and Italy, we're able to generate more than $2 per watt in margin. We feel this value is, on average, indicative of what we expect for self-developed projects going forward.
In the Q&A session of the Q1CC it became clear that the holdco strategy could actually impact profits in the short term. Deutsche Bank analyst Shah wanted to know whether the raise of "just" 10 cents in profit guidance for Q2 was the result:
Is that just the holdco, yield co strategy, that you're holding more projects on your balance sheet and not recognizing earnings?
Basically, CEO Werner confirmed this. So this strategy is likely to underreport earnings in the short term and improving them longer term, something to keep in mind while valuating the shares. In the Q1CC, the company also argued that EPS in 2015 could rise by 50%.
When Patrick Jobin from Credit Suisse asked about that during the Q2CC, CEO Werner answered:
We did say that and we said also that it depended on our yield co -- holdco/yield co strategy. Since we made that comment, we've put another 100 megawatts into our holdco. And so the decision we made for this call is, rather than you give broad guidance with caveats, we would cover it at our Analyst Day. By then, we will have a clearer picture on holdco. So it's really the evolving picture of holdco that influences our comments and nothing else. So 2015 still looks very strong. And it still is a question of how we execute on our holdco strategy, and again, we'll cover that significantly in our Analyst Day.
Opportunities
Trade war

Market growth

Tight supply/demand balance

Projects including storage
The US has imposed steep tariffs on Chinese solar companies and closed a loophole as many of these circumvented earlier sanctions by using Taiwanese exports. This has produced some mild support for ASPs in the US and might have increased sales to some extent, but whether these sanctions remain is very much the question and their impact has been marginal, according to the company.
After the big price falls in the last four or five years, solar energy has become much more competitive, which is why you see strong growth almost everywhere, especially in countries which have domestic energy problems like China and Japan.
These countries are the biggest and some of the fastest-growing solar markets in the world. SunPower, unique for a foreign company, has a toehold in the Chinese market and Japanese shipments constituted a whopping 26% of shipment in Q2, achieving 10% of the Japanese market, which helped with its partnership with Toshiba.
For Japan, solar obviously has priority over wind power. 6.7 GW of solar capacity was approved in Japan for the feed-in-tariff (FIT) scheme in 2013. Almost half of this was utility-scale solar. This year, Japan is even expected to install over 10 GW of solar power, with more than half of this being utility-scale solar. (Cleantechnica)
We have covered market developments more extensively in an earlier article. From that article, you'll also take away the conclusion that the supply/demand balance is remaining rather tight. This isn't terribly difficult to explain.
After years of steep falls in ASPs, the industry reacted by restructuring, bankruptcies and postponing the addition of new capacity, all the while demand kept on growing strongly (mostly as a result of the steep ASP declines).
This situation has brought the industry more into balance, as is witnessed by stable ASPs. Since demand is still growing briskly and capacity additions take time to materialize, we expect this situation to remain (which is also what SunPower argued during the CC, by the way).
A new opportunity, adding more value to projects and possibly enabling SunPower to appropriate part of that, would be to add energy storage to projects. One of the main disadvantages of solar energy is that it is intermittent, although in hot places with lots of sunshine this disadvantage can also be an advantage, producing cheap energy when air conditioners are blasting full capacity.
Adding storage would reduce, possibly even eliminate the main disadvantage of solar (but also wind) energy. SunPower is already working on this, per the Q1CC:
We are adding energy management and storage functionality to our DG offers and are actively piloting these systems in several markets.
During the Q2CC, more color was added:
SunPower now offers solar systems with KB in more than 150 new home communities and plan to expand our storage program to other KB communities this year. In Australia, our residential storage pilot is going well, and we expect to expand storage to the commercial channel in this market next year. Also, we would like to announce that we have been selected among multiple industry-leading global automotive companies as their exclusive solar provider to its U.S. customers.
The cost of energy storage still puts this at a market disadvantage though and we expect this to remain for some time to come.
Risks
Capacity utilization and the need for Capex

Panel glut and falling ASPs
Capacity utilization
Capacity utilization was essentially 100% in the quarter, inventories were down again (third quarter in a row) and there is a growing backlog of orders and projects, the latter reaching a whopping 8GW. This is, of course, good news, but in one aspect it isn't.
The company has to build new capacity as it simply can't increase sales from these levels without building more production capacity.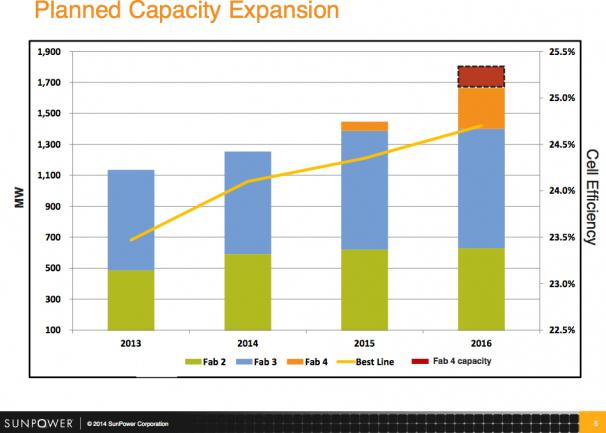 We have already argued that there is little risk for any panel glut as we witnessed in previous years, and moving a bigger slice of its sales into projects further reduces the impact of this risk.
Balance sheet
The company ended the quarter with $1B in cash and a further $200M in short-term securities
Part of this is the result of a 7-year $400M convertible bond offering with a coupon of just 0.875% and a 42.5% premium
So financially the company is in pretty good shape and has plenty of options to finance the required capex.
Conclusion
We think that the sell-off in the shares has gone a little too far and we think this company remains very well positioned to profit from the continued growth in solar energy, backed by significant competitive advantages, interesting innovations and imaginative project management and constructions.
It's likely that EPS will rise strongly in 2015, in the order of 50%, although it remains possible that this will be partly masked by the holdco strategy. But this sets the company up for even better improvements down the road so we're not worried about that, quite the contrary.
Disclosure: The author is long SPWR. The author wrote this article themselves, and it expresses their own opinions. The author is not receiving compensation for it (other than from Seeking Alpha). The author has no business relationship with any company whose stock is mentioned in this article.