Sirius XM Holdings Inc. (NASDAQ:SIRI) is a broadcasting company with a strong competitive position that is capable of growing more quickly in the next four to five years. There are many bright spots in the company that will deliver strong earnings growth and make the company an undervalued stock with good enough upside potential for long-term investors. The stock has showed quite volatile movement in the last twelve months in response to various factors. Currently it is trading at $3.35 and has a 52-week high of $4.18 and a 52-week low of $2.98. In the last twelve months, this stock has fallen 12.79% and is underperforming the S&P 500. However, keeping in mind the recent impressive performance and target price, this is a good time to enter the stock.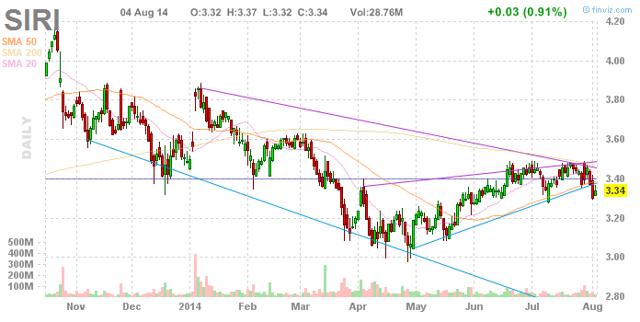 Source: Finviz
Sirius Continues To Impress
Sirius' revenue stream has been growing consistently over a decade. Its revenues grew at a CAGR of around 11% in the last five years, which reflects its strong and loyal subscriber base. In the latest second quarter of 2014 Sirius impressed investors when it generated $1.035 billion in revenues, reflecting an increase of 10% from the $940 million it reported in the second quarter of 2013. The revenue growth was clearly due to the healthy increase in subscriber base. Sirius' subscriber base topped 26.3 million with 475,472 net additions during the quarter and more than 1.2 million over the past year.
Sirius struggled with its operating expenses and could not effectively manage the expense hike. Despite the double-digit top-line growth, the bottom-line growth remained limited to lower single-digits. The per-tax income of $207 million reflected an increase of 2.5% from $202 million in the second quarter of 2013. The increase in expenses mostly came from higher revenue share and royalty payments but marketing, customer service and general and administrative costs also outpaced revenue and subscriber growth.
The company's gross margin is rather high at 60.86%. Despite the mixed results of the gross profit margin, the net profit margin of 9.42% trails the industry average. With $1.035 billion revenues, Sirius reported earnings of 2 cents per diluted share, in-line with analysts' estimates.
Convincing Strengths of Sirius
The financial strength of Sirius is one of the reasons to invest in this stock. The company's strength can be seen in multiple areas, such as its revenue growth, good cash flow from operations, expanding profit margins and strong EBITDA margins. Its adjusted EBITDA climbed from 31% in the second quarter to $370 million. The company's adjusted EBITDA margin reached a record 35.7% in the second quarter of 2014, up approximately 570 basis points from the figure reported in the second quarter of 2013.
Net operating cash flow has increased to $251.39 million or 48.82% when compared to the figure reported in the same quarter last year. The firm also exceeded the industry average cash flow growth rate of 2.76%. As a result, the free cash flows in the second quarter of 2014 reached $335 million, up 42% from $237 million in the second quarter of 2013.
Sirius appears to be an investor-friendly company. Considering its financial strengths and ability to reward its investors, Sirius launched a capital return program in 2012. Through this program, Sirius returned around $3.75 billion to investors in less than two years. In the second quarter the free cash flows per diluted share increased 47% from 3.7 cents to 5.4 cents in the second quarter of 2013. Sirius added another $2 billion worth of bought shares to its program to return these free cash flows to investors. Despite these buybacks, Sirius still has sufficient capital capacity to continue making long-term investments in research and development and overall operations. All of these investments can be made while capitalizing on the future strategic opportunities to fuel its bottom line.
Strong Outlook
Sirius reaffirmed its 2014 guidance for net subscriber additions and increased its guidance for revenue, adjusted EBITDA and free cash flows. Now it expects net subscriber additions of around 1.25 million, which may result in $4.1 billion in revenues. The continuous growth in EBITDA margins will result in $1.425 billion EBITDA and furthermore $1.1 billion in free cash flows.
The industry dynamics may help Sirius to achieve its short-term and long-term targets. The increase in connected cars with Sirius radio will be the long-term growth driver for Sirius. Sirius has an agreement with major automakers so the continued rebound in U.S. auto sales is helping the company expand its already impressive subscriber base. Sirius expects the number of new cars sold with satellite radio to reach 11 million this year, up from 10.7 million in 2013. Powered by the auto-sale rebound, Sirius projects the number of new cars sold with satellite radios will double in the next five years.
The gross subscriber additions suffered in the first quarter due to moderate growth in new car sales. But it picked up pace in the second quarter as the new vehicle market performed better. In the future, it is most likely that the subscriber base will continue to grow. However, the current number of disconnections have gone up with the rising number of subscribers, resulting in a fairly stable monthly churn rate. In the second quarter of 2014, its monthly churn rate was ten basis points higher compared to the second quarter of 2013. It may impact the company's top-line growth but these numbers are not significant and Sirius should not be worried because of its rapidly growing subscriber base.
However, the long-term opportunity may lie in putting Sirius' radios in more used cars. Sirius radios are in about 26% of cars on the road, which equates to around 62 million cars. The company estimates that the total will double to 120 million cars in the next five years.
Despite favorable dynamics, Sirius may face stiff competition from Apple (NASDAQ:AAPL) and Amazon (NASDAQ:AMZN). The growing competition will restrict the top-line and bottom-line growth at a time when Sirius is already facing bottom-line growth challenge. On the contrary, Apple is trying hard to improve its radio services and for this purpose, it recently acquired Sewll, which specializes in podcasts. Apple also is adding popular channels to its iTunes Radio. By focusing more on music, Apple is attempting to grab more subscribers. Another concern for Sirius is that increasing royalty costs will hurt earnings growth. On one side, stiff competition will restrict subscriber growth while on the other side increasing costs will put pressure on the bottom line. Sirius needs to address these issues in order to remain on its growth track.
Conclusion
Sirius' shares are currently trading at a forward price to earnings multiple of 30.09 times reflecting a discount compared to its historical average. Pandora Media Inc. (NYSE:P), an internet radio and music streaming company and Sirius' closest competitor, is trading at a forward price to earnings multiple of 48.75 times and this makes Sirius a comparatively inexpensive stock. In the last three months, Sirius has gained 3.4% beating Pandora, which gained 2.3% over the same period. Sirius' average analyst target price is $4.32 which gives rise to an upside potential of around 29% to its current price.
Disclosure: The author has no positions in any stocks mentioned, and no plans to initiate any positions within the next 72 hours.
Business relationship disclosure: The article has been written by a Gemstone Equity Research research analyst. Gemstone Equity Research is not receiving compensation for it (other than from Seeking Alpha). Gemstone Equity Research has no business relationship with any company whose stock is mentioned in this article.