The rivalry between Google (GOOG) (NASDAQ:GOOGL) and Amazon.com (NASDAQ:AMZN) started when Google began to scan and digitize books about a decade ago, and has accelerated as each company tries to compete in the other's main domains. Arguably, competition is healthy and Amazon.com's own efforts to digitize books and sell e-books on Kindle may well have been reactionary to the threat that Google posed. Since then, the rivalry between these two e-giants has accelerated as Google encroaches into e-commerce and cloud computing and Amazon.com encroaches into selling hardware that competes against Android devices (while using a modified version of Android itself) and into online advertising.
Amazon.com Is The Reigning Champ Of Cloud Computing... For Now
Amazon.com's expertise lies in e-commerce whereas Google's expertise lies in online search and advertising associated with that. Both companies overlap in areas of cloud computing and hardware for mobile devices. Amazon Web Services was the first platform for cloud computing, whereas Google entered this arena only about a year ago. Amazon.com has a commanding market share in cloud computing, but its competitors have much faster growth rates.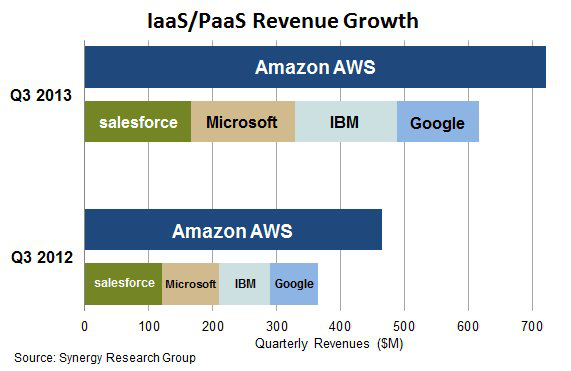 Source: BusinessInsider.com
In order to stay ahead of its competitors, Amazon.com is slashing prices for customers of Amazon Web Services. This in turn is substantially hurting profit margins and is thought to be the main reason why Amazon.com reported a worse than expected loss last quarter. Competition is clearly hurting profits at Amazon.com. However, Amazon Web Services grew revenues by 47% last quarter from a year ago. Amazon.com's strategy of sacrificing profits for revenues seems to be working, but a full fetched price war with competitors like Microsoft (NASDAQ:MSFT), IBM (NYSE:IBM) and Google that have such deep pockets will surely hurt it in the long run.
Amazon.com Has Competitive Device Hardware But Limited Software
In another instance of senseless rivalry, Amazon.com offers mobile devices loaded with a modified version of Google's open-source Android software that directly competes with other Android devices including those offered by Google. Amazon.com insists on a modified Android interface so that it has full control of the Amazon-centric ecosystem it can offer consumers. However, the drawback is that Amazon offers about 10-fold fewer apps than Google (149,000 apps for Amazon vs. 1,201,000 apps for Google).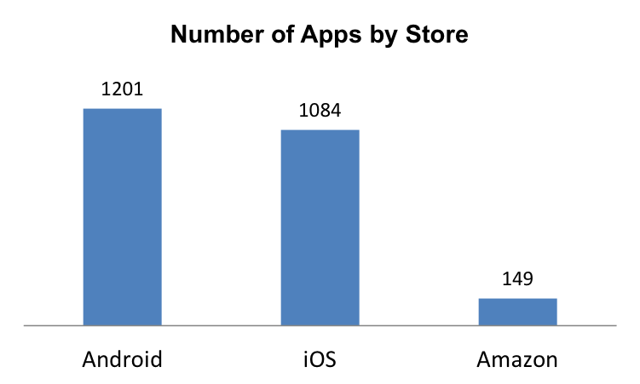 Number of apps in 1000s; Source: App Annie.
Many notable apps like Gmail, YouTube, Google Maps, Dropbox, and popular browsers are missing from Amazon.com's app store. With the excellent hardware, competitive prices, and unique offerings like "Mayday" (a video help feature for customers), Amazon.com should be doing very well. Instead, its market share in tablets has decreased from 6.6% in 2012 to 4.8% last year. In the same period, market share for Android tablets has soared from 45% to about 60%, which paints a grimmer view of Amazon.com's tablets.
If Amazon.com had kept the popular Android operating system in its native format with additional apps loaded onto it to allow for consumption of its own ecosystem, then perhaps its devices may be more popular. As it stands, Amazon.com is selling its tablet devices at cost and this is hurting profit margins. On the other hand, customers buying Amazon.com's devices are likely to also be avid consumers of Amazon.com's ecosystem due to the lack of any alternatives.
Google's Shipping Express Is A Novel Alternative to Amazon.com
Google just announced a partnership with Barnes & Noble (NYSE:BKS) for same-day delivery of books in select cities from local Barnes & Noble stores via Google Shopping Express. Instead of storing inventory in large warehouses, which is a big expense for Amazon.com, Google uses a fleet of couriers to collect ordered goods from local stores and deliver them within 3-4 hours. This express shipping is free for members for 6 months (subscription cost after 6 months has not yet been announced) and costs just $4.99 per delivery for non-members. The service is available for products from 18 other retailers including Costco (NASDAQ:COST), Whole Foods (NASDAQ:WFM), Walgreens (WAG), Staples (NASDAQ:SPLS), and Target (NYSE:TGT) (see below for all brands).

Source: Google.com
Retailers that are threatened by the additional convenience that Amazon.com can offer via same-day or next-day shipping can now turn to Google as a powerful partner against Amazon.com. For instance, Amazon.com's recent foray into delivering groceries via AmazonFresh had many grocery retailers scrambling to partner up with Google in order to be able to offer similar convenience. It is possible that Google with snatch some of Amazon.com's customers, especially those who search for the products on Google's search engine as Google places its own search results on top of those of competitors. However, since e-commerce only accounts for about 6% of all retail sales, there is still plenty of room to grow for both companies without stepping on each other's toes.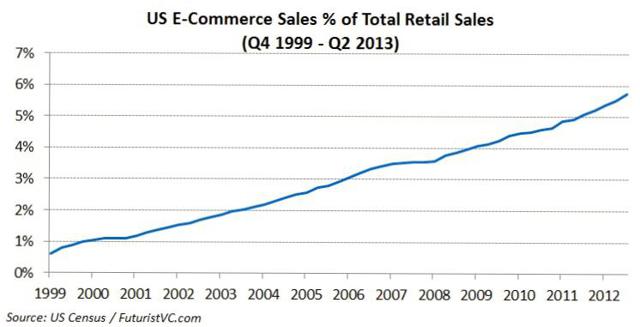 Amazon.com Is A Small But Relevant Threat In Online Advertising
Google is estimated to have a 33% global share of the $117 billion digital advertising market. Amazon.com entered the online advertising market in 2011 but its U.S. revenues are expected to quadruple by 2015, while Google's U.S. ad revenues will only increase a projected 1.5X in the same period. While the growth rate is impressive, Amazon.com's U.S. revenues are only about 5% that of Google.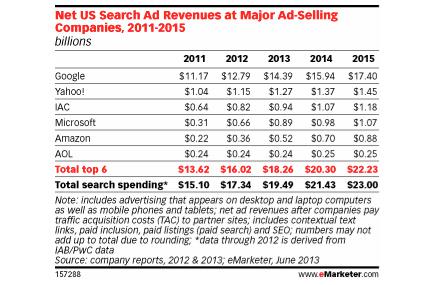 Source: Inma.org
Will The Rivalry Pay Off Between Amazon.com and Google?
It is puzzling that with so much market share up for grabs in their respective markets of e-commerce and online search, Amazon.com and Google choose to encroach on each other's area of expertise instead of focusing on increasing market share within their own area of expertise. Amazon.com's entry into tablet and smartphone hardware was ultimately an attempt to increase its e-commerce dominance by providing its own ecosystem for consumers. However, it may have strayed too far out of its own domain by venturing into content production. In addition, it has handicapped itself by not offering Google's popular App marketplace as it instead offers a heavily customized version of Google's Android operating system with its own much smaller App marketplace. Building rather than burning its bridge to Google may have allowed it to offer excellent hardware at a very competitive price on the native Android operating system and with Google's large App marketplace but also with its own Apps that allow users to access content and to shop at Amazon.com. In this instance, rivalry may hinder Amazon.com's ability to gain market share of tablets and smartphones.
Similarly, Google has ventured into e-commerce. While this is a business that may offer good growth potential for Google, as Amazon.com has shown, it has a low profit margin that is likely to eat into Google's stellar profit margins of over 20%. Google has about $60 billion in cash and can afford to experiment with new revenue streams, but expansion into high profit businesses may make more sense. Again, this is an instance when competition is unnecessary.
Competition is warranted when a lucrative business model ripe for competition is present. Both cloud computing and online advertising are high profit margin businesses that Amazon.com and Google are respectively dominant within, but in which there is plenty of room for competitors. Profit margins in cloud computing are estimated at 80% for Amazon.com. Since the foray of Google, Microsoft and IBM into cloud computing, an ensuing price war has eroded some of the profit margins for all companies but it is still a high-growth, high-margin business. Similarly, online advertising is a relatively new venture for Amazon.com that has high margins, which the company sorely needs in order to offset other low margin ventures like tablets and content production. In contrast to Google, which displays relevant advertising embedded into search results, Amazon.com is able to leverage a customer's ordering history and wish list to display relevant advertising. Amazon.com's venture into online advertising has been a measured one in order to protect the privacy of its users, but clearly there is much room yet to grow as it just begins to tap into the large treasure trove of user shopping trends that it has on in hands.
If Erring is Human, Who Is More Human Between Google and Amazon.com?
Competition is neither black nor white and similarly, the rivalry between Amazon.com and Google is neither always harmful nor always helpful. At its best, competition can spur companies to innovate faster and offer more to customers over time. In the earlier example, Google's entry into the digitization of books likely initiated Amazon.com's own interests into e-books and the Kindle. Competition also is justifiable when a lucrative business model exists that can easily accommodate new competitive entrants as is the case for cloud computing and online advertising.
Competition is unnecessary when there is more to be lost than gained from the rivalry as is the case with Amazon.com's entry into mobile device hardware and Google's entry into e-commerce, both of which are low-margin businesses. At least Amazon.com's foray into hardware has the saving grace of leading to more e-commerce for the company. In contrast, Google's foray into e-commerce may gain traction and in doing so may further cement its position as the king of all things online. However, it will be an expensive fight that will eat into its margins and will not help its online search business. Hence, Amazon.com has lots to gain by eating Google's cake in online advertising, but Google has less to gain by eating Amazon.com's cake in e-commerce.
After establishing a long position in Amazon.com following its recently disappointing earnings report, I am happy to see that Amazon.com is continuing to make progress in businesses with healthy margins like online advertising and more recently in offering local services from third-party providers as it continues to experiment with low-margin businesses like hardware and content production.
Disclosure: The author is long AMZN. The author wrote this article themselves, and it expresses their own opinions. The author is not receiving compensation for it (other than from Seeking Alpha). The author has no business relationship with any company whose stock is mentioned in this article.