The State Of 3D Printing
To many people, 3D printing seems like an over-hyped, impractical industry. I mean the idea of having a 3D printer in the kitchen sure does sound cool, but the novelty must wear off quickly. Well unfortunately for those who were looking forward to showing off to friends, 3D printing is largely targeted toward industry, not the consumer (yet).
Currently 3D printing is utilized in industries such as aerospace, automotive, consumer products, dental and medical. In a recent report, PriceWaterhouseCoopers found that 66.7% of surveyed manufacturers have already adopted 3D printing in some capacity, 24.7% plan to eventually adopt 3D printing, and 8.6% have no plans to adopt the technology. As for where the market is headed, there have been various estimates as to the industry's growth over the coming years. A recent Calanys report estimates the overall industry to grow at an average 45.7% annually through 2018, which would push the market value up to $16.2 billion. Of that, 3D printer revenue is expected to make up only $5.4 billion. The remaining $10.8 billion lies within the services and materials segment.
Even though all of this industry information is absolutely fascinating, I'm sure many of you are asking, "but how can I make money?" Don't worry, I'm not suggesting you go out there and establish your own 3D printing company. That sounds like a lot of stress and a lot of work, so let's just let our money do the work for us.
Strata-who?
Based out of Eden Prairie, Minnesota (if you've never heard of it, you're not alone), there's a company called Stratasys Ltd. (NASDAQ:SSYS). I'm sure many of those privy to the stock market have at least limited familiarity with the company, but many on Main Street will sputter the name incorrectly until you tell them not to worry about it (I've had plenty of experience with this when discussing my portfolio with friends). For now, the company is far from a household name - but I'm sure that will eventually change.
By market share, Stratasys is one of the largest companies in the 3D printing space, just behind 3D Systems Corporation (NYSE:DDD). They hold 18.4% and 19.5%, respectively.
Why Stratasys?
While there are several decent 3D printing plays out on the market, Stratasys is one of the fastest growing. First we'll look at revenue growth.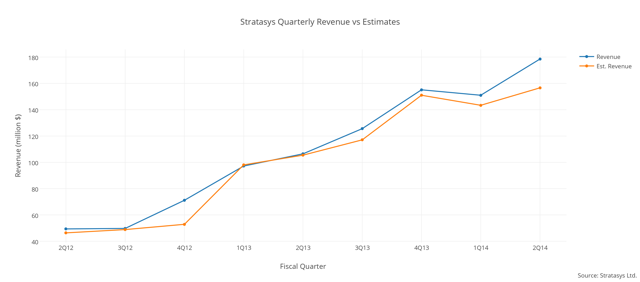 As you can see, Stratasys has had stellar revenue growth over the past two years, coming in at or above analyst estimates for every quarter. In its most recent quarter, the company posted total year-over-year revenue growth of 67% and organic revenue growth of 35%. In comparison, 3D Systems' second quarter growth rates came in at 25% and 10%, respectively. Of the $178.5 million that Stratasys posted in revenue, $33.6 million came from MakerBot, the company's consumer oriented subsidiary, which Stratasys acquired in 2013 for $403 million. This $33.6 million in revenue represents quarter-over-quarter growth of 63%. To make a stellar quarter even better, management raised its full year revenue estimates from $660-680 million to $750-770 million - that's an increase of over 13%.
Even though earnings are much less important for growth oriented companies, Stratasys has still shown solid non-GAAP EPS growth.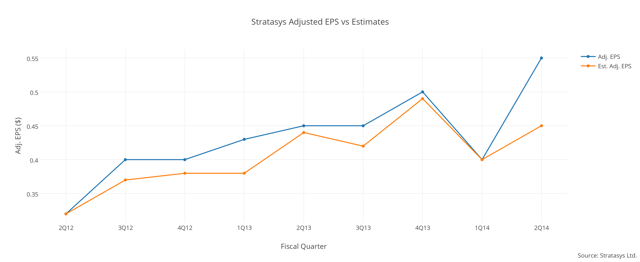 Again, the company has come in at or above analyst estimates every quarter, and has shown strong year-over-year growth for most quarters. For the current year, management raised EPS targets from $2.15-2.25 to $2.25-2.35.
Valuation
Despite these mouth watering growth rates, Stratasys still trades at high valuations, but compared to its peer group these valuations are quite palatable. Below we'll do a quick comparison between Stratasys, 3D Systems and The ExOne Company (NASDAQ:XONE).
| | | | |
| --- | --- | --- | --- |
| | Stratasys | 3D Systems | ExOne Company |
| Market Cap. ($) | 5.65 billion | 5.33 billion | 439.61 million |
| Forward P/E | 36.90 | 42.54 | 253.67 |
| PEG | 2.49 | 2.79 | -2.81 |
| P/S | 9.21 | 9.05 | 11.89 |
| P/B | 2.23 | 4.16 | 3.25 |
| EV/EBITDA | 61.45 | 47.56 | -53.98 |
With the entire industry trading at such lofty valuations, Stratasys, relatively speaking, seems to be pretty cheap. While it will certainly take some time for these companies to grow into their valuations, the expected rapid growth of the 3D printing industry should help accelerate the process.
Going Forward
It's certainly hard to predict what will happen over the next few years, but we can at least try to come up with a ballpark number (and a very rough one) of what Stratasys could be trading at in 2018.
As stated earlier, Stratasys holds 18.4% of 3D printing market share. And, as stated earlier, the 3D printing market value is expected to grow to over $16 billion in 2018.
Now, to come up with an estimate, we'll be making a few ceteris paribus assumptions: 1) Stratasys holds a 15% market share by 2018. 2) The market value of the 3D printing industry reaches $12 billion in 2018. 3) Shares outstanding remains constant. 4) Stratasys trades at a P/S multiple of 7.5x. Making all of the above assumptions, we come up quite an impressive number: $273. That would be a total return of 139%, or a four year compound average growth rate of 24.4%. Now this would be wonderful, and yet that certainly paints a rosy picture. What will the actual size of the 3D printing market be in 2018? How will the competitive environment affect Stratasys' market share? We'll have to wait and see.
Risks
As with investing in any high growth company, especially one so dependent upon technological advancements, there are several risks that come with investing in Stratasys. Firstly, as noted above, the company's valuation prices very high expectations into the stock. If, for one reason or another, the company is unable to sustain those expectations, you can be sure a correction in the stock price will take place. Things that might cause a correction include decelerating sales growth, increased competition, intellectual property matters, etc. Speaking of IP matters, Stratasys depends heavily on its patent portfolio to fend off competition. Should these patents be undermined, you can expect Stratasys' competition to reap the benefits. Most importantly, the largest risk associated with investing in Stratasys leads back to the health of the overall 3D printing market. By investing in Stratasys, you are essentially investing in 3D printing - you believe in the technology and its enormous potential. Any hiccups in the growth of 3D printer adoption would surely impact Stratasys.
Conclusion
There are a lot of variables involved in the 3D printing space: intellectual property, technological advancements, market share shifts, etc. But if you are a believer in the technology, and you think that 3D printing is here to stay and grow, then there is no better way to play the revolution - Stratasys is the way to go.
Disclosure: The author is long SSYS. The author wrote this article themselves, and it expresses their own opinions. The author is not receiving compensation for it (other than from Seeking Alpha). The author has no business relationship with any company whose stock is mentioned in this article.