Overview
Currently, HCP (NYSE:HCP), AT&T (NYSE:T), and Consolidated Edison (NYSE:ED) are the top three highest yielding Dividend Aristocrats with yields of approximately 5.30%, 5.20%, and 4.40%.
Besides their high yields, these three stocks have something else in common that you might not expect. Each of the three stocks has displayed negative price returns over the past two years (a time period in which the S&P 500 has increased by nearly 40%).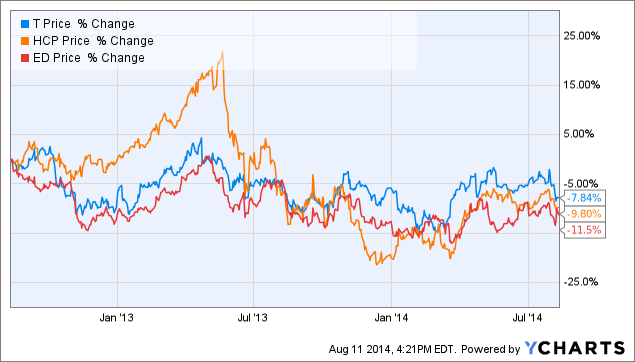 T data by YCharts
In fact, even when dividends are included in the total price return, only AT&T manages a small positive return of 1.99% over the past two years.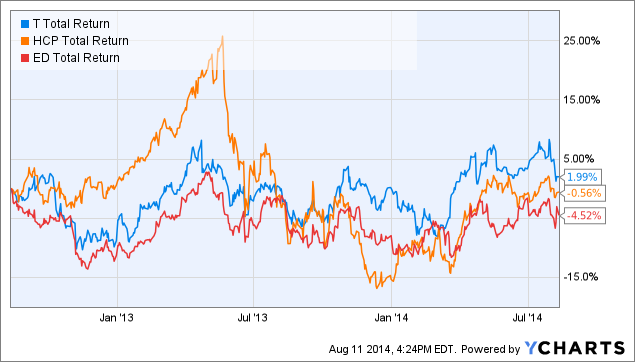 T Total Return Price data by YCharts
What Does This Mean?
Looking at the past stock performance of these three companies over the past 1 year, 2 years, 3 years, 5 years, and 10 years, not one of them has performed better than the S&P in general over those time periods. And I have a hard time believing that this is going to change anytime soon.
Looking at the chart below, you can see that both Consolidated Edison and AT&T have displayed slow revenue growth over the past two years.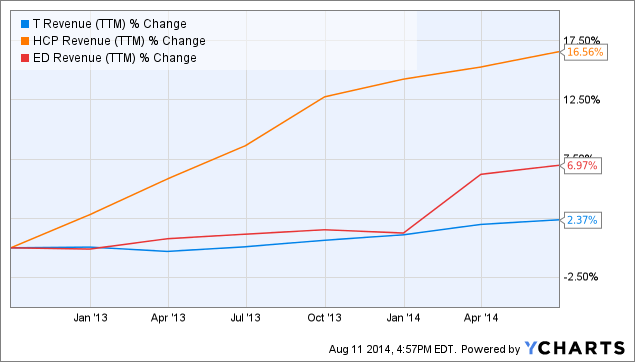 T Revenue (TTM) data by YCharts
I believe that this slow growth is one of the main factors affecting the poor stock performance of these stocks. HCP, on the other hand, has seen fairly significant revenue growth during this time period. I believe that industry factors (including rate changes) and a transition in the management team (mainly the CEO) have been greater factors in HCP's poor stock performance during this time.
Because of this, I believe that HCP has a greater chance of breaking the trend and actually outperforming the market in general going forward, but I still wouldn't bet on it. The REIT industry has a lot of risk associated with it from interest rate moves to changes in government regulations and tax laws.
Conclusion
Does this mean that I suggest avoiding these three stocks? Absolutely not. In fact, I have written previous articles on both HCP and AT&T and how much I like these stocks. What it does mean, though, is that in my opinion only very long-term buyers should be buying these stocks. Buyers who may be looking or needing to sell in the next year or even five years from now would be best served looking elsewhere, as I believe there are plenty of other stocks available that have greater potential for stock price increases in the coming years compared to these three.
Or another way of saying it is, if you are looking for capital appreciation, I would not invest in these three stocks. If you are looking for stable, high yield income investments with growing dividends and limited downside risk, then I believe these stocks are great options.
HCP recently reported great Q2 results and increased the company's full year guidance.
AT&T's Q2 results were not as impressive, but the company continues to transition itself into a more growth-oriented entity. There are still questions/risks associated with how successful this transition will be.
With the lowest revenue and earnings growth out of these three stocks over the past five years, Consolidated Edison is my least favorite stock out of this group. I still believe it offers a reasonably safe and growing dividend, however.
Remember to keep in mind that "limited downside risk" does not mean no risk. What it does mean is that I believe these stocks with their current valuations are less likely to lose a large percentage of their stock price in a market downturn compared to other stocks with much higher valuations.
I also believe that as Dividend Aristocrats, the future dividend growth (while somewhat slow) of these stocks will continue into the foreseeable future. The payout ratio of each of these companies has room for future dividend growth.
As always, I suggest individual investors perform their own research before making any investment decisions.
Disclosure: The author has no positions in any stocks mentioned, and no plans to initiate any positions within the next 72 hours. The author wrote this article themselves, and it expresses their own opinions. The author is not receiving compensation for it (other than from Seeking Alpha). The author has no business relationship with any company whose stock is mentioned in this article.