Although he remains Chairman of Soros Fund Management, legendary investor George Soros says he is not actively involved in its investment decisions. However, it appears that his sons Robert and Jonathan - who are the other principal officers of the company - have inherited their father's investing acumen.
Soros Fund Management is a privately-held investment advisory company that manages assets of approximately $27 billion, partly under the auspices of The Quantum Fund.
On November 18, 2010, Soros Fund Management reported a 7.24% stake in Verigy Ltd. (NASDAQ:VRGY), a provider of advanced semiconducter test systems. The stake mainly consisted of 4.67 million shares Soros had the right to purchase through ownership of Verigy's 5.25% convertible debentures.
On December 8, 2010, VRGY rose 42% after Advantest offered to buy the company for $12.15 per share, a 33% premium to the previous days close. Verigy rejected the offer, but said it is open to further discussions.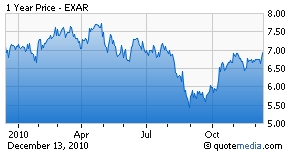 With this in mind, investors might want to take notice that Soros Fund Management (through Quantum Partners) has been raising its stake in another semiconducter company, Exar Corporation (NASDAQ:EXAR). Soros first reported a stake in Exar on July 13, 2009, when it said it owned 2,465,754 shares or 5.67% of the company. On February 16, 2010 Soros reported it had raised its stake to 7.81%.
By October 1, 2010 the Soros stake had jumped to 6,422,739 shares, or 14.53% of Exar. In late November and early December, Soros bought another 100,000 shares at prices ranging from $6.64-$6.75 -- not far below the current market price. Interestingly, Soros also reported ownership of 56,073 warrants exercisable at $9.63 -- which is 40% above the current stock price -- through May 18, 2011.
Exar is a "fabless" semiconducter company, which means it designs but does not actually manufacture semiconducters. Its products are used in industrial, telecom, networking and storage applications. Interestingly, Exar's product line also has applications for power management -- and one of its directors, Izak Bencuya, was formerly CEO of Deeya Energy, a cleantech company "dedicated to developing and manufacturing electrical energy storage systems." Mr. Bencuya joined Exar's Board in February 2009, just a few months before Soros announced its initial Exar stake -- which I also find intriguing, since George Soros is a well known advocate of "clean" energy technology, and many renewable energy analysts believe that developing renewable storage systems will be a huge market going forward.
Exar's financial performance seems uninspiring on its surface: the company has reported trailing 12-month losses of $18.94 million. However, actual cash flow ("EBITDA") was only negative by -$1.77 million, and the company has a hefty $4.70 per share cash position which represents nearly 70% of the current stock price.
I would bet that Soros Fund Management sees something in Exar that so far is not readily apparent to the market - and an investor could do a lot worse than following their lead by taking a position in Exar around its current price.
Disclosure: I have no positions in any stocks mentioned, and no plans to initiate any positions within the next 72 hours.