By Maulik Mody

Treasuries rose Monday after a federal judge ruled against the US health care law mandate. The slight increase in stock prices Monday was being attributed to the growing investor confidence as the Fed purchases securities to increase inflation expectations and reduce unemployment. The price of insuring against US corporate debt declined for a ninth straight day, signs that investor risk appetite may be improving.
Interest Rates
Treasuries gained as yields fell across the curve lead by the front end as the 2-Yr note traded 6 bp lower at 0.58%. The 5-Yr gained the most pushing its yield 10 bp lower to 1.88%. The benchmark note also gained as its yield fell 4 bp to 3.27%. The Long Bond suffered the most as its yield narrowed 2 basis points to 4.41%.
Click charts to enlarge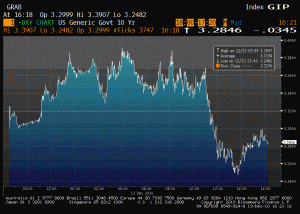 Inflation expectations, as seen by the difference in yields of the 10-Yr Treasury and 10-Yr inflation indexed bonds (TIPS), widened 3 basis points to 2.20% as the Fed's purchase of securities increased inflation expectations.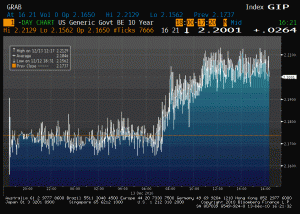 Across the Atlantic, while Germany Bunds and France's bonds were mostly flat, UK Gilts rallied as the yield on the 5-Yr fell 11 bp to 1.88%. Bonds gained across most peripheral nations. 5-Yr Greece bonds traded 23 bp lower at 12.13%. Portugal and Spain 5-yr bonds shed 4 and 3 bp respectively to end at 5.03% and 4.66%. Ireland's bond fell as 5-Yr yield climbed 5 bp to 6.93%.
Across the Capital Markets
Stocks in the US were mixed. Dow Jones advanced 0.2% to 11428.56. S&P ended flat at 1240.46. NASDAQ eased 0.5% to 2624.91. The VIX index fell slightly to 17.55.
The dollar DXY index, which measures the performance of the dollar against 6 major currencies across the world, fell 0.9% to 79.308. Euro gained against the greenback to 1.3391 and the British Pound strengthened too, ending at 1.5862.
Gold spot price increased by $8 to 1394.18 per ounce. Crude price advanced to 88.61.