Warren Buffett created a ratio of the market value of all US publicly traded securities to Gross National Product (GNP) as a yardstick to measure stock market valuation

MyPlanIQ has been tracking this index and presents the current status. This will be reported every other week (bi-weekly)
On Dec 10, 2010, the ratio of the total stock market capitalization to GNP was 88%.
This compares to November 26, 2010, when the ratio was 84% which is in the fair market range.
click to enlarge images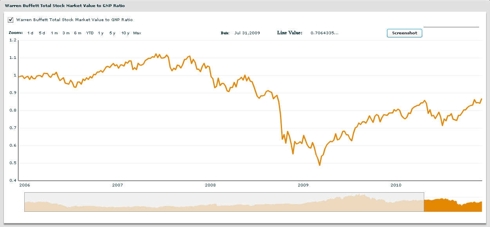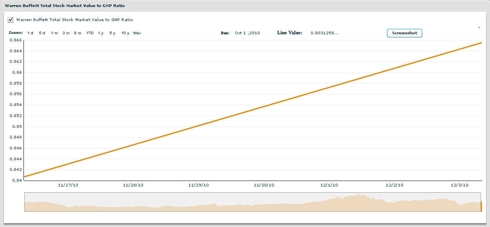 The trend is clearly increasing as the appetite for equities remain -- especially in light of fixed income assets having a poor outlook.
The valuations are still in the fair market region, which would point to a continuing increase in the value of equities in the short term.
Disclosure: I have no positions in any stocks mentioned, and no plans to initiate any positions within the next 72 hours.