By the end of 2014, most of Apollo Group, Inc. (NASDAQ:APOL)'s restructuring will be done, with a smaller amount being implemented in 2015. For the most part, restructuring with the University of Phoenix is over, and the company is now looking at building up that brand going forward.
It is also aggressively pursuing an international strategy, which is not only for the purpose of growth, but possibly more importantly, as a defensive move against the aggressively regulated U.S. for-profit educational market.
Competition remains fierce in America, although Apollo's management points out that overall, it's over a $500 billion industry here.
Even so, at least in the United States, competition is weighing on the performance of the for-profit educational companies, and that definitely extends to Apollo Group.
Driving new enrollment via scholarships and aid programs will continue to weigh on Apollo, as it puts downward pressure on earnings and revenue generated per student.
Overall, it remains a difficult industry, with little visibility as to whether or not Apollo can start to turn around its shrinking enrollment.
The good news is the slashing of costs has resulted in the company being much leaner than before it initiated the effort, and any positive reversal of enrollments should push up its share price.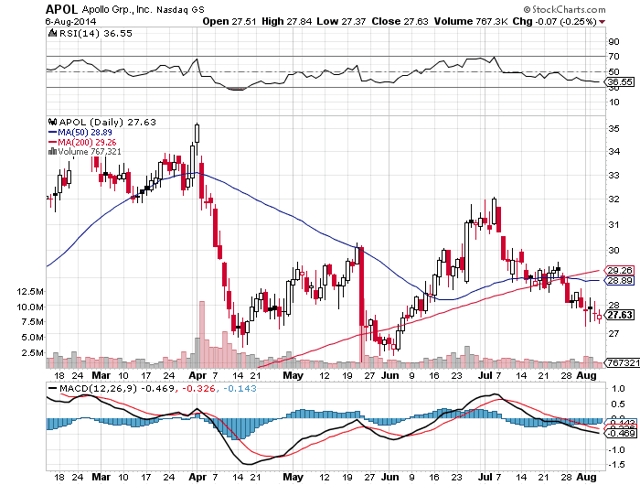 Source: StockCharts.com
Third-Quarter Earnings
Reflecting restructuring and a continual drop in enrollment, revenue in the third quarter came in at $800 million, declining 16% from the third quarter of 2013. Operating income was also down, falling from $132 million to $113 million year-over-year. Net income for the quarter was $66 million, or $0.59 per share. Excluding special items, net income was $85 million, or $0.76 per share.
On the operational side, costs were down across all expense line items. Going forward, this is likely to reverse, with fourth-quarter expenses which will be more fixed, expected to be up a little. Overall expenses in the second half of 2014 will also be higher than in the first half of 2014, mostly from Milpark and Open Colleges. Investments in the University of Phoenix will also boost expenses. Finally, scholarships and other methods to increase student retention rates will result in higher costs going forward.
Nonetheless, Apollo Group has done a decent job of lowering its cost base over the last couple of years, dropping it by approximately $900 million during that time period. Of that $900 million, about 80% was directly related to fixed costs.
Looking ahead to 2015 and further out, the company will focus on being sure its cost structure is in line with whatever the size of the business will be. That's easier said than done because of the volatile nature of the industry, but making adjustments by attracting higher-quality U.S. students, and growing its international student base would make it less volatile and more predictable in outcomes.
On the cash flow side of things, the company has been doing well there, although that is primarily from the huge cuts in expenses. Free cash flow in the third quarter soared to $73 million, a big gain over the $44 million in free cash flow generated in the prior-year quarter.
Overall, 2014 cash flow will come under pressure because of about $90 million in outflows from ongoing restructuring, which represents approximately $30 million more than the same reporting period of 2013. Even so, the company should continue to produce strong free cash, which will easily offset the expenditures. Marketable securities and cash at the end of the third quarter stood at close to $808 million.
There should be another $25 million in one-time restructuring fees ahead, with the bulk of that occurring in the second half of 2014.
University of Phoenix
New degree enrollments in the third quarter were 33,900, and overall enrollment 241,900 at the University of Phoenix.
In its strategy to boost enrollment and improve the numbers of those completing their degrees, the company has offered scholarships and other methods to lower student costs. Consequently, that has resulted in revenue per student declining by 4.1% in the third quarter. For full-year 2014, that percentage is expected to remain about the same. Taking discounts as measured against revenue, it came in at about 9%. It should remain at that level for all of 2014.
To become more competitive in the markets it serves, the company has realigned its business by college, hiring new executive deans for each one. That suggests the company will be better able to measure success at each college, and hopefully find solutions to compete stronger in each one. Cumulatively, over time, this could be a positive catalyst, assuming the company can execute its plan. It also recently hired Tim Slottow from the University of Michigan as president to oversee the new initiatives.
One way the company expects to improve with this strategy is to work closely with companies in order to provide the skills they are looking for in students entering the job market.
Another interesting project, one which has some potential, is the development of subsets of various markets. It should introduce 45 new certificate programs for full-year 2014. When talking of subsets, that refers to specific classes developed to add specific skills and/or knowledge for an existing employee at a business. This is an additional revenue stream beyond a degree program. It won't be a huge game-changer, but it does have the opportunity for the University of Phoenix to differentiate its brand and possibly increase prices for these types of courses. Building out a plethora of these subsets is a good way to take a big lead that competitors will have to work hard to catch up with.
It's easy to see how this could be a sticky benefit for corporations, which would prefer to work with a specific university over time. If Apollo can grow this out, it could surprise over time and become a major revenue and earnings contributor to the company; one which has the potential to be long-lasting and consistent. Blending educations with existing careers has a lot of potential - both domestically and internationally.
Retention
As mentioned earlier, the strategy to retain more students for the duration of their education has resulted in discounts of 9% of revenue, with revenue per student down by close to 4% for all of 2014. Most of that was the result of changes in pricing.
Heading into 2015, the company will offer a new Phoenix scholarship reward program of $10,000 to increase retention rates. This will obviously put pressure on earnings, but if it successfully boosts retention rates, that could offset a portion of that.
Other efforts to retain students are on the front-end. One of them is the company increasing the usage of full-time faculty in the first year. It is also more involved in the processing of students coming into the university, helping them to understand the overall implications of their education holistically.
The brand of the University of Phoenix, as it stands, is very favorable, which should have an invisible but important influence on retention going forward.
Marketing also plays a role in student retention, as far as the strategy lining up with the goals of the university. Many for-profit companies have had to adjust their marketing efforts in a way that reaches the desirable demographic. That means drastically changing the mix of traditional versus digital marketing. The former is not as targeted, and the practice of offering free advertising on TV and radio when an ad isn't able to be fulfilled has wreaked havoc on the industry, as students with no intention of completing their educations game the system by going for a quarter and receiving payment, and then transferring to another college.
Apollo didn't talk about this in its latest earnings report, but it would be surprising if it hasn't adopted a more targeted marketing campaign to attract students with a high probability of staying the course.
Corporations are also seeking this, as Apollo works diligently to line up its offerings with the demands of the market. Again, targeted marketing is one of the keys to that success, as is deeper relationships with businesses.
International Strategy
In an effort to diversify its risk, Apollo Group has been branching out across the world, and now has a presence on every continent, with the exception of Antarctica. Even though it's just getting going there, global enrollments are growing, and it should be a growth market for many years to come; although it may be more incremental for a couple of years until it's branded better and develops relationships with corporations in those regions.
Its latest acquisition is Milpark Education, which gives it exposure in South Africa. It also acquired Open Colleges in Australia, where the online education market is expected to grow almost 20% annually for several years.
Apollo Global is generating about $275 million in revenue, and it should produce positive cash flow in the next year to year and a half. Once it produces significant positive cash flow, the company will be looked upon as more stable and desirable, which should be a positive catalyst for the share price in two or three years.
This assumes it is able to stop, or at least significantly slow down the drop in student enrollment domestically. Eventually it'll find a bottom, and at that time, Apollo Global should provide a nice boost to the company.
When considering the estimated international education market is about $2 trillion at this time, it shows the potential Apollo has if it moves fairly quickly to take a nice portion of that business. Estimated growth in the international global market is about 10% annually over the next four or five years.
Most acquisitions for Apollo over the next several years will be in international markets. Until the domestic market improves, it makes little sense to make acquisitions there, as it only would multiply problems rather than solve them. I'm looking for domestic consolidation sometime in the future, but it won't happen until the for-profit education market in the U.S. becomes less volatile.
Conclusion
The overall strategy of Apollo Group, as I see it, is it's working hard to create a more consistent performance on the domestic side, with the goal of growing organically and incrementally for now.
Its growth strategy is geared towards the international market, where there are a lot of opportunities to gain market share in an estimated $2 trillion market that will continue to grow significantly for at least several more years.
I look at the need to make drastic cuts in expenses as a positive for the company, as it has made it much leaner, which should allow it to move with the ebb and flow of the somewhat unpredictable enrollment numbers.
Going forward, its better retention rate and growth in customized courses for students should be a nice impetus once it is able to level out its drop in enrollment domestically.
Once that happens, Apollo could become a nice growth story, assuming it is able to turn positive cash flow internationally within the next 18 months. This, of course, is predicated on the existing business it has, and not on potential future acquisitions, which it definitely will make.
I like the combination of leanness and growth potential for the company, and if it executes well, should be in a position to reward shareholders nicely.
It's possible the company could take a hit because of restructuring charges after the next earnings report, but the usually strong August enrollment numbers will probably offset that concern; especially since it's pretty clear that this is going to happen in the last half.
With a share price between $27.00 and $28.00 as I write, I consider that a decent but not great entry point. I would like to see it go down a couple of dollars per share before taking a position in the company. I say that because the share price is likely to remain range-bound for the next year or so, and getting in at the current price doesn't leave a lot of room for growth over the next 12 months, in my opinion. My assertion about it being range-bound is based upon the individual performance of the company in regard to its work on finding a bottom on the drop in student enrollment. Until that happens, the share price is likely to be held back.
If you have a longer-term outlook, getting in now wouldn't be bad if you believe, like I do, that international growth will drive the share price up over the next two years.
In the short term, I think the stock will be volatile, and it's likely to drop again, which is why I'm looking for a better entry point. On the volatility side, I see that as industry-related, where anything in the news cycle usually has a significant impact on the movement of the share price; whether it is positive or negative. As I see it, enrollment will cause the share price to operate within a specific range, and the for-profit education industry in general will cause some volatility and fluctuation within that range.
Either way, I believe investors will do okay with Apollo if they hold it for a while.
Apollo has one of the more visible outcomes in the sector, and that makes it fairly attractive, if you're measuring it against other companies in the industry. If everything goes as planned with its student retention strategy, I could see Apollo probably trading above the $30.00 mark consistently, and testing and holding the $35.00 share mark in the next couple of years. Most of that upper end is from the expected international performance and growth, when it starts to churn out positive cash flow.
Disclosure: The author has no positions in any stocks mentioned, and no plans to initiate any positions within the next 72 hours. The author wrote this article themselves, and it expresses their own opinions. The author is not receiving compensation for it (other than from Seeking Alpha). The author has no business relationship with any company whose stock is mentioned in this article.