In my article on 5/29, I said that McDonald's (NYSE:MCD) stock, which has traditionally been a safe haven in volatile times, is overpriced relative to its growth prospects. The stock performance since then appears to support my view, with McDonald's stock trailing the S&P 500 by 8 percentage points.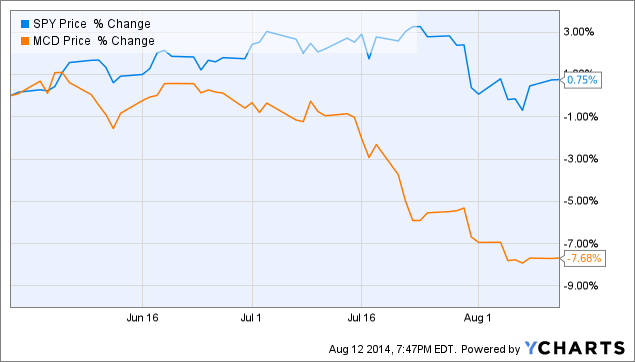 Business performance
McDonald's reported lackluster second-quarter earnings, with flat comparable store sales globally. Average check was higher, but guest traffic was negative in all major markets. Store expansion led to revenue growth of 1%, but operating income was flat and EPS was up 1% driven by share repurchases.
US comps were down 1.5% with operating income up 1%. Guest traffic was negative. In Europe, comps were down 1% and operating income was flat. In the APMEA (APAC, Middle East and Africa) region, comps increased only 1.1% and were weighed down by weakness in Japan. Operating income declined 2%.
Valuation changes
In my prior model, I had arrived at a fair market value of $84 for McDonald's, assuming 1% comp growth for FY14 and 3% thereafter. I also assumed 3% store growth, leading to overall revenue and operating income growth of 4% for FY14. However, results for the first six months have lagged my expectations, with revenue growing only 1% and operating income declining 1%. As a result, I am updating my model to reflect 2% revenue growth for FY14 and reducing my comp growth expectations for FY15 and beyond to 2.5% down from 3%, as the company finds itself increasingly challenged by more upscale rivals such as Chipotle Mexican Grill (NYSE:CMG) and Panera Bread (NASDAQ:PNRA). Even achieving these levels will mean reversing the trend seen over the past two years and take some doing. The updated numbers reduce my valuation to $81, which still represents a downside of 13% to the current share price.
Summary
McDonald's continues to face challenges in retaining users, with guest numbers being challenged in almost all regions. It is trading at a P/E of 17, which is out of whack with its recent and forward-looking growth prospects. Although the recent dip in price post-earnings has brought the valuation closer to my estimates, there is still further downside to owning the stock right now. The company does offer an attractive dividend yield of 3.2% and is focused on returning cash to shareholders, but this cannot hide the operational challenges it faces. My view on McDonald's has not changed post-earnings - investors should stay away.
Disclosure: The author has no positions in any stocks mentioned, and no plans to initiate any positions within the next 72 hours. The author wrote this article themselves, and it expresses their own opinions. The author is not receiving compensation for it (other than from Seeking Alpha). The author has no business relationship with any company whose stock is mentioned in this article.
Additional disclosure: I am short MCD $70 puts and $115 calls.