What does it mean to be a contrarian investor?
Is it more contrarian to believe that treasury bonds are in a bubble, or to believe that interest rates will remain depressed for an unknown amount of time? Is it more contrarian to believe that China is the greatest bubble of all time or that China critics are mistaken? In my mind, these scenarios are all plausible.
The true contrarian play is the one which if your money manager told you about it, you would question his professional competence. It's the move that no one wants to admit to.
For example, for-profit education.
Steve Eisman, who as profiled in Michael Lewis's The Big Short called the crash of the subprime mortgage industry, can perhaps be credited with causing the implosion in share prices of for-profit education companies. In May at the Ira Sohn Conference on value investing, Eisman presented his thesis that the large growth in for-profit education was driven largely by plentiful government financing, with the taxpayer supporting a "socially destructive and morally bankrupt" industry that leaves students with poor skills and saddled with debt and who often end up defaulting.
As of November, Corinthian Colleges (NASDAQ:COCO), was home to over 113,800 students at 122 campuses across the U.S. and Canada through its Everest, WyoTech, and Heald College brands, with nearly a quarter of these students in online programs. The company's programs are career focused, with some of the more popular fields targeted include automotive tech and healthcare.
Metrics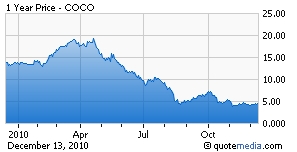 In April, COCO saw a high of $19.31 per share. It now trades over 75% lower, at $4.47 per share. 31% of COCO's stock, as of November 15, was held short. Its short ratio (the ratio of shares shorted to average daily trading volume, a measurement of how long it would take shorts to cover their positions) was 4.3.
COCO has a trailing P/E of 2.71. EBIT/EV is 0.51. Even if you assume that EBIT next year will drop by half, you would have an attractive proposition. Trailing twelve month EPS is $1.65. Assume that EPS drops 50% due to regulatory reforms, and apply a 10x P/E and the implied fair value would be $8.25 per share.
COCO has a price to book of 0.52. It is also worth noting that price to tangible book is 3.72, but I believe it is more appropriate to focus on the former number as it makes the company highly attractive from an acquisition standpoint.
Analyst consensus is that next year EPS will drop to $0.46 according to Yahoo. At the same time, analysts believe revenue will be $1.73B. Trailing 12-month revenue is $1.74B. These revenue and EPS expectations do not reconcile.
Regulatory Uncertainty
With such strong valuation metrics, obviously not all is perfect with the company's outlook. COCO faces a large amount of regulatory uncertainty. The majority of its students receive government funds through the Title IV lending program. In exchange for these funds, a school is required to adhere to certain commitments. Default rates for a particular class of students in a particular school (cohort default rates, or CDRs, in industry parlance), are not allowed to be greater than 25% in any three year-period or about 40% in any one-year period. A school that violates this loses the ability for its students to receive Title IV loans. At this time, none of COCO's schools are at risk of violating this latter threshold; however, due in large part to challenging economic conditions, eight of COCO's schools violated the former threshold for the Class of 2008. The company also has warned investors that CDRs for the Class of 2009 will be "substantially" higher, with the majority of schools to have CDRs exceeding 30%.
(Technically, the above regulations concern OPEIDs: an institution's main campus plus its branches. COCO has 49 OPEIDs in total.)
Aware of this, the company has undertaken a number of steps to reduce CDRs. A primary driver in the company's growth had been students without high school degrees, or Ability to Better (ATB) students. These students historically have had higher CDRs. As of September, the company had stopped enrollment of ATB students. The company has instituted default prevention and management programs. ATB students historically have comprised a large portion of the company's growth. Management now plans to target throw through its online segment, recruiting more heavily for high school grads via high school reps, and by opening additional physical campuses.
Potentially more damaging to COCO is the Department of Educations (DoE) proposed "gainful employment" rule. This rule would restrict Title IV funding to programs whose graduates have debt to income levels above a certain amount and would carry additional restrictions on default rates.
Industry's Response
For-profit education companies are not going down without a fight. In response to the proposed gainful education rule, COCO has launched a national public relations campaign and has been lobbying to ease any future regulations. COCO engaged the Parthenon Group, a consulting firm, to independently analyze the effects of the proposed DoE regulations. Parthenon found that the proposed regulations would cause 400,000 students to leave post-secondary education annually, reduce lifetime incomes for these students by approximately 15%, cause 90,000 - 100,000 job losses, and lead ultimately to a $5.3B annual tax burden from causing students to leave post-secondary education, employees who lose their jobs, and increased subsidies for public colleges.
Thus in response to more than 90,000 public comments on the proposed regulations, most in opposition, and opposition from at least 80 members of congress, the DoE announced in September that it would delay publication of the new rules to early 2011.
Now, momentum appears to be shifting.
Wednesday saw the significant revision of what had been a highly damaging "mystery shopper" report by the Government Accountability Office that attacked the recruiting practices of a number of for-profit institutions. The Senate education committee's ranking Republican, Sen. Mike Enzi, suggested that the revision raise "a number of troubling questions."
Yesterday, shares in COCO spiked nearly 10% mid-day after the incoming Chair of the House Education Committee, Rep. John Kline, announced that he would oppose tighter rules on for-profit education. Kline stands in opposition to the Chair of the Senate education committee, pledging that he would, "push back really hard against a bill that might come out of Chairman Harkin's committee."
Bottom Line
As previously explained, the valuation metrics of this stock are very favorable and short interest is
very high. COCO's shares are priced for cataclysm. I do not believe that this is supported by the available information. Instead, it seems to me that the DoE rushed into drafting new regulations after Eisman's short thesis became public knowledge. DoE was confident that it had a mandate to "take charge" and to "do something" and quickly drafted new regulations without giving them sufficient thought. Additionally, I believe that the lobbying ability of these for-profit institutions is greater than the market anticipates. I began drafting this piece on Wednesday, and already my thesis is being borne out. I believe that as the market experiences an about face, the stock price will be driven all the higher as investors scramble to cover their short positions.
Yes, for-profit education looks gloomy, and everyone "knows" that the DoE will regulate these companies out of business.
Why is the share price so low? The answer is investor sentiment. After Eisman's forceful presentation, no one wants to be long this industry. Most professional money managers follow the trend. What manager wants to explain to investors why he or she missed investing in Apple (NASDAQ:AAPL) or Amazon (NASDAQ:AMZN)? What manager wants to explain to investors why he or she is long for-profit education? Didn't he see Eisman's slide deck? But eventually sentiment changes. And when it does, those who buy now will reap the profits.
Related Links
Steve Eisman Presentation to the Ira Sohn Conference
Parthenon Group Public Comment to Department of Education (.pdf)
COCO Public Relations Campaign: MyCareerCounts.Org
COCO Presentation to Signal Hill 4th Annual Education Conference
Disclosure: I am long COCO.