In Part I of our royalty report we provided a brief overview of the royalty company universe as well as explained our basic valuation methodology. In Part II, we provided a series of detailed comparative valuation charts in an attempt to highlight the relative virtues of each royalty company in comparison to its peers. We continue with a few more comparative charts in Part III and then close with our concluding thoughts.
Comparative Valuation Charts (continued from Part II)
The next chart is another one you would probably never see if we hadn't built a royalty model. Although there isn't much to it, the comparative format does provide some insight and in particular we look forward to adding Royal Gold (NASDAQ:RGLD) and other companies in the future. In the case of our Silver Producer Report, a similar chart helped First Majestic Silver (OTC:FRMSF) validate that it was the "purest" silver producer, and this in part resulted in a sector-leading price performance by First Majestic during the current historic run by silver. [Note: First Majestic is an Institutional client of Metal Augmentor.]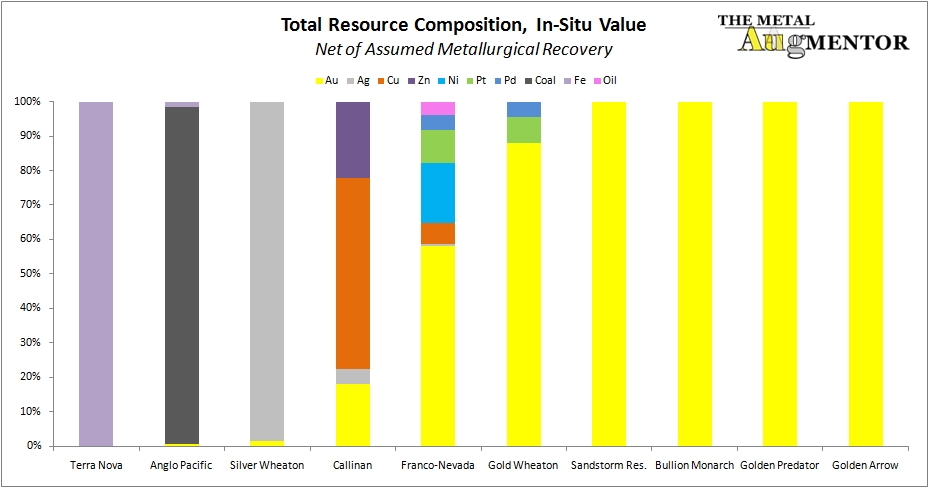 click to enlarge
The above chart gives investors a good overview of the commodities to which each company is exposed. Surprise, surprise: Silver Wheaton (NYSE:SLW) is all about silver. For exposure to the iron ore market, look no further than Terra Nova (NYSEARCA:TTT). If coal's what you're looking for in your Christmas stocking this year, take a look at Anglo Pacific (OTC:AGPIF).
Beyond the obvious, however, there are some subtleties as well. Examples: For those seeking exposure to copper via the royalty model, Callinan's (OTCQX:CCNMF) your man. Although primarily a gold vehicle, Franco-Nevada (FNNVF.PK) offers exposure to a variety of commodities. Platinum and palladium bugs should consider Gold Wheaton (OTC:GLWGF); while it may look like it is primarily exposed to gold, this is largely contingent upon the successful ramp up of production at First Uranium's (OTC:FURAF) perennially-problematic Ezulwini and MWS mining operations. For the time being, however, Gold Wheaton generates a substantial percentage of its royalty revenues from platinum and palladium produced by Quadra FNX's (OTC:QADMF) Sudbury operations.
Those interested in more-or-less pure gold exposure to near-term production might consider Sandstorm Resources (SNDXF.PK). The companies that remain — Golden Predator (GPRXF.PK), Bullion Monarch (OTC:BULM), and Golden Arrow (OTCQB:GARWF) — also offer more-or-less pure gold exposure in terms of their royalties with each one also having a peripheral attraction as an exploration company. As mentioned earlier, Golden Predator has an extensive and promising land package in the Yukon where it has already drilled a number of promising holes. Bullion Monarch has its interesting, albeit very early stage, Enshale subsidiary focused on oil shale. And Golden Arrow recently optioned 2 of its projects to Vale (NYSE:VALE) on attractive terms.
The following chart shows the number of producing or development-stage royalties in each company's portfolio.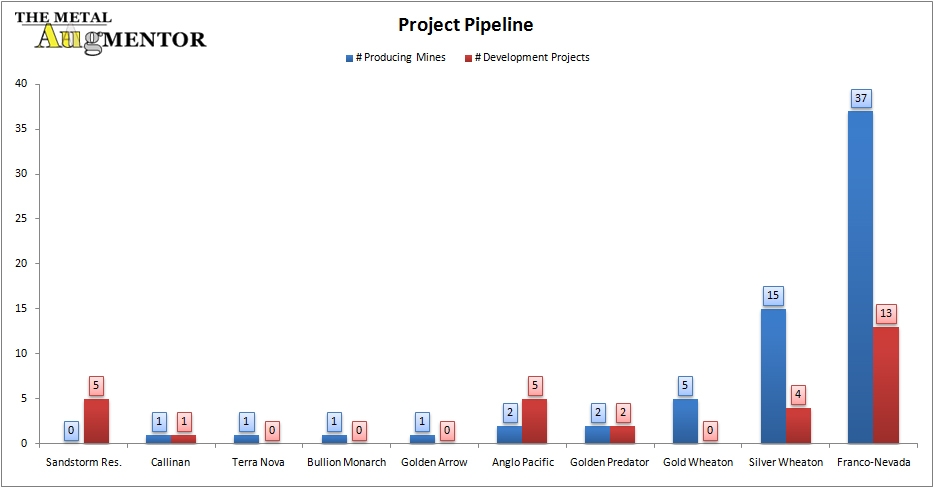 Although Silver Wheaton "only" owns 19 producing or advanced stage royalty interests compared to about 50 for Franco-Nevada (and a lot as well for soon-to-be-added Royal Gold), several of Silver Wheaton's royalties are absolute monsters. For example, our model values its royalty streams on silver production at Barrick's (NYSE:ABX) Pascua-Lama development project and Goldcorp's (NYSE:GG) Penasquito mine at about $2 billion each! As we mentioned earlier, however, quantity isn't everything and so we are looking forward to providing future qualitative analysis that will help place big numbers like these $2 billion examples into clearer context.
The next chart provides a comparative scale of the production profile covered by the royalty portfolio of each company.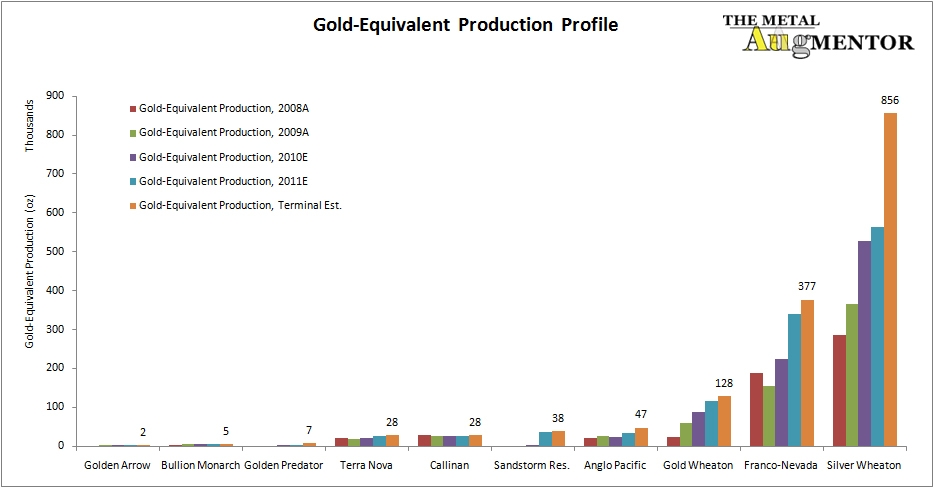 The chart makes it perfectly clear why Silver Wheaton commands the highest market capitalization among royalty producers and also why it is the market darling among royalty companies. However, this impressive production growth profile doesn't negate the fact that Silver Wheaton is trading well above its target valuation. It also says little about the quality of the operations subject to the company's royalties.
Although many of the above production profiles appear wimpy on a gold-equivalent basis, and especially in comparison to Silver Wheaton, remember that most of these companies have minimal production costs associated with their production (see the secondary axis on the "Payback and Leverage" chart shown earlier) such that 25,000 ounces of gold for a royalty company might end up being equivalent in "value" to say 50,000 or even 100,000 ounces for the typical mining company that must pay the capital and operating costs association with production.
The penultimate chart in this inaugural royalty company report summarizes information about mine lives at projects subject to the companies' royalties.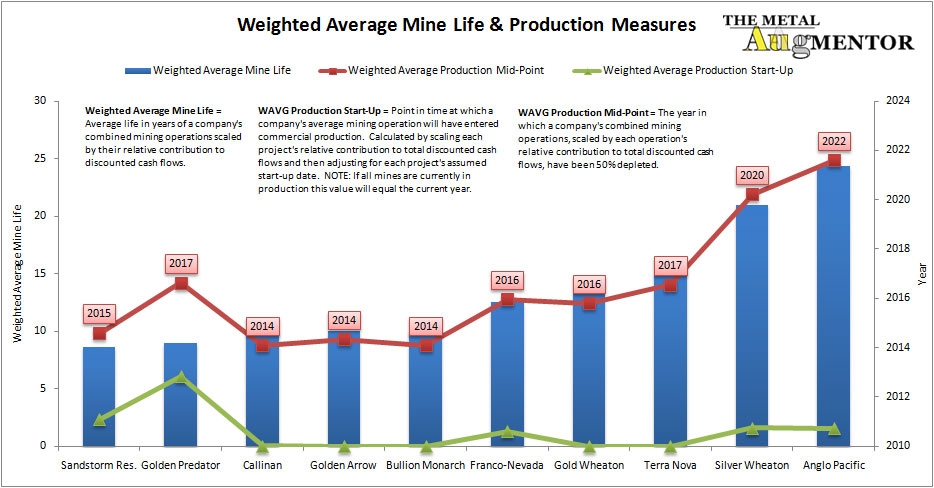 One use of the above chart would be to identify when, in anticipation of potential cash flow, a company's combined projects will enter commercial production on a weighted average basis. Mining companies often get a re-rating from the market when they enter production so the assumption is that royalty companies would as well. Golden Predator is the outlier here, with its Weighted Average Production Start-Up of about 2013. In other words, it currently isn't generating much cash flow from its royalty interest, but will potentially see a big jump beginning in about 2-3 years. This means the company's growth curve still lies ahead and therefore so does the price appreciation potential. Several other companies also have growth ahead and once again Silver Wheaton looks pretty darn good. The roughly 25 year Weighted Average Mine Life of Anglo Pacific's royalty portfolio is also noteworthy.
The final chart shows something that investors often forget about: overhead expenses.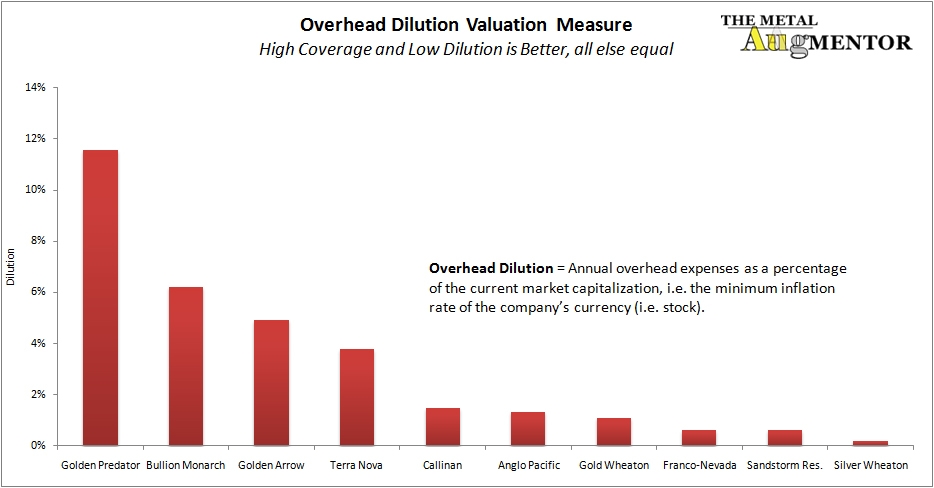 Typically, the larger the company, the smaller its Overhead Dilution rate, and this rule generally holds true in the above chart. A few noteworthy exceptions are Callinan and Sandstorm Resources. We mentioned earlier that Callinan has managed to produce consistent and meaningful cash flow from operations, and most of this is "free" cash flow in large part due to low overhead expenses. Despite being about four times the size of Callinan, here you can see that Terra Nova's overhead dilution rate is about 2 times greater. This goes a long way in explaining why Terra Nova has thus far been unable to produce meaningful free cash flow. The greater than 10% dilution rate at Golden Predator means that a significant portion of royalty revenues will go to cover overhead if expenses continue to remain at the same level. Combined with its aggressive exploration spending, shareholders should not expect Golden Predator's royalties to generate free cash flows or dividends (but they will perhaps provide a substantial contribution to the exploration budget, reducing the need to issue new shares).
Conclusion
The universe of metals and mining royalty companies is quite varied and up until now it may have been difficult for many investors to evaluate the financial metrics of any one of them, much less all of them on a comparative basis. We hope this report has helped clarify how these companies compare against one another on a number of fundamental valuation metrics. Although companies like Silver Wheaton currently trade above their target valuations, this may not always be the case. On the other hand, a rich valuation is not necessarily a bad thing because often it means that management has been very successful in delivering value to shareholders. Ideally, though, we want to identify situations before the delivery happens.
The real beauty of our model is that it is fully dynamic and can be updated at the push of a button, which allows the pinpointing of value opportunities in almost real time. We constantly add companies and monitor our model for subscribers not only to identify opportunities in the royalty area but also silver producers, gold producers (an update on gold producers will be released very shortly) as well as other sectors (copper producers, gold developers, etc.). Our complete model including all royalty and other data is available to subscribers of our Metal Augmentor Institutional service. Current Institutional subscribers include Callinan among the royalty companies and several others in the gold and silver space.
Alright, time for some final thoughts.
On the opposite end of the valuation scale from Silver Wheaton, Terra Nova looks interesting but uncertainty surrounding the exact royalty agreement at its Wabush mine and the recombination with Mass Financial makes it a sensible idea to remain on the sidelines for the time being.
In their individual ways, Bullion Monarch, Callinan, Golden Arrow, Golden Predator and Sandstorm Resources all appear to offer value to investors interested in royalties or the royalty model.
Sandstorm Resources is the only "pure" gold royalty company and it is also aggressively seeking new royalties.
Callinan is spinning off its exploration business and will focus its future efforts on royalty generation.
Golden Predator in our view has an attractive exploration portfolio in the Yukon where several projects have seen drilling that suggests the tenor of gold mineralization could support a mine if sufficient tonnage can be delineated.
Gold Wheaton seems to offer decent fundamental value at the present time and could be a dark horse that eventually gets market respect approaching the status of its namesake sibling, although a U.S. exchange listing would be helpful as would the addition of new royalties and improvement at the South African operations.
Disclosure: I have no positions in any stocks mentioned, and no plans to initiate any positions within the next 72 hours. Callinan Mines and First Majestic Silver are institutional clients of the Metal Augmentor service.