When it comes to BlackBerry (NASDAQ:BBRY), investors have not had too much to celebrate in recent years. The company's financial situation has weakened as results have deteriorated, and the stock lost a significant chunk of its value. The company has undergone a large restructuring and while it is not completely back yet, things are starting to trend in the right direction. Today, I'll discuss three items that show the tide is certainly turning.
Analyst estimates finding support:
We know that BlackBerry's results have been awful in recent years. Revenues have plunged, and the once-profitable company has been losing money hand over fist. Investors have been waiting for results to stabilize, and the turnaround has started.
One key item that I've focused on recently is analyst estimates; since late June, the average revenue estimate for the current fiscal year (ending February 2015) has held up at $3.90 billion. For the following fiscal year, the average revenue estimate has actually increased from $3.80 billion to $3.86 billion. Sure, BlackBerry is a long way from the near $20 billion in revenues a few years ago, but it would be nice if the company could see revenues level off a bit, and not continue to drop year after year.
Additionally, adjusted EPS estimates continue to climb, as you can see in the table below. The company's restructuring continues to eliminate unnecessary costs, and BlackBerry is getting closer to break even again. John Chen seems to have this ship headed in the right direction, which is something we couldn't really say about the previous leadership team.

(Source: Yahoo Finance estimates page)
Short interest hits another new yearly low:
A couple of weeks ago, I detailed how short interest in BlackBerry hit a new yearly low. In fact, the number was at its lowest point in about two years. Well, we've got the end of July numbers now, and you can see how things turned out in the chart below.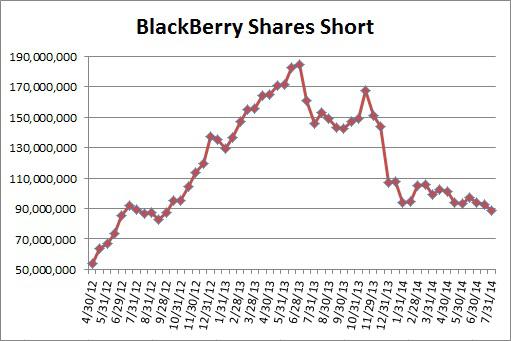 In the most recent update, another 4.4 million shares short were covered, putting short interest under 90 million shares for the first time since September 2012. Since the peak just over a year ago, more than 95 million shares short have been covered, a decline of 52%. Short sellers are certainly running away from BlackBerry.
200-day stops its decline:
While I don't focus on technicals too often, they are important to bring up here. Part of the tide turning has to do with a very important moving average, the 200-day. As you can see in the chart below, this trend line finally stopped falling in recent months and has actually started to move a little higher.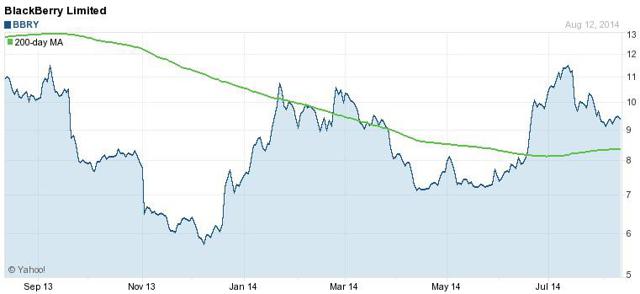 (Source: Yahoo Finance)
Final thoughts:
Today, I presented three items that show the tide is certainly turning when it comes to BlackBerry. Analyst revenue estimates have leveled off, and adjusted loss forecasts are improving nicely. Short interest in the name continues to hit new yearly lows, showing that the bear crowd is shrinking. Also, the 200-day moving average has stopped a long decline and is heading higher. The market likes a good comeback story, and if the company starts to deliver as expected, this name will go higher.
Disclosure: The author has no positions in any stocks mentioned, and no plans to initiate any positions within the next 72 hours. The author wrote this article themselves, and it expresses their own opinions. The author is not receiving compensation for it (other than from Seeking Alpha). The author has no business relationship with any company whose stock is mentioned in this article.
Additional disclosure: Investors are always reminded that before making any investment, you should do your own proper due diligence on any name directly or indirectly mentioned in this article. Investors should also consider seeking advice from a broker or financial adviser before making any investment decisions. Any material in this article should be considered general information, and not relied on as a formal investment recommendation.