On August 10, 2014, the announcement was made that Kinder Morgan (NYSE:KMI) will acquire Kinder Morgan Energy Partners (NYSE:KMP), Kinder Morgan Management (NYSE:KMR), and El Paso Pipeline Partners (NYSE:EPB). This transaction is expected to complete in Q4 2014. How does this affect me as a dividend growth investor who is holding KMI shares? Should I sell, hold, or add to my shares?
Because Kinder Morgan remains as a C-Corp, it continues to pay out qualified dividends. So, I will continue to receive the full dividend with no non-resident withholding tax in the RRSP as a Canadian.
Dividend Growth Expectation
Firstly, the annual dividend is expected to rise from the current $1.72 per share to $2.00 per share in 2015. That is an impressive increase of 16%. Secondly, the dividend is expected to grow by at least 10% annually between 2015 and 2020.
The Kinder Morgan family's management has a record of keeping their promise in the form of rising dividends or distributions, which met or exceeded their projections. So, Kinder Morgan shareholders can be quite assured that their dividends will grow at least 10% each year in the next 5 years.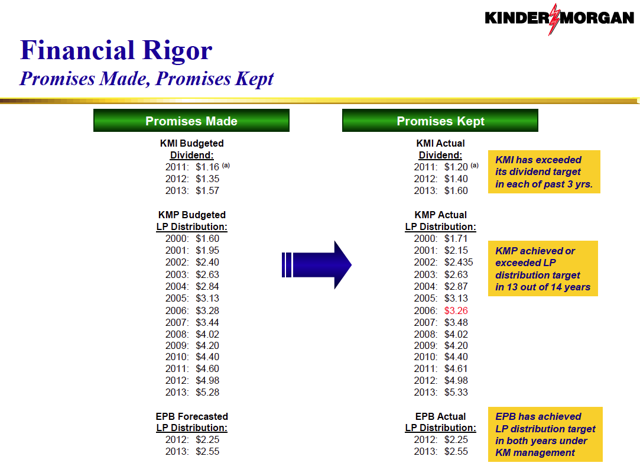 Kinder Morgan Presentation - slide 201
5-Year Project Backlog
Kinder Morgan has already identified $17B of growth projects for the next 5 years. This gives support for its 10% annual dividend growth projection since identifying the projects allows management to anticipate the future cash flow.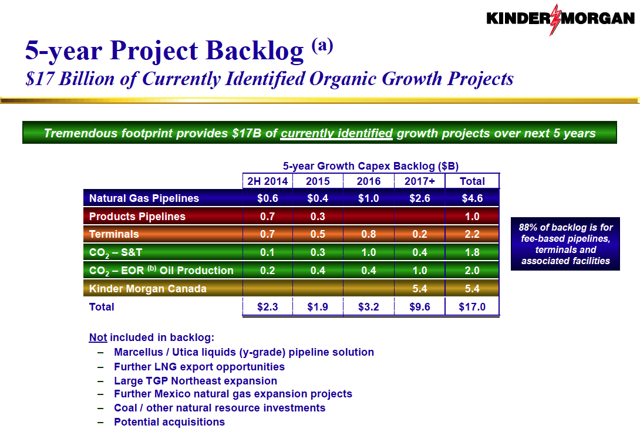 Kinder Morgan Presentation - slide 211
There is demand for more midstream energy infrastructure, and Kinder Morgan is well-positioned with its "80,000 miles of pipelines transport[ing] natural gas, gasoline, crude oil, CO2 and other products, and its 180 terminals storing petroleum products and chemicals"2
$641B of investment in midstream energy infrastructure needed through 2035, implying $29B per year annual spend compared to $18B annual spend by MLPs over past five years
Kinder Morgan Presentation - slide 251
Valuation
Morningstar expects to raise Kinder Morgan's fair value estimate to $38.5-$40.25, and maintains the wide moat rating on the company. Purely based on the dividend discount model, Kinder Morgan would be worth $41 per share.3
Current Yield
With the annual dividend at $2.00 per share expected in 2015, that is a fat 5% yield at today's price of $40. The 5% yield is at the higher end of the range.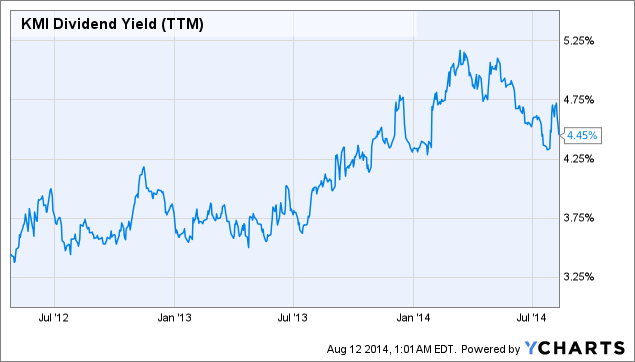 KMI Dividend Yield (TTM) data by YCharts
In Conclusion
For the short-term shareholder, it maybe tempting to take the 10% pop that occurred on August 11, but Kinder Morgan continues to put out the message that more cash will be returned to shareholders in the form of higher dividends.
Kinder Morgan looks to be poised for growth at least for the next 5 years. In today's market, it is not easy to find a company with a 5% yield and growing that yield at a rate 3 times higher than inflation. As a result, as a long-term shareholder, and with Kinder Morgan being one of my core holdings, it would be nice if I could scoop up some shares between the $36 and $39 range.
If you like what you've just read, consider clicking the bolded "Follow" link at the top of the page above the article title to receive an email notification when I publish a new article.
References
[1] Kinder Morgan - August 10, 2014 Presentation
[2] Kinder Morgan to Consolidate Partnerships in $71B Deal
[3] Morningstar article: Congrats, Mr. Kinder, You Solved the Growth Problem
Disclosure: The author is long KMI. The author wrote this article themselves, and it expresses their own opinions. The author is not receiving compensation for it (other than from Seeking Alpha). The author has no business relationship with any company whose stock is mentioned in this article.