Weibo (NASDAQ:WB) will report 2Q14 earnings on Thursday with consensus expecting revenue of $76m and EPS of -$0.03. The stock has been trading range bound with highs of $24.50 and lows of $17.50. The trading has since then slowly consolidated in a fairly tight range of around $20 over the past month, which suggests that the market is fairly neutral on the stock.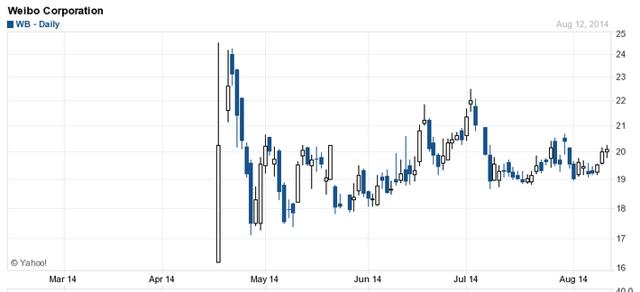 Click to enlarge
The bulls are arguing that the emergence of social media in China will fuel WB's revenue growth in a similar fashion to that of Twitter (NYSE:TWTR), especially when WB is a critical channel for millions of Chinese users to express themselves and for the government bodies to reach out to their constituents. On the flipside, this author believes that the structural shift of time-spend from microblogs and traditional social networks to the mobile messaging apps could erode WB's growth profile overtime because the shift in ad dollar is likely to move tandem with the shift in user time-spend.
Despite WB's robust near-term financial growth profile, I believe that the market does not give operating metrics the importance that it deserves. As such, I remain sceptical of WB's long-term growth in that the company is masking its eroding operating profile with near-term headline gains. Reiterating my bearish view on the stock.
Operating metrics still matter
WB's revenue is a function of its user-time spend, the number of monthly active users and the amount of ad dollars allocated by the advertisers. The issue with WB is that its PC active user growth is stagnating due to the transition to mobile, and yet PC still accounts for 70% of total revenue as of Q1. According to data from iResearch, PC MAU fell 4% y/y in Q2 while time spent essential was flat.
On the other hand, mobile MAU growth is strong (+25% y/y), per iResearch data, with time spent +57% y/y in Q2. However, mobile monetization is still weak, accounting for only 30% of WB's total Q1 revenue.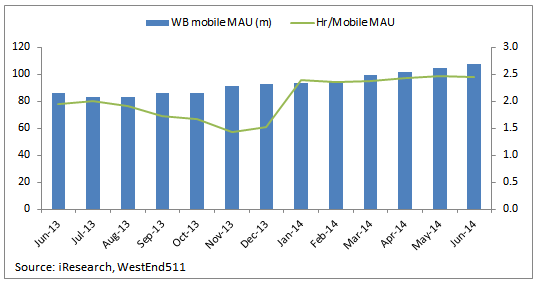 In my view, the stagnating PC user base and the engagement level present several challenges to the advertisers in that the advertisers would not be inclined to invest in WB's PC platform due to concerns over its sustainability. At the same time, if they were to allocate their ad budget to mobile, the advertisers are faced with a larger pool of candidates and they would naturally prefer the platform that features the strongest engagement and user growth profile, which brings to my next point on the competitive dynamic of the SNS/mobile messaging space.
Competitive risk still matter
Many bulls disagree with my comparison of Wechat to WB in that comparing a messaging platform (Wechat) and a microblog (Weibo) is not an apple-to-apple comparison. While on the surface the two platforms share minimal commonality, it is important for investors to understand that both platforms compete for users' time spend, and ad dollar will shift to whichever user time spend is the greatest (a very important point).
For anyone who still doubt that view, look no further than the decline of the traditional TV and print advertising space where the ad dollar is shifting towards digital due to the lower engagement level and viewership. In my view, the same logic applies to the WB/Wechat battle.
Over the past year, we have seen Wechat usage among the corporate and government bodies to engage with the users, which reflects 1) Wechat's growing popularity as a communication tool (previously a title held by WB) and 2) an acknowledgement of Wechat's superior network effect. Indeed, the time gap between Wechat and WB continued to expand to 2.6x in favour of Wechat compared with 2.5x in January.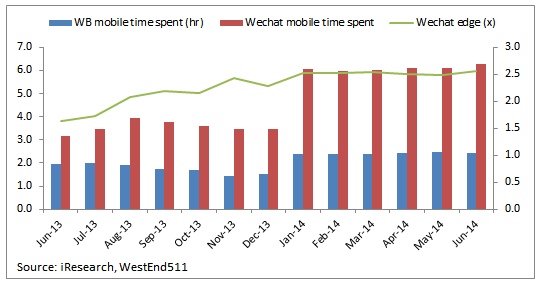 In conclusion, I am underweight on WB and its parent (NASDAQ:SINA) heading into the earning. Unless I see material improvement in WB's operating metrics, I will continue to be a seller of both stocks given that much of SINA's valuation depends on WB's performance.
Disclosure: The author has no positions in any stocks mentioned, and no plans to initiate any positions within the next 72 hours. The author wrote this article themselves, and it expresses their own opinions. The author is not receiving compensation for it (other than from Seeking Alpha). The author has no business relationship with any company whose stock is mentioned in this article.