King Digital (BATS:KING) announced earnings after hours on Tuesday and fell precipitously amid a disappointing report. Although EPS was in-line with analyst estimates at $0.59 per share, revenue missed significantly. Analysts were expecting revenue to be $606 million, but KING reported a paltry $593.5 million. However, the more compelling catalyst for the sell-off was the bleak guidance given by management.
The Good
Although the overall tone of the report was decidedly negative, there are a few bright spots worth mentioning.
Strong Balance Sheet
First, King generated $154 million in cash and bolstered its balance sheet, ending the quarter with $832 million in cash. Moreover, with its trading level after hours, ~14 per share, its market capitalization is roughly $4.5 billion, so it trades at only 5.3x its cash position, while still currently being profitable.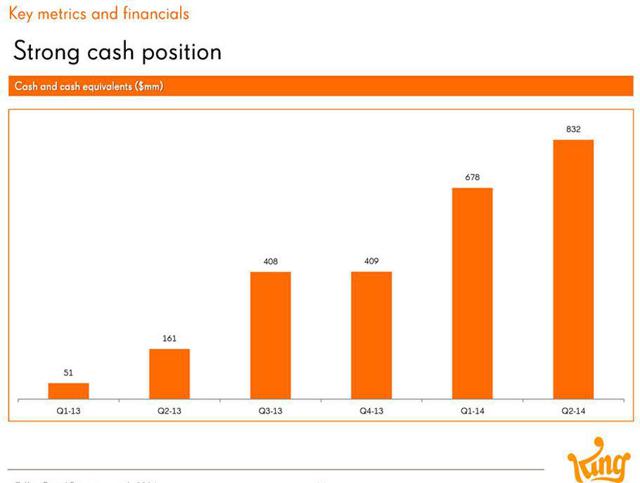 Click to enlarge
Source: Earnings Presentation
Nonstop Games Acquisition
During the release, KING announced the acquisition of Singapore based games developer, Nonstop Games. Although the games are not expected to be launched until 2015. The structure of the deal is beneficial to KING, as it mitigates write-down risk. KING will pay a $6 million upfront in cash, and $10 million to hire the employees for one year, but the bulk of the acquisition cost is tethered to revenue generation. $84 million of the acquisition cost is contingent based upon criteria linked to revenue from games developed. Thus, if none of the games being developed become successful, KING will not have to pay the full acquisition cost.
New Lockup Agreement
As we have seen with Facebook (NASDAQ:FB) and Twitter (NYSE:TWTR) the share lockup period expiring can have a drastic effect on the stock price. With an influx of a supply of shares, the market becomes flooded and the stock gets hit hard. The original lockup period was set to expire as of September 22, 2014, as it was outlined in the S-1. However, these investors including: directors, executive offices, founders, and affiliated funds have agreed to a new lockup date, the announcement of the fourth quarter earnings. These investors own a staggering 80% of the total shares outstanding. Although this mitigates a near-term threat, I will later tell you why it is certainly not good for investors and does not indicate that this group has a long-term bullish conviction in KING.
Chinese Candy Crush Saga
Although management did not give it much color, the localized version of Candy Crush Saga for the Chinese market was rollout out recently. The game is integrated with Tencent's mobile communications and social network platforms in Mobile QQ and Weixin. However, it remains to be seen if the game will gain any sort of traction in this novel market.
The Bad
Revenue Per Paying User
The market has certainly learned its lessons for paying for eyeballs in the crash of the early 2000s. Therefore, it is a positive sign to see that KING's monthly gross average bookings per paying user grew prodigiously during the quarter, to a record of $19.54. Although on the surface this looks like a favorable development, the growth is actually a function of an exodus of lower paying users, which skews the figure in a positive direction.
Source: Earnings Presentation
As you can see from the next chart, the number of monthly paying users has fallen each quarter since Q3 of 2013. Moreover, the decline is accelerating with the last quarter experiencing the largest decline to date. The number of paying users stands at just 10.4 million in the quarter. Therefore, the chart above does not actually indicate a positive development. An exodus of paying users represents an enormous red flag for KING.
Management discussed this trend during the release:
"We believe the sequential decrease was primarily a result of reduced payment activity among the occasional payers on the network."
Source: Earnings Press Release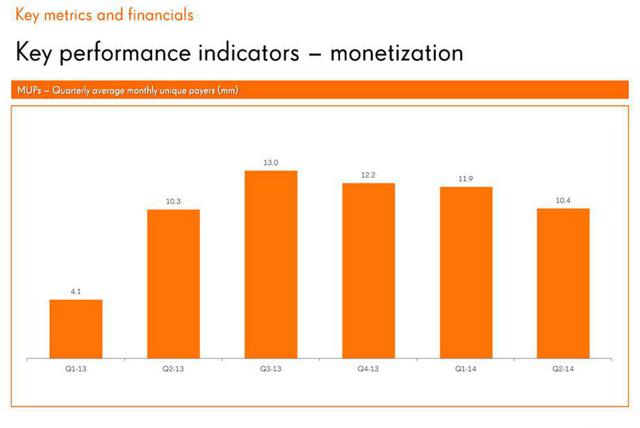 Click to enlarge
Source: Earnings Presentation
Shrinking User Base
For the first time in the company's existence, the user base and engagement levels shrunk. Candy Crush losing popularity is surely the crux of the reason for this decline. During the quarter, monthly unique users declined roughly 2%, and more concerning was that daily active users declined 3%, indicating falling engagement levels. With KING relying on revenue generating users, this is certainly a negative sign. Moreover, with app-install rates increasing greatly, KING will have to spend much more in terms of marketing dollars to acquire new users.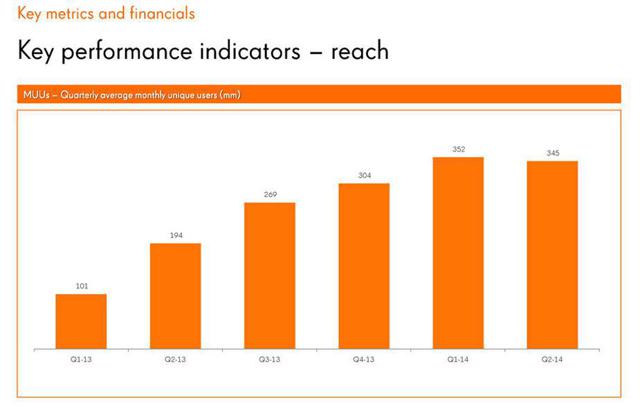 Click to enlarge
Source: Earnings Presentation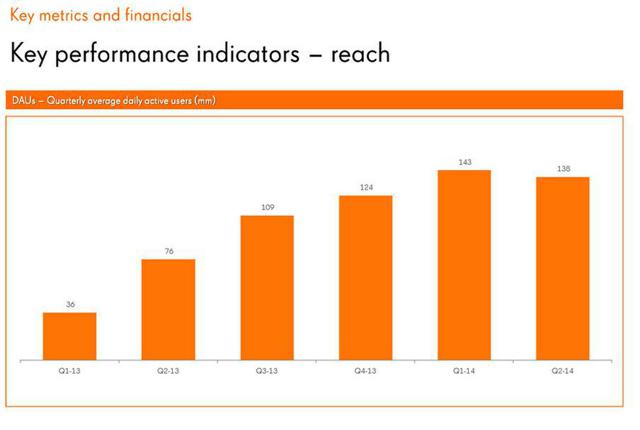 Click to enlarge
Source: Earnings Presentation
Diversifying Revenue Stream
The most prevalent bear argument centered around KING, after its IPO, was that it had too much of a reliance on Candy Crush. At the time of the IPO Candy Crush represented 78% of its gross bookings. However, KING has been reducing this figure each quarter and has dropped it to 59%, as of this earnings release. Although initially, this looks very positive, as its Candy Crush risk is being mitigated, the decline is more of a function of overall declining revenue. All of their other games only increased gross bookings 19% and Candy Crush revenue is falling much faster than that, so the overall pie is shrinking. Therefore, the percentage decline in total revenue is more of a function of Candy Crush's declining revenue, as opposed to other games being successful. It looks like the bears were right and KING has not been able to replace the declining revenue from Candy Crush.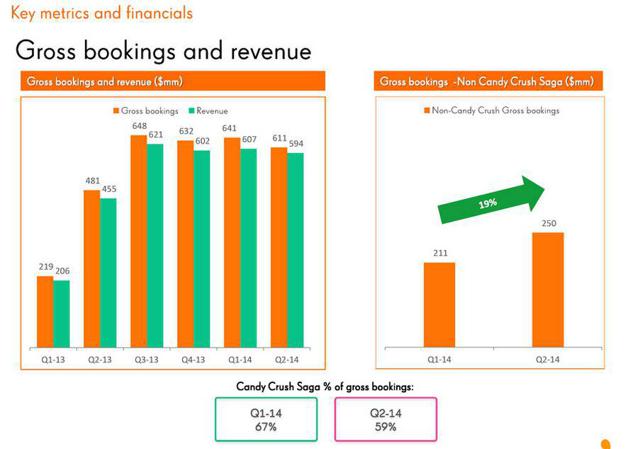 Click to enlarge
Source: Earnings Presentation
The Ugly
Guidance
For Q3 of 2014, analysts were projecting $615 million in bookings and $2.47 billion for fiscal 2014. However, management has given much worse guidance of Q3 bookings of $500-$525 million, and full-year bookings of $2.25-$2.35 billion. Management cited a faster than expected decline in Candy Crush popularity, coupled with worse than expected adoption of new games. A network effect is apparent in Candy Crush, and just as it facilitates its rise, it does the same in reverse. The decline in revenues will accelerate further and with no games successfully filing that void, the future is bleak.
Special Dividend
The announcement of a dividend is usually lauded by investors, but KING's special dividend paints a gloomy outlook. First, KING is in a growing and exceedingly more competitive industry. As an investor, I would rather see KING make accretive acquisitions with that money and cement itself in the industry. Moreover, it seems suspicious as to why management would announce a large one-time dividend as opposed to a smaller, consistent one to retain stock price stability. However, when this news is coupled with the news that a new lockup agreement has been reached with early shareholders, the reason is apparent.
These early shareholders, which mostly consistent of executive officers, founders, and early investors, hold 80% of the shares outstanding. Therefore, they will cash in on this one-time dividend and then sell their stake in Q4. Management is sacrificing its long-term to satisfy these shareholders. With management being included in this group, this indicates poor corporate governance.
Final Takeaway
Although KING is sitting on a sizeable amount of cash and has a couple potential positive catalysts from its Chinese Candy Crush launch, and Nonstop Games acquisition, their long term prospects are not so bright. Both of those catalysts are inherently speculative and are more likely to fail than succeed.
The declining user base (especially when considering app-install rates are soaring), precipitously deteriorating Candy Crush revenue, and a dearth of new successful games all points to a tough future for this game developer. Those closest to the company clearly think KING faces many headwinds in the long-term, as evidenced by the special dividend as a way for them to cash out.
Instead of investing in the future, management is capitulating and rewarding early shareholders. King Digital is certainly not a prudent investment, even amid the significant after hours sell-off.
Disclosure: The author has no positions in any stocks mentioned, and no plans to initiate any positions within the next 72 hours. The author wrote this article themselves, and it expresses their own opinions. The author is not receiving compensation for it (other than from Seeking Alpha). The author has no business relationship with any company whose stock is mentioned in this article.