After the market closed on Aug. 12, shares of King Digital (BATS:KING) fell nearly 21% to $14.36, hitting a new 52-week low along the way. The cause? A shortfall in both revenue and profits compared to what investors were hoping for and an outlook that is, at best, mediocre. Although this might remind investors of the downturn experienced by rival Zynga (NASDAQ:ZNGA), does the fact that shares now trade 39% below their 52-week high of $23.40 make the online game developer a bargain?
King Digital lost its crown
For the quarter, King Digital reported revenue of $593.6 million. While this represents a 31% jump compared to the $455.5 million management reported the same quarter last year, the company's top line came in below the $608 million analysts anticipated. Even though the number of Monthly Active Users (MAUs) shot up 83% from $265 million to $485 million, a more modest 27% rise in gross bookings (due to a drop in the popularity of its Candy Crush Saga series) placed downward pressure on sales.
Earnings Overview

| | | | |
| --- | --- | --- | --- |
|   | Last Year's | Forecasted | Actual |
| Revenue (millions) | $455.5 | $608 | $593.6 |
| Earnings per Share | $0.39 | $0.59 | $0.52 |
On the profit side, things were even worse. For the quarter, management saw earnings per share come in at $0.52. This was, admittedly, 33% greater than the $0.39 the company earned in last year's quarter, but it came in shy of the $0.59 Mr. Market hoped to see. This rise but unfortunate shortfall stemmed from King Digital's lackluster revenue growth, partially offset by a decline in share count and a drop in its selling and marketing expense from 24.8% of sales to 19.8%.
Heading into the next quarter, management expects results to worsen a bit. For the quarter, King Digital will likely record gross bookings of $500 million to $525 million, down from this past quarter but this metric will likely rebound in the fourth quarter to come in higher than fiscal 2013 at between $2.25 billion and $2.35 billion.
If you are scared about King Digital, don't take a glance at Zynga
Over the past few years, King Digital has had a really nice run, with sales skyrocketing 2,849% from $63.9 million to nearly $1.9 billion. The biggest contributor to this increase was the developer's rise in MAUs that was, in turn, driven by the success of its Candy Crush Saga series. With a recent decline in this game which, in 2013, comprised 78% of the business's gross bookings, this trend risks a reversal. This might incite investors to check out Zynga, but this might be a bigger mistake.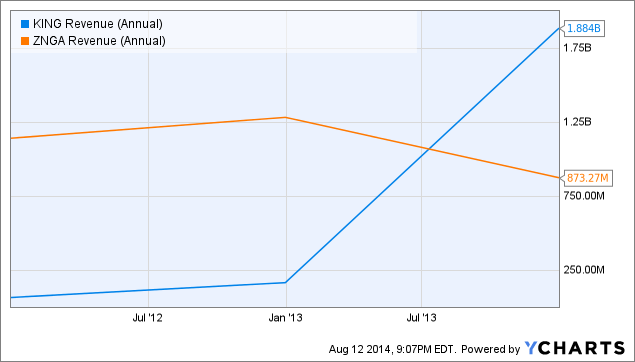 KING Revenue (Annual) data by YCharts
Between 2011 and 2013, Zynga's revenue dropped 23% from $1.1 billion to $873.3 million as its MAU count has dropped. Year-over-year, ending Jun. 30, the company's results continued to deteriorate. During this six-month period, sales plummeted 35% from $494.3 million to $321.3 million. Unlike King Digital, which is seeing MAUs grow, Zynga's fell 30% from 187 million to 130 million.
Takeaway
Right now, Mr. Market doesn't seem terribly happy about King Digital's performance. While some downside might be justified, however, the fear that the company is following in Zynga's footsteps might be unjustified. Yes, the business is seeing a bit of a slowdown because of lackluster Candy Crush results, but with other games making up 41% of gross bookings compared to the 33% they made up in last year's quarter at a time when sales are rising, it's possible that now might be the greatest time to consider taking a stake in the company.
Disclosure: The author has no positions in any stocks mentioned, but may initiate a long position in KING over the next 72 hours. The author wrote this article themselves, and it expresses their own opinions. The author is not receiving compensation for it (other than from Seeking Alpha). The author has no business relationship with any company whose stock is mentioned in this article.