Earlier this week I wrote an article on Net Lease REITs as more of a broad overview of the bond-like asset sector. In the article I included several Net Lease REIT peers many of which are considered the most durable dividend payers in REIT-dom. I'm sure you know these names by now: Realty Income (NYSE:O), National Retail Properties (NYSE:NNN), and W.P. Carey (NYSE:WPC).
It's not ironic that these REITs are also included in the list of 11 REITs that have paid and increased dividends for at least 15 years in a row. Nope, these REITs made it on that list for a reason and just based on the mere fact that these select few REITs increased distributions during the Great Recession speaks for volumes.

It's important however that investors shouldn't paint all Net Lease REITs by the same brush, that is, be careful not to purchase a Net Lease REIT without ample due diligence. In other words, just because a company is labeled a Net Lease REIT does not mean that it extorts the same risk control as the others do.
A good analogy is perhaps in the automotive sector: Let's call the three above-referenced dividend dynamos "Cadillac's" and based on the current pricing standards, they appears to be trading at the mid to high-end of the fair valuation range.

Realty Income and National Retail are considered "blue chips" because of their durable track record for managing risk, that includes maintaining a fortress investment grade rated balance sheet. As evidenced by the snapshot below these two REITs have achieved "fortress-status" by way of the modest secured debt contained in their capital structures.

Also, the stalwart sisters are all trading at or close to a dividend yield of 5%. That tells me that they are trading in fair value range and the potential for risk is elevated as compared to the peer group and these three "bond-proxy" REITs. It's important that investors don't invest in a REIT just based upon the face value of the dividend yield. It's always a good starting point to compare the yields, but each individual security should be scrutinized with a higher degree of risk assessment.

A Few Net Lease REITs to Avoid
While I consider the O, NNN, and WPC to be high-quality REITs worthy for most any investor portfolio, the best time to purchase these stocks is when they are on sale. I always remind readers to consider a desirable "margin of safety" or as Ben Graham defined it, "a favorable difference between price on the one hand and indicated or appraised value on the other."
From time to time I also remind investors that they should avoid certain stocks, not so much because they are too expensive but because they are what I would consider to be speculative investments. As a core attribute for any value investor it's essential to view a stock as a piece of a business and, by doing so you remain focused on the cash the business will generate and on its balance sheet as opposed to the opinions of other investors in the market. Warren Buffett reminds us:
The business owners approach is so fundamental that, unless it's ingrained as part of your basic philosophy, you're going to get in trouble in life when you do investments.
Government Property Trust (NYSE:GOV) is one Net Lease REIT that I avoid. Select Income REIT (NYSE:SIR) said that it did not buy back 22 million of its shares from Commonwealth REIT because they were never offered and instead the shares were sold to GOV. Consequently, GOV is now the largest shareholder in SIR and the two companies share the same external manager, REIT Management & Research, LLC.
The SIR investment should be accretive, but it carries more risk. Management is still focused on buying office buildings that are primarily leased to the US and state governments; however, we $700 million transaction adds shadow leverage to the portfolio as SIR itself is a levered entity (the company's net debt to total book capitalization is over 40% compared to just 33% in 1Q14) .
In addition, GOV occupancy should decline by 40 bps in the second half of the year largely due to 122,000 SF of known move-outs. The largest move-out relates to the FDA, which is vacating 100,000 SF in Rockville, Maryland. Additionally, occupancy should trend modestly lower in 2015 as the company has 1.2 million SF expiring, or 11.5%.
This is not my first "smack down" of GOV. In a previous article I explained:
There are too many other (Triple Net) sectors to consider and until the government decides to take the risk out of ownership (i.e. converting to "NNN" leases) I will stay on the sidelines. In simple terms, the "thrill of victory is simply not worth the agony of defeat.
Considering GOV's dividend history we can see that the company has maintained a relatively "flat" dividend history with very modest growth. Not necessarily what I would call a "Chowder" play (Chowder recommends 10% annual dividend growth):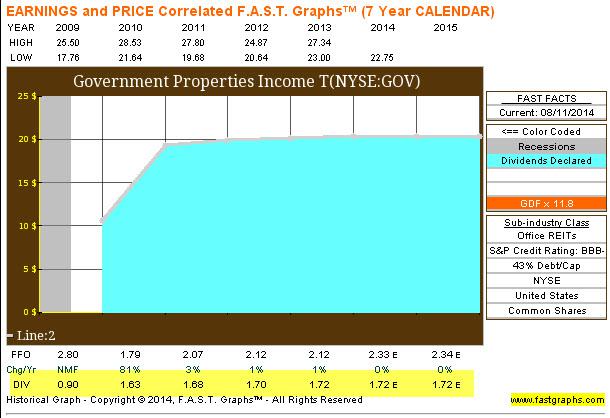 Viewing the FAST Graph below we see that GOV has also maintained a relatively insignificant growth record and although the low P/FFO multiple screams cheap, the value investor must answer the question: It must be cheap for a reason? In my opinion, GOV represents a classic "sucker yield" bet and I would be cautious investing in this security if you are simply chasing the 7.36% dividend yield.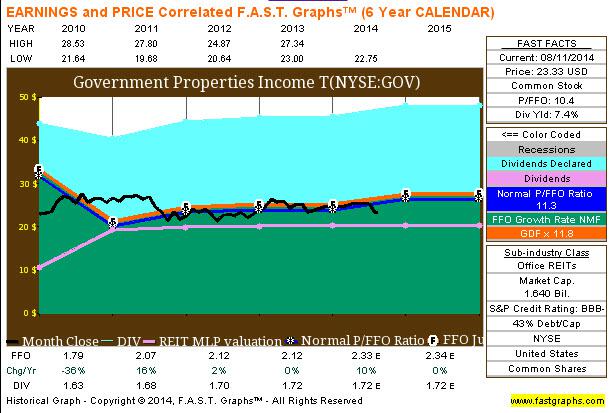 While reviewing One Liberty Properties (NYSE:OLP) top tenant roster we can see that the company's Top 5 tenants are unrated or have ratings of B+ quality or lower. Unlike most of the better known peers, OLP focuses on tenants that have no credit rating or tenants that are below investment grade but moving up the curve. That's a more risky investment strategy and also the reason the company has been able to harvest higher dividends. OLP's current dividend yield is 6.98%.
OLP owns 11 properties aggregating 612,130 square feet leased to Haverty. All of the properties are subject to a unitary lease which expires in 2022 (in 8 years). It's unclear as to whether or not Haverty will renew the lease with OLP; however, the concentration risk is high, especially considering the fact that this is a furniture tenant facing considerable pressure with e-commerce.

Another risk associated with OLP is the high level of debt on the balance sheet - around 47% debt to total capitalization. Most (around 98%) of the assets are secured by mortgages with a weighted interest rate cost of 5.2%. This type of capitalization offers very little financial flexibility and places equity at a higher risk premium. In addition, secured debt is more problematic when releasing vacant or non-performing tenancies.
One obvious concern I see with OLP is its unstable track record for paying dividends. As you can see below, OLP had a big dividend "whack" in 2009. Since that time, the company has clawed back all of its lost dividend ($1.48 per share annualized for 2014); however, the FFO payout ratio seems high (84%) given the excessive office space in the portfolio (cap-ex required) and high tenant concentration levels (noted above).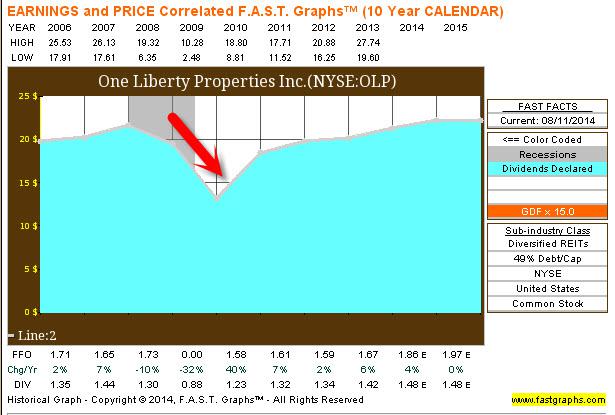 Much like GOV, OLP also screams "bargain" with a P/FFO multiple of 11.0x. However, I believe there is risk baked into the pricing and the current 6.98% dividend yield does not provide me with enough return for the risk. OLP is a small cap REIT (market cap of $342 million) and that means it doesn't enjoy the same cost of capital as the other peers. In other words, there are just better opportunities than OLP.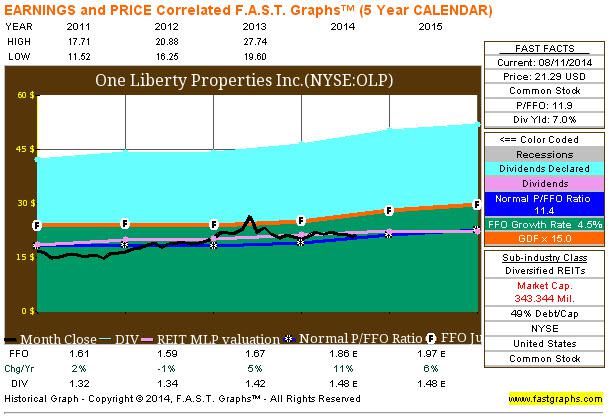 Before I tell you what I don't like about Getty Realty (NYSE:GTY), let me tell you what I do like. First, GTY has the lowest leverage in the peer group (just 17% total debt to total capitalization). Second, GTY is the only "pure play" REIT that focuses on the necessity-based ownership, leasing and financing of retail motor fuel and convenience store properties and petroleum distribution terminals.
Now let's talk about the risk of owning GTY: First off, there is no diversification within the sector. That means GTY is exposed to considerable environmental risk. Secondly, the leases are shorter term as compared with the peer group - 84% of the company's core property leases are expected to expire after 2022 (in 8 years). Third, the company has recently settled a lawsuit and there is more clarity as it relates to its future dividend performance; however, the dividend was "hammered" in 2010 sparking a negative sentiment relative to investor confidence.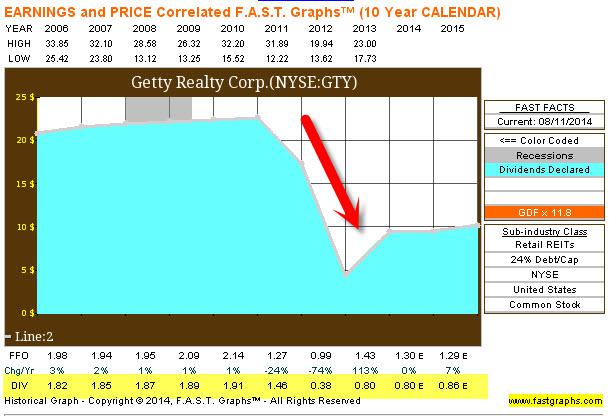 Several authors have written bullish articles on GTY (here and here) suggesting that the road to recovery is underway; however, GTY's dividend cut was massive and given the current yield of 4.30% I see no justification that allures me to the promise land of a value investor. I consider GTY to be a speculative investment and it will take quite a few quarters (or years) of dividend growth before I change my opinion.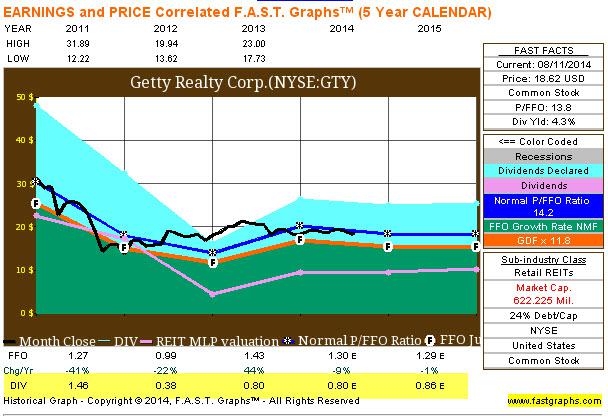 At the end of the day, you must ask yourself this question: "Is the thrill of victory worth the agony of defeat?" What's "victory"? I would extend the definition (of "victory") to include investing to protect my principal at ALL costs and owning shares in dividend paying stocks with the strongest sources of lasting differentiation. While most other investors are preoccupied with how much money they can make and not at all with how much they may lose, value investors focus on risk as well as return. That's what I call "sleeping well at night".
For more information on SWAN (sleep well at night) investing, check out my REIT newsletter HERE.
REITs mentioned: (NYSE:NHI), (NYSE:ESS), (NYSE:UBA), (NYSE:SKT), (NYSE:UHT), (NYSE:HCP), (NYSE:FRT), (NYSE:EPR), (NYSE:SRC), (NYSE:ADC), (NYSE:LXP), (NYSE:CSG), and (ARCP).
Source: SNL Financial and FAST Graphs.
Disclaimer: This article is intended to provide information to interested parties. As I have no knowledge of individual investor circumstances, goals, and/or portfolio concentration or diversification, readers are expected to complete their own due diligence before purchasing any stocks mentioned or recommended.
Disclosure: The author is long O, DLR, VTR, HTA, STAG, UMH, CSG, GPT, ARCP, ROIC, HCN, OHI, LXP, KIM, WPC, DOC, UDF, EXR. The author wrote this article themselves, and it expresses their own opinions. The author is not receiving compensation for it (other than from Seeking Alpha). The author has no business relationship with any company whose stock is mentioned in this article.