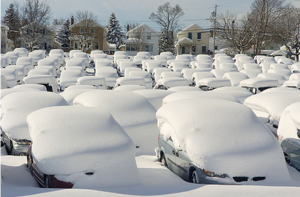 By Brandon Matthews
I wrote last week that Sirius XM shares were having a hard time moving up on good news. Again on Friday, Standard & Poors raised Sirius XM's (NASDAQ: SIRI) corporate credit rating, and suggested further upgrades are likely.

I cannot recall a single instance, where Sirius XM shares did not rise dramatically on previously upgraded credit ratings. Perhaps the reason is that Sirius XM has no near term debt issues, making debt refinancing futile at the moment.

Although Sirius XM has a history of using each improved credit rating to refinance debt at lower rates, I think the company would be better off waiting on further refinancing, and focus on becoming net debt positive. At this point the refinancing costs probably outweigh the benefits.
I have to thank Matt Harrigan of Wunderlich Securities. Last February, Harrigan downgraded Sirius XM Radio shares on fear that winter storms could have dampened auto sales to such an extent, that subscriber growth would suffer. Auto sales ended up being higher than anticipated, but did in fact take a nominal hit. Certainly not to the extent that Sirius XM shares should have lost more than 20% of their value on the downgrade.
Enter the new winter season, and reports of a major snowstorm crippling the mid-west and heading east. I can no longer watch a winter weather forecast, without thinking of how my own investment in Sirius XM might be affected. What we learned last year, is that the actual weather does less actual harm, than any single analyst forecasting doom. Can we predict with any certainty, that no analyst this year will repeat the same warnings? It is after all the warning itself, which we now know carries with it the potential of a negative impact to SIRI.
Recently, I wrote another article that suggested that auto sales were trending in a negative direction. A very valid question arose as to how this year compared with previous years. Here's a chart of U.S. auto sales on a monthly basis going back to 2005:
Click to enlarge: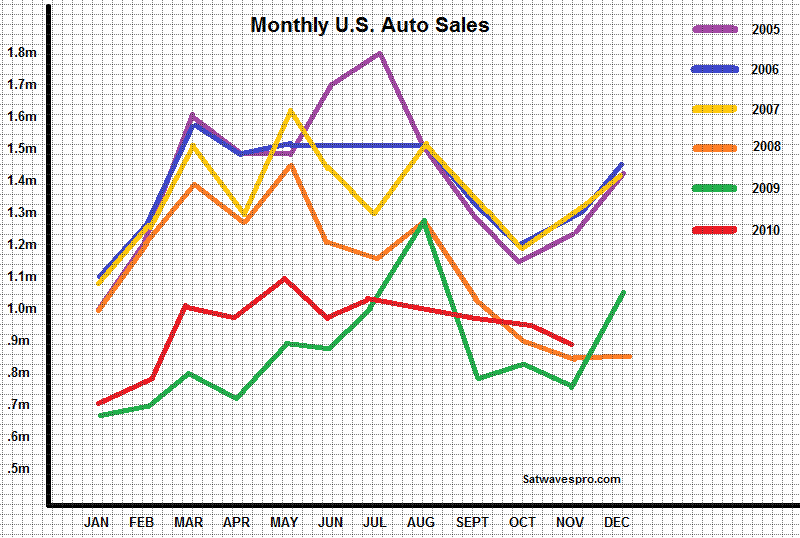 One of the first things I noticed, is that from 2005 - 2007, auto sales ticked up in November, and rose further in December. That's not surprising in that November commissions are paid in December. A salesperson's December holiday depends on a robust November, and Christmas bonuses are paid in December. In 2008-2010 however, November auto sales fell and December results were mixed as 2008 resulted in a small increase over November. And last year brought with it a steep rise in sales. Still, for at least these five consecutive years, U.S. auto sales have risen from November to December.
As you can see by the chart above, January is historically the worst month for auto sales. There are a lot of reasons for this such as taxes, the over-extension of credit card use, the loss of daylight at earlier hours and of course, the weather. Severe cold and adverse weather conditions are known to keep consumers from braving dealership lots. Test drives on ice and snow are not enjoyable, and many dealers have a hard time simply clearing their own lots of snow and ice. In the end, it's all about the actual number of selling days in a given month, and severe weather conditions can shorten a dealership's opportunities very quickly.
Enter old man winter. It's going to fall into the 20 degree range here in Florida tonight, and it won't warm up again until sometime Wednesday. A blizzard is hitting Chicago and Detroit and making its way towards Philadelphia, New York and Boston. The Giants/Vikings game was postponed, and now appears to be put on permanent hold as the Minneapolis Superdome has collapsed under the weight of heavy snow. A cold snap will blanket most of the U.S. in the coming days, which according to experts is unusual for December.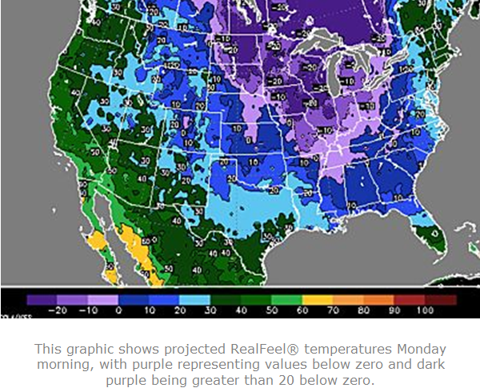 While all this can and probably will have negative effects on December's cumulative auto sales results, manufacturers can and probably will become more aggressive during the second half of December, in response to it. More troublesome, is the potential that alarm bells will once again be sounded prematurely.
Disclosure: I have no positions in any stocks mentioned, but may initiate a long position in SIRI over the next 72 hours.