Twitter (NYSE:TWTR) is launching a beta test for its new promoted video feature. While it's certainly nothing new, it may help Twitter to monetize its niche user base, which tends to be of the older variety. However, Twitter's approach to video ad monetization is slightly different from Facebook (NASDAQ:FB) as it's a variation of cost per action advertising.
According to Twitter:
We now offer advertisers the ability to run ads with a new Cost Per View (NYSE:CPV) ad buying model. This means advertisers only get charged when users start playing the video. Additionally, advertisers using Promoted Video have access to robust video analytics, including completion percentage and a breakout of organic vs. paid video views.
The cost per view model may have significantly higher pricing when compared to the sponsored tweet, and sponsored account model. According to Media Post, "the top price for any video advertising comes with "targeted video" on the Internet -- at an average CPM of $32.75 -- adding that "untargeted online tonnage buys generate much lower CPMs of about $9, which makes them roughly comparable to TV's all-daypart/all-platform norm."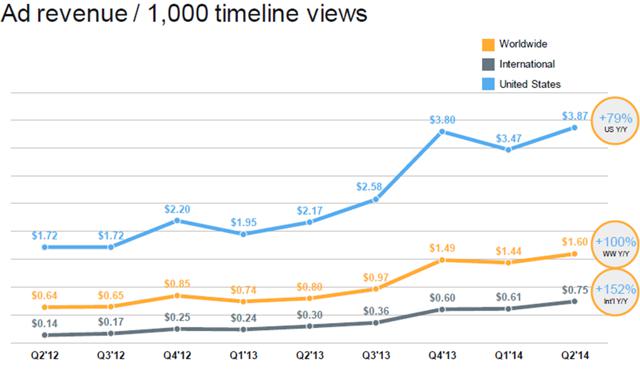 Click to enlarge
Source: Twitter
Ad revenue per thousand timeline views (basically revenue per thousand impressions) has increased sequentially on a q-o-q basis, and on a y-o-y basis. The global $1.60 CPM is significantly lower than the pricing range for video ads ($9-$32.75), therefore a greater mix of video ads in the timeline should boost ARPU (average revenue per user) metrics.
Video ads will work alongside sponsored tweets and sponsored account ads; however, Twitter will need to be careful with overly crowding the newsfeed with unnecessary advertising. In recent history, Facebook tweaked the newsfeed to display fewer status messages, and it's likely that Twitter is beta testing video ads to figure out the most optimum may to display video ads, adjust pricing, and adjust the amount of ad space that it will sell.
I think that the combined impact of user growth, paired with monetization trends will sustain the top-line growth of Twitter. I will offer a more in-depth projection on Twitter's revenue, and net income in a future article.
Disclosure: The author has no positions in any stocks mentioned, and no plans to initiate any positions within the next 72 hours. The author wrote this article themselves, and it expresses their own opinions. The author is not receiving compensation for it (other than from Seeking Alpha). The author has no business relationship with any company whose stock is mentioned in this article.