Transocean (NYSE:RIG) reported earnings a short while ago. They delivered a healthy sized beat on both revenue and earnings. The market yawned.
Goldman Sachs has a sell rating and a price target for Transocean of $29. Deutsche Bank has a sell rating and a price target of $27. And even Jefferies, who probably have the best thought out, deep, and insightful coverage of the offshore drilling industry, have a price target of $41. Given that Deutsche Bank nailed the peak with a downgrade in February 2013, it is quite understandable that investors are fearful of downside risks - after all a 31% downside to their price target is no small sneeze.
I can accept the short-term downside risks implied by the recently lowered price targets, but in my view the sell rating does not do justice to informing investors of the considerable long-term gain potential.
The clever analysts at Goldman Sachs and Deutsche Bank can be right repeatedly and will probably upgrade price targets once price approaches a bottom. Unfortunately, I am not clever enough to time a bottom. So let me describe how I approach Transocean.
Industry
The first step is to identify an industry which I like for the long term with high conviction. The offshore drilling industry meets that criterion for me.
In time, ground breaking innovation will lead to a new energy source capable of eliminating the need for oil. That time is not here yet. Oil remains a finite resource - and it is non-renewable. As we use it, there is a need to replace what is consumed. And there is a need to grow supply to meet growth in demand.
Rising demand from fast growing emerging and frontier economies is inevitable. At present, in the coming years we can expect to see innovation which will lower the dependence of oil. But I believe this will not lower the need to replace consumed resources: the best it can do is slow the pace of supply growth needed to fulfill growth in demand.
Much of the replacement resource and growth must be found offshore. We have explored and exploited onshore assets for a long time. There is a limit to how far technology can go to enhance production and better drain reservoirs of existing shore based resources.
And then there are needles and haystacks. I look at land as a giant haystack, containing energy assets which represent needles. In this haystack, over the decades we have searched for and found several needles: thus there are fewer needles remaining to be found. Offshore is a bigger haystack which dwarfs the giant onshore haystack. The offshore giant is a bigger haystack, and so it must contain more needles. And since it has not been explored as extensively as land, few needles have been found - there remain more needles to be found. To find the needles, technology and assets capable of exploring the offshore landscape need to get better and better.
Be patient while better assets are being built. The first 1st generation mobile offshore drilling unit (MODU) was built in the 1950's - I believe the first was Mr. Charlie, built by Ocean Drilling, which came into the market in 1954 rated for a water depth of 40 feet. Most of the remaining 1st generation rigs came to market during the 1960's. The 2nd generation fleet came to market largely in the 1970's. The 3rd generation followed during 1980 to 1985. The 4th generation came during 1986-1997. Followed by 5th generation assets which were delivered between 1998 and 2004. The 6th generation assets capable of drilling in 10,000 feet of water came to market in 2005 and continue to date. And finally, the 7th generation rigs, which are capable of drilling in 12,000 feet of water are being built today, and can be expected to enter the market by 2015. Each generation lowers down-time, adds efficiency and capability in comparison with the prior generation. Compared with Mr. Charlie with a water depth capability of 40 feet, it will not be long before we have rigs operating which are capable of drilling in 12,000 feet of water - that's progress, is it not?
As each new generation was built, there was the inevitable loud song and dance about how the oversupply would kill the industry. It did not, and it won't - ignore it and dance along with me. These assets are not being built for fun. They are being built, and many further generations will be built, because they are needed to find the most challenging needles in that difficult to search offshore giant haystack.
Keep in mind that as the shrill voices foretelling the death of the industry caused by rig oversupply rise, the market itself is not quite dead. Day-rates have declined, but they remain healthy. This table provides details of the highest, lowest, and average day-rates earned world-wide by various types of MODUs world-wide.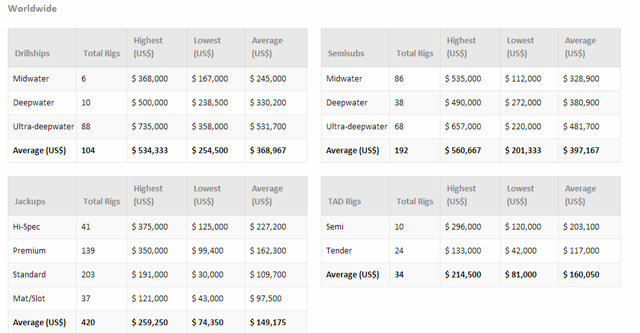 Source: InfieldRigs
And while there is available supply, it is certainly not as if utilization has collapsed. The present available rigs, together with new supply will be absorbed by the market as demand returns. This chart provides present world-wide rig utilization levels for various MODU categories. Unfortunately, it does not provide details by rig generation. If it did, you would probably find the greatest weakness in the 3rd generation semi-submersibles. As and when these rigs get cold stacked and are removed from the supply, we will see utilization levels and day rates start rising. I have ignored excess supply in the Tenders market, because that business is too small to be meaningful.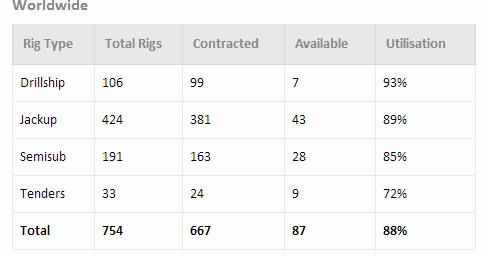 Source: InfieldRigs
And then there is energy security and independence and the ugly geopolitics of oil. Enough said.
Ownership and the Company
The second step is to search for a company I like within that industry. Transocean meets that criterion for me. That is not to say that Transocean is the only company in the offshore drilling industry that I like. I like many. But this article is about Transocean.
I like how Transocean has grown organically and through mergers and acquisitions over the years. I like the asset quality, despite people being impatient with the pace of change in the balance to newer from older rigs. I like the governance and capital structure. I like the management quality. But most off all I like the people quality throughout the organization. Some of my bias in favor of Transocean will come from the fact that I worked there for several years through 2007. Honestly, I don't know if that is an advantage of a disadvantage as an investor!
Because I like the offshore drilling industry in general, and Transocean in particular, my main objective of ownership of an economic interest in the future of the company is met. The next step is how to go about acquiring that economic interest.
Acquiring the Economic Interest
As always there is a big difference between price and value. Today we know the price is about $38. We know that Goldman Sachs, Deutsche Bank and Jefferies perceive value at $29, $27 and $41, respectively. My perception of value is significantly different.
Since the earnings for the offshore drilling industry are highly cyclical, I tend to use a six year average of diluted earnings excluding non-recurring items to determine the level of potential earnings which can be earned and grown by the company over the long-term. In the case of Transocean, I see long-term earnings potential at $6.61 per diluted share, growing at about 6.25% annually, and delivering a return on equity of about 14%. Given a Value Line beta of 1.3 and my very long-term market estimates for the equity risk premium and risk free rates of 5.75% and 4.5% respectively, I would like a long-term return of near 12% from Transocean. Based on these numbers, in my view Transocean is rightly valued at about $70 for the cycle investor.
I use a combination of value and an allocation strategy to acquire an economic stake in the company. What this means is that if the stock were priced at $70, I'd be happy to allocate about 3% of my portfolio to Transocean. At recent prices of $38 I would be happy to allow my allocation to Transocean to grow to 5.5% (3% multiplied by $70/$38) of my portfolio. If Transocean fell towards the Goldman Sachs and Deutsche Bank targets at near $30, I would allow my allocation to Transocean to grow as high as 7% (3% multiplied by $70/$30). Of course as prices rise, I would be changing my allocation. For example, if in time the stock rises to $160, I would reduce my allocation to Transocean to 1.31% (3% multiplied by $70/$160) of my portfolio.
This methodology allows me to raise my economic interest in the company when the stock is cheap, and lower it when the stock is expensive.
It is weird to contemplate a price of $160. But think of it this way: in 2008, Transocean hit cycle peak earnings of $14.33 excluding non-recurring items. And it traded as high as $163 that year: that is 11.37 times cycle peak earnings. If the earnings grow at 6.25% annualized from peak cycle to peak cycle, we could see the next drilling cycle earnings peak approach $20. And at the 11.37 times prior peak cycle earnings, the stock could trade near $220. Now we can't realistically expect to time the peak to perfection, and peak multiples do change. But if I work with 2008 annual average prices divided by 2008 earnings I get a multiple of peak earnings of 8.4 times. Using a multiple of 8, together with next potential earnings peak earnings estimate of $20 gets me to $160.
Equally weird is contemplating a price of $29. It is easy to scoff at that target, but it can be hit. If it does, don't despair, instead, consider it a gift. People set targets based on earnings expectations. And since it is people that buy and sell stocks those targets can be hit. If we work with the Reuters consensus earnings estimates for 2015 of $3.38 and apply the 2008 annual average PE ratio of 8.4, we get a potential price of $28.39.
The Conference Call
While Transocean did beat expectations, the conference call did indicate that the offshore drilling market remains weak. The two main concerns expressed by conference call participants were getting a handle on the conditions in the offshore drilling market, and Transocean's dividend.
The Offshore Drilling Market Conditions
The Bad News
Ms. Terry Bonno, SVP marketing at Transocean highlights the improvements in backlog, and the potential for some coming good news on GSF Rig 35, but does not shy away from highlighting the continuing weakness and pressure on utilization.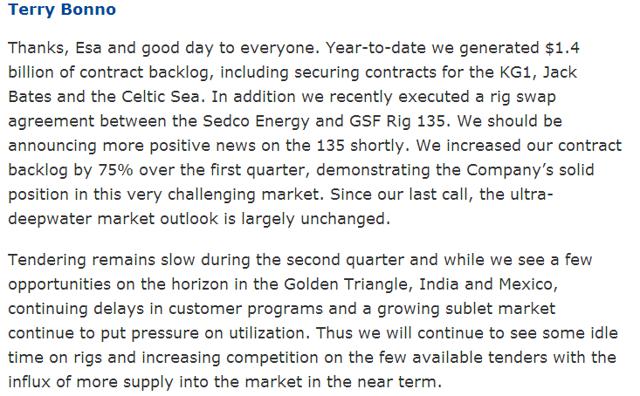 Source: SA Earnings Call Transcript
The Good News
But all is not lost. Ms. Bonno was amongst the first to highlight weakness developing in the offshore drilling market several quarters ago. I look upon Terry as an excellent lead indicator for the offshore drilling industry. She tends to say it as she sees it without allowing her views to be tainted by excessive optimism or pessimism. In this exchange she highlights the presence of opportunity, which when it comes, will turnaround the cycle.
That she is confident enough to say that "So the conversations are percolating but I think it's a bit early to say, put your line in the sand and say this is when it's going to happen. But it's going to happen. So that's one thing that we know is going to happen. So we like some of the things that we are seeing but again it's a let's wait and see how this plays out" means a lot to me. It hints to me that a turn in the drilling cycle might be closer than many expect.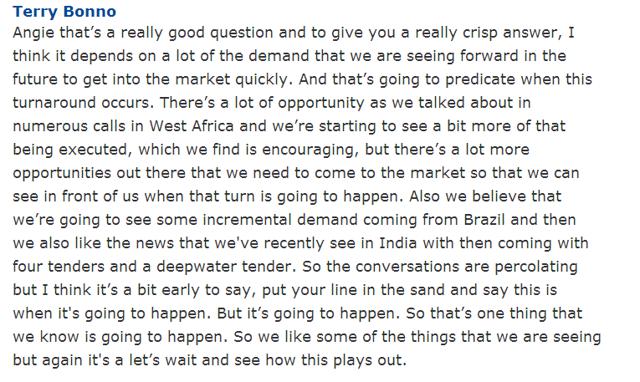 Source: SA Earnings Call Transcript
The Dividend
The Bad News
Here Steven Newman expresses commitment to pay a competitive and sustainable dividend. This does not really say much more than - we shall see.

Source: SA Earnings Call Transcript
In this exchange Steve makes clear that Transocean is committed to maintaining a sustainable and competitive dividend, but highlights, in my view quite rightly, that investment in growing the business and balance sheet quality are important too. The balance sheet could weaken quite considerably if a continued deterioration in market conditions leads to an asset impairment charge.
My personal view is that investors looking for a stable, sustainable and growing dividend should look elsewhere - perhaps consider Transocean Partners LLP. For Transocean, while I believe the dividend is sustainable, I believe a dividend of $3 is overly generous. And come May 2015, it is possible that the dividend will be cut unless there is very clear evidence of a turnaround in the drilling cycle. A dividend cut could provide a downside catalyst.
It is possible that the dividend won't be cut: the cash infusion from Transocean Partners LLP and disposition of other non-core assets will provide more than adequate access to cash flows to fund the dividend. Having said that I would feel a lot happier if cash flows generated from Transocean Partners LLP and non-core asset dispositions were used to invest in the future.
In my view a company with deeply cyclical earnings ought to pay out no more than 30% to 40% of average cycle earnings as a dividend if it intends to maintain, sustain, and grow a stable dividend over time. Any excess free cash flow during the drilling up-cycle can always be conserved and returned via buybacks during the drilling down-cycle. In the case of Transocean, a 30% to 40% payout of average cycle earnings translates to a dividend of $1.98 to $2.64. At $2 the dividend would provide a yield of over 5%, which is competitive in comparison to the market, but perhaps not competitive in comparison with several companies in the offshore drilling industry.
With Transocean priced where it is, I would be quite happy with a dividend suspension provided that the funds so freed are used to execute a buyback program - it would deliver an increase in economic interest, without the tax cost associated with a dividend being reinvested.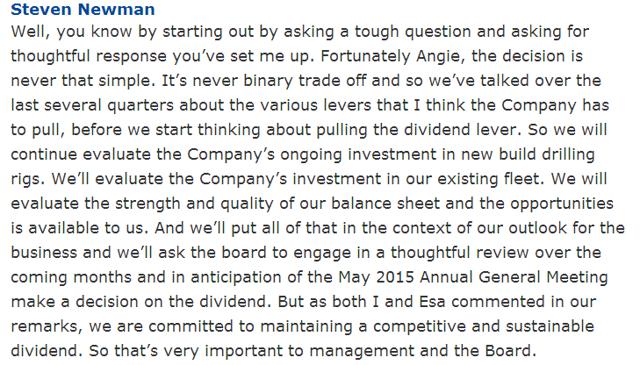 Source: SA Earnings Call Transcript
Disclosure: The author is long RIG. The author wrote this article themselves, and it expresses their own opinions. The author is not receiving compensation for it (other than from Seeking Alpha). The author has no business relationship with any company whose stock is mentioned in this article.