On September 12, 2010, a Seeking Alpha commenter Boulay365 asked, "Will Beckman Coulter (NYSE:BEC) stock bounce back to 70 in a few months?" The following day, in an article titled "Beckman Coulter: Pondering the Imponderable", we attempted to hazard a guess, based on cycle analysis and Dow theory, where the stock would be by December 13, 2010. Our analysis was incorrect as we shall demonstrate.
First, we attempted to rationalize the usefulness of probability in determining the ability of Beckman Coulter to rise to $70 level. We used the last period that Beckman Coulter rose from $45 to $70 as a benchmark for what could be expected in the off chance that the stock price could catapult from such a low level in a short period of time. Next, we reasoned that the period in which the stock rose so quickly, March 17, 2009 to September 11, 2009, was in the midst of a bear market rally which tends to be a violent correction of prior declines. We then attempted to quantify the potential for the stock price to rise based on Dow Theory and cyclical patterns that had been exhibited in the past.
Suffice to say, our summary at the end of the article says it all, we said the following:
$70 by March 11, 2011 based on previous $45-$70 cycle (rosy scenario).

$57 by December 13, 2010 using $45-$70 trajectory (rosy scenario).

Price accomplishes $70 by September 13, 2011 (plausible scenario).

Price falls further (likely scenario).
We are (apparently) the masters of trying to project the most cautious view possible. Even as new shareholders of the stock, we said that our expectation was for the price of Beckman Coulter to fall further from the date of September 13, 2010. In addition, we felt that it was plausible that Beckman Coulter could accomplish $70 by September 13, 2011. However, under a rosy scenario, a perspective we routinely attempt to shun, we expected the stock to accomplish $57 by December 13, 2010.
We were catastrophically wrong in our analysis. As recently as December 9, 2010, BEC closed at $57.09. Had we made it to next Monday, we would have been able to claim that to our surprise the rosy scenario of reaching $57 did play itself out. We were wrong by a country mile on that matter. On December 10, 2010, it rose as high as $74 in anticipation of the sale of the company.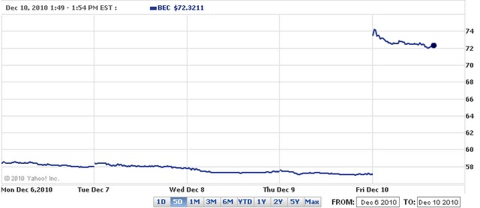 (Click to enlarge)
At this point, we can only thank Boulay365 for asking the question, which we found fascinating to research. There were definite lessons learned in this exercise which we hope to carry forward in future analysis.
Disclosure: I have no positions in any stocks mentioned and no plans to initiate any positions within the next 72 hours.