When I look at King Digital (BATS:KING) earnings results, from purely a fundamental analysis standpoint, it was a great quarter. High profitability, good amounts of free cash flow, but…
In the world of mobile gaming, the most important metric is user engagement. It's okay if user engagement figures increase at a slower rate, because it just means that growth rates will slow, which is pretty normal in any high growth business/industry. But what's not okay is decay, or negative year-over-year, or sequential comps.
In this case, we have to assume that key risk factors are starting to surface. When risk becomes hard to quantify, the market tends to discount aggressively.
Looking at what went wrong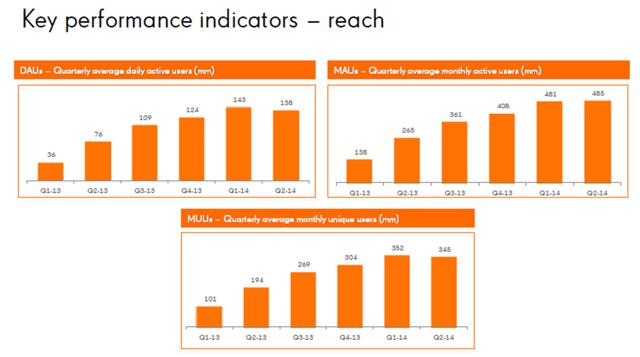 Source: King Digital Entertainment
Looking at the above figures, daily active user metrics declined sequentially. The monthly active user metrics flat-lined and monthly unique users have declined sequentially. Depending on the sales mix going forward, you're likely to see bookings per user statistics carry the company for a couple quarters, as key game franchises are at the very apex of the product life cycle. It's likely that gamers will buy more in-game features while interest in the gaming franchise is at its very apex.

Source: King Digital Entertainment
The monthly gross average bookings per paying user improved sequentially, and this confirms my suspicion that King Digital Entertainment will sustain top line growth on the basis of better monetization metrics per user, even as active users continue to decline. Assuming bookings per user grows at a greater rate than the decline in active paying users; revenue will grow on a q-o-q and y-o-y basis. However, gamers will at some point get bored, and as new mobile games crop-up, older franchises will eventually lose relevance. In this process, total user metrics will decline, and eventually the booking per user metrics will also decline. The combined impact from declining users, and booking per user will occur at some point in the near-term future, and when that does happen revenue will decline at a drastic rate.
How will investors/King Digital respond?
King Digital can release a sequel to Candy Crush, but in many instances it has been proven to be ineffective. A good example is Zynga's (NASDAQ:ZNGA) Farmville 2, the sequel did little to reverse the downward trajectory in active user engagement. A short-term influx in demand isn't a sustained increase in demand, therefore it's dubious that marketing a sequel will drive sustained growth.
For one, we don't know if King Digital Entertainment will grow revenue on a consistent basis going forward, and because of that fact, we have to price the business as if it's going out of business (think in terms of private equity). Inputting declining free-cash flow and a higher discount rate into a DCF model will result in a much lower intrinsic value measure. The degree of variance when it comes to discount rates between both sell-side analysts and buy-side analysts will be wide. Some will aggressively discount on the basis of heightened risk factors (higher risk will demand a higher return), while others will use weighted average cost of capital. One will deflate the discount rate, and the more subjective risk measures will heavily increase the discount rate.
Because future free cash flows aren't going to be that easy to predict, it's likely that analysts will constantly adjust the price target/objective going forward. Common valuation metrics will give value investors some conviction to chase after the stock, even as it's falling like a knife. However I think investors should stay on the sidelines until a broadly diversified portfolio of mobile games generates revenue growth on a per user basis, and through user growth and retention.
King Digital will continue to milk its most successful franchise on the way down, and that will boost the cash position for the next 2-3 years. This gives investors some margin of safety, and at some point it will probably trade at a compelling value from the context of P/E ex-cash, EV/EBITDA, and tangible BV/per share.
However, I'm not a huge proponent of value investing, and this could quickly turn into a value trap. Therefore, investors have to assume the downward price momentum in KING will continue, even as balance sheet metrics improve. Improving tangible book metrics isn't how you evaluate success in the mobile gaming space, therefore, on purely a fundamental basis; KING will constantly show up on stock screens, because of its low P/E multiple. Some will attempt to time bottom and pen articles that will argue in favor of a quick turn-around. However, I don't think such an ideal situation will quickly materialize; in fact, I'm highly convinced that the future will become increasingly uncertain.
Conclusion
Usually companies will fight back against a negative catalyst, and eventually orchestrate some sort of turnaround. King Digital will have to release another game that grosses as much revenue as the original Candy Crush saga, or release a series of successful games. The latter is more likely. However, developing a portfolio of successful games will take a significant period of time, and on-going R&D and SG&A will diminish the profitability of the business. Since that's the case, I am initiating a sell rating on the company.
If King Digital is able to reverse the decline in its core game franchise (highly doubtful that it will), or it's able to generate comparable bookings from a portfolio of games, I will adjust my recommendation to meet that new reality. However, at present I'm just not convinced anyone will stomach the volatility in this name, and there's no such guarantee that a collection of games will generate as much revenue as Candy Crush, or that success on the scale of Candy Crush will occur under King Digital Entertainment ever again.
Disclosure: The author has no positions in any stocks mentioned, and no plans to initiate any positions within the next 72 hours. The author wrote this article themselves, and it expresses their own opinions. The author is not receiving compensation for it (other than from Seeking Alpha). The author has no business relationship with any company whose stock is mentioned in this article.