Adult comedies are quickly becoming a summer staple and so far we've seen three enter theaters this season, with two of the three over-performing. This weekend, 20th Century Fox (NASDAQ:FOXA) joins the fray with its buddy cop comedy Let's Be Cops, which caps off its summer roster and could cement what's been a strong run for the studio.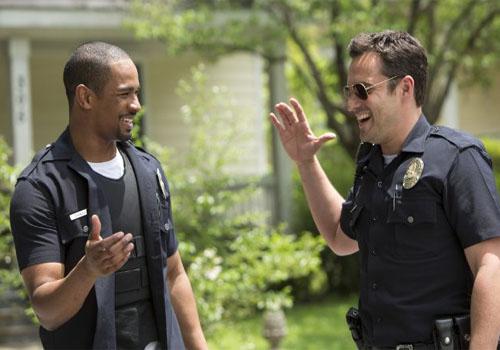 (CREDIT: FOX)
Let's Be Cops stars New Girl co-stars Jake Johnson and Damon Wayans Jr. as two friends who dress as cops for a costume party and decide to continue the facade long after it's over. Of course the more they pretend to be actual cops the more bizarre situations they find themselves in and the crazier their lives get.
The movie is one of three new releases this week that also include Lionsgate action pic The Expendables 3 and The Weinstein Company's young-adult novel adaptation The Giver. And that's not counting the holdovers which include Disney's Guardians of the Galaxy and Paramount's reboot of the Teenage Mutant Ninja Turtles franchise.
In other words it's a stacked weekend and that's part of the reason why Fox is releasing the movie on a Wednesday verses a Friday. It's a smart business move that paid off earlier in the year for Sony when executives released the low budget faith-based drama Heaven Is For Real ahead of the busy Easter holiday weekend. Now the comparisons between Cops and Heaven stop there as they are two completely separate movies with two completely different target demographics, but the strategy makes sense.
Cops is going after the same audience that gave Universal's Neighbors a $49 million opening weekend and Sony's 22 Jump Street a $57 million bow. The difference here is the situation as not only is mid-August not an ideal time for a comedy but director Luke Greenfield has never had a movie either open to over $20 million or gross $100 million (worldwide) over his career. Yet Cops has a few factors working in its favor including its cast. Johnson and Wayans Jr. are both very likeable and their New Girl fan-bases will likely turn up, as will The Vampire Diaries followers given the presence of Nina Dobrev.
In addition, like Greenfield's other movies, Cops' budget isn't that high, with estimates putting it between $20 million and $30 million so it won't take long to re-coup its money. Yet given that both Neighbors and 22 Jump Street scored worldwide tallies of well over $250 million you can see why Fox would have to be hoping for a similar reaction. Of course whether or not they may get it is another story we'll dive into a little later on.
Investor's Analysis
For an investor perspective though it's been a strong summer for Fox with only one of its films under-performing. The studio started out strong with the late April sleeper hit The Other Woman, which helped carry them a few weeks until X-Men: Days of Future Past blasted its way into theaters and set up a four week period that saw three films open almost back-to-back. While one of those films, The Fault In Our Stars crushed the competition (and audience's souls at the same time), How To Train Your Dragon 2 lost the top spot its first week out to…22 Jump Street. Now it's Fox's turn to try and capitalize on that type of movie.
Investors looking at Fox can see the company is currently in the driver's seat coming off the very well-received Dawn of the Planet of the Apes which last month earned $72 million over its opening frame. With fan and critical support, the film has now amassed close to $200 million in domestic sales and given its studio one of the summer's biggest hits to showcase to stockholders.
The fall looks equally as bright thanks to a solid slate that includes two more adaptations of hit novels in The Maze Runner and Gone Girl, plus family friendly fare including The Penguins of Madagascar and Night at the Museum 3. On a more macro scale though, Fox's television subsidiaries look primed for a good run given the mega-buzz around the network's "it" rookie drama Gotham, based on the origins of Commissioner James Gordon from the Batman world and the final season of FX's motorcycle drama Sons of Anarchy which could set ratings record for the cable channel.
Combined, Fox will be a company and stock to keep an eye on going in the later months and that's why executives are hoping Cops tops the charts and helps the company end the season strong. The last thing executives want is for it to collapse like Sony's Sex Tape which seemed poised to do well following the adult comedy path but couldn't top $36 million domestically.
In this case the jury is still out as audiences are fickle and while they know what they find funny, it remains to be seen if this fits that mold. Had Sex Tape not bombed more people would be bullish on this movie, but given the competition and the lack of real buzz, this doesn't seem to be destined for the mega opening and it doesn't seem like a reason to go out and buy stock in Fox…just yet. However, given what's on the horizon, that could change in the distant future.
Disclosure: The author has no positions in any stocks mentioned, and no plans to initiate any positions within the next 72 hours. The author wrote this article themselves, and it expresses their own opinions. The author is not receiving compensation for it (other than from Seeking Alpha). The author has no business relationship with any company whose stock is mentioned in this article.