Since May of this year, shares of Bellatrix Exploration (NYSE:BXE) have slid nearly 32%. It seems apparent the shares have been oversold and the company appears very undervalued as well.
This huge decline in share price can clearly be blamed a lot in part on a botched equity offering. On May 27th, the company announced it would offer 26.65 million shares at $9.75 which resulted in the share price plummeting 6%. On May 28th, the company then announced it would re-size its offering to just 15.8 million shares at $9.50. Still what ensued was a 12% drop in the following two weeks as the shares were issued on June 5th. Although poorly planned and executed, the money raised from the offering is still a very good thing for Bellatrix. All in all, the company's net proceeds from the offering were $165.5 million which is being used to pay down debt and be in a better position to fund the capital program. Afterward, Bellatrix raised its capital program for the year by another $60 million which should help significantly accelerate operations.
The company does still have the capacity to issue more shares if it pleases in the future. In early May, the company filed with the SEC for $750 million Shelf Prospectus, which allows the company to issue shares for proceeds up to $750 million for the next 25 months. After the offering, the company reported it still has $577.4 million left of possible proceeds, but I do not believe the management would shoot themselves in the foot by having another offering any time soon.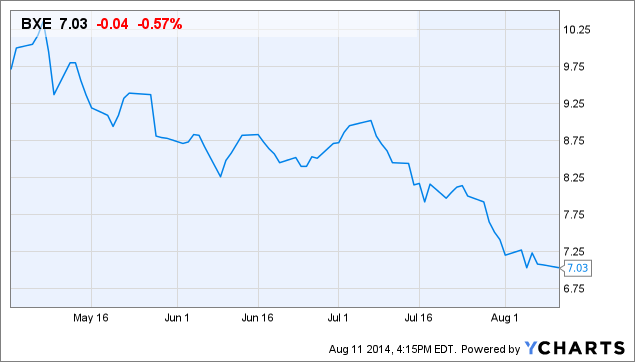 Bellatrix reported 2nd quarter results on August 6th and the results looked very good. Historically Bellatrix has consistently delivered on growth both financially and operationally. During the first 6 months of the year, Bellatrix had a 100% success rate in the drilling of 63 new wells, most of which were located at the company's oil rich Cardium land. Production has increased 64% from the 2nd quarter of 2013 to over 36,000 boe/d currently. The company estimates to have an average production of 41,000 boe/d for FY 14 and expects to have an exit rate of 48,000 boe/d which is another 33% rise from current levels.
Financial highlights from quarter 2 included net income increasing 147% from last year to $38.3 million and revenue up 105%. EPS came in at 21 cents which was right around the consensus. The company continues to cut costs as it increases production and expenses came in almost a dollar less per boe compared to last year. Revenue for the year is expected to be more than double it was last year. The graph below just shows how extremely well Bellatrix has been able to grow over the past few years.
Revenue growth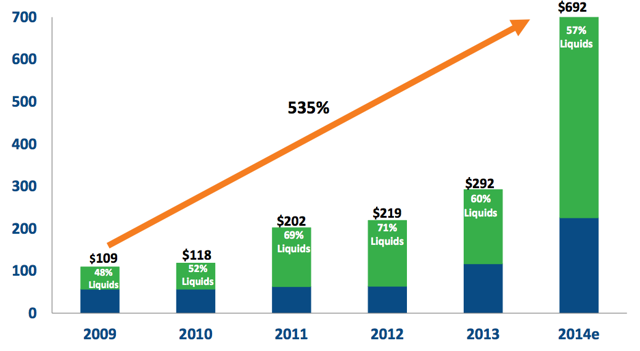 (Source: Bellatrix website)
Going forward Bellatrix still has massive potential. It continues to focus on two core areas; the Cardium light oil play and the Mannville condensate rich gas play. For the remainder of the year, Bellatrix will be active in drilling with 10 to 12 rigs located in both of these areas. In total, it has about 1,800 net possible development locations.
The Cardium play has lots of potential with the extensive land position Bellatrix holds there. In total, the company controls 338 net sections in the area and are the second largest land holders in the area. In total, 800 drilling locations have been identified which will keep the company busy in the area for a while. In 2014, the plan is to drill in total 90 wells in the area which should add nicely to the light oil production.
Reserve growth has been outstanding for the company, increasing 722% since 2009. Current proved reserves are about 124 mmboe, of which 36% is oil and liquids. 2P reserves are 212 mmboe, with slightly more oil and liquids.
Reserve growth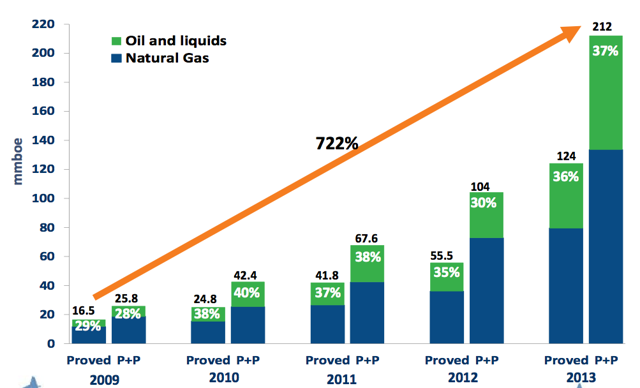 (Source:Bellatrix website)
Some growth numbers to highlight from 2009 to the end of 2013:
Cash flow per share up 225%
2P reserves up 722%
Revenue up 167%
Production up 450% (to current production)
Analysts are very positive on the company with 2 having strong buy ratings and 5 having buy ratings. The average price target is $12.50 which is nearly an 80% upside from current levels.
In conclusion, Bellatrix does not deserve the current beat down it has taken over the past few months. At these levels, the company is extremely undervalued and could posses a 50% or more upside in the near future. Financially and operationally, the company is in a very good position with a great historical track record of proven growth. At this price, there is no doubt that Bellatrix is a buy.
Disclosure: The author has no positions in any stocks mentioned, but may initiate a long position in BXE over the next 72 hours. The author wrote this article themselves, and it expresses their own opinions. The author is not receiving compensation for it (other than from Seeking Alpha). The author has no business relationship with any company whose stock is mentioned in this article.
Additional disclosure: Always do your own research before investing.