By Timothy Lutts
Last week my advisory led off with a question from a man concerned about "building a family legacy for future generations." One of my readers, Bradley K., a Chartered Life Underwriter, was kind enough to send this response:
Tell the reader who is worried about estate building to buy life insurance. Proceeds are not income taxable, and policy ownership can be arranged to avoid estate taxes too. Spendthrift provisions can be arranged thru the use of life insurance trusts.

Whole Life is not subject to the vagaries of the market, either. Don't buy Universal Life or Variable Life for this purpose.
Just remember this: Every time you elect to buy "security," you forego future opportunity. So the real question you must ask is, "How much opportunity am I willing to give up to purchase security?" And then you must answer the question. Whatever you answer is correct for you. And whatever I answer is correct for me.
As a man who's spent most of my professional career recommending aggressive investment in common stocks, aided substantially by accurate market timing, I feel very comfortable buying less security and retaining more opportunity. But most people want more security. And it's that desire to buy security that has made the insurance industry a fine place to invest over the decades. American International Group (NYSE:AIG) was a spectacular investment until it fell apart, while Chubb (NYSE:CB), Progressive (NYSE:PGR) and Travelers (NYSE:TRV), to name a few, have been wonderful conservative, dividend-paying investments.
Yes, the industry suffered in the recession of 2008-2009, as asset values shrank all over, but insurance stocks look great again. In fact, I've got two attractive insurance stocks to tell you about today: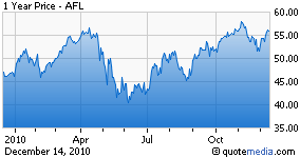 Aflac (NYSE:AFL) is the first, well known for its commercials featuring a duck. The name is an acronym of American Family Life Assurance Company. The stock pays a dividend of 2.2%. Revenues have grown every year of the past decade and grew 10% in 2009. This year, growth has ramped up; it hit 19% in the third quarter, while earnings grew at 16%.
But it's not growth that makes Aflac attractive, it's valuation. In fact, Roy Ward, editor of Cabot Benjamin Graham Value Letter, highlighted the stock back in August, when it was trading at 49. Roy wrote:
Aflac is the world's largest supplemental cancer insurance provider, deriving 75% of its business from Japan. Aflac's U.S. sales are lagging, but the company's focus on new products and successful promotions in Japan is producing strong performance. Sales increased 13% and EPS soared 80% during the past 12-month period. We forecast sales and earnings per share growth of 7% and 16% respectively during the next 12 months. Growth could receive an additional boost if U.S. sales improve noticeably. AFL shares now sell at 9.0 times our forward 12-month EPS forecast. We expect the stock price to increase to our Minimum Sell Price of 90.14 within two to three years.
In the four months since then, AFL is up 13%, and Roy has raised his Minimum Sell Price to 108.85, which would be a fat 95% profit from here. But you don't want to just jump in and buy at any time and price. A key concept of the Cabot Benjamin Graham Value Letter's system is the concept of Margin of Safety. And how do you get Margin of Safety? By buying low.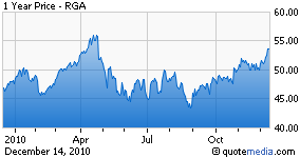 Click to enlargeMy second recommendation is another Cabot Benjamin Graham Value Letter selection. It's Reinsurance Group of America (NYSE:RGA), which yields 0.9%. Revenues grew every year of the past decade until 2008,when they slipped 1%. But they roared back in 2009 for a growth rate of 24%, and this year revenues have averaged 18% growth, while earnings have averaged 12% growth.
The stock was featured by Cabot Benjamin Graham Value Letter back in March, when Roy wrote this:
Reinsurance Group is the second largest provider of life reinsurance in the U.S.
The company offers life, annuity, critical care and group reinsurance, and also guarantees insurance contracts for insurance and other financial companies. Reinsurance Group sells its products in 26 countries around the world, and acquired ReliaStar Life Insurance in January 2010. We believe strong growth from RGA's international operations as well as a boost from the ReliaStar purchase will boost EPS by 14% in 2010. The company's shares are undervalued at 7.2 times current EPS with a 1.0% dividend yield. RGA shares sell at 0.78 times current book value. The balance sheet is strong, and the Standard & Poor's Quality Rank is A-. We fully expect RGA's stock price to increase to our Minimum Sell Price of 70.69 during the next one to two years.
Back when Roy wrote that, the stock was selling at 48. Now it's 53, for a solid profit of 10%. And the Minimum Sell Price has been increased to 74.02, which would be a tidy 41% profit from here.
Disclosure: No positions