This is a series of articles to find BDCs to include in my updated "High-Yield Portfolio" for Q3 2014 for investors that are willing to take on a little more risk with less stock price appreciation, but higher dividend yields. The other four portfolios types are 'Total Return', 'Risk Averse', 'Value' and the 'Underdog' portfolios that will be updated on my "Portfolio Updates" page.
The other articles so far in this series are:
UBS 2X Leveraged Wells Fargo BDC ETN
UBS 2X Leveraged Wells Fargo BDC ETN (NYSEARCA:BDCL) is an exchange traded note ("ETN") based on the Wells Fargo Business Development Company Index. There are many issues with investing ETNs such as capitalization and liquidity limits as well as tracking fees.
Quick note about ETNs: An ETN is a senior, unsecured, unsubordinated debt security issued by an underwriting bank. Similar to other debt securities, ETNs have a maturity date and are backed only by the credit of the issuer with additional risk compared to an ETF of the credit of the underwriting bank. This makes ETNs more of debt product and different from an ETF which consists of an actual security, commodity or currency derivative.
With this ETN there is also the added risk of 2X leverage, roughly equating to double the gains or losses in the BDC index but is also responsible for the 15% to 16% annual dividend yield. The top six BDCs account for over 50% of the index as shown in the chart below: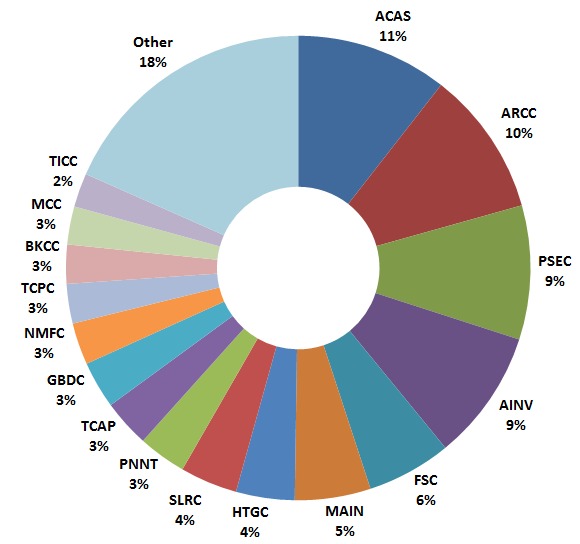 Analysis of the WF BDC Index:
The following was provided by UBS in June 2014 as the weightings of the Wells Fargo Business Development Company Index: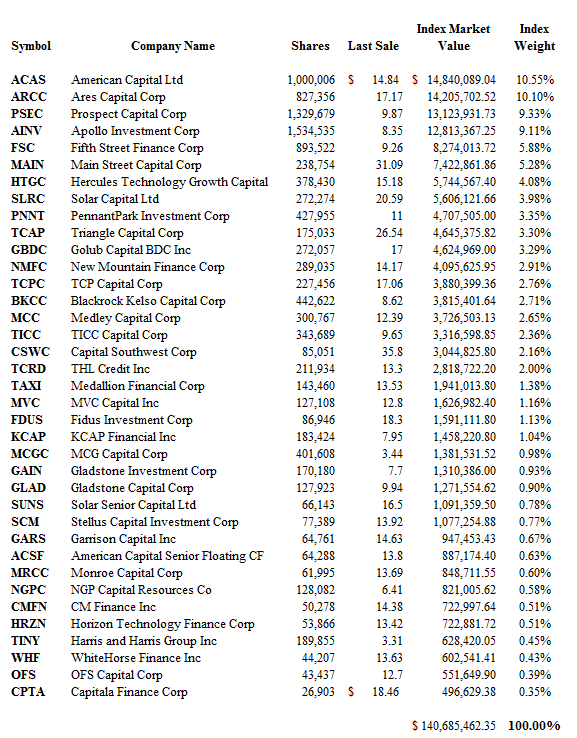 I have decided to use the projected vs. expected total returns analysis from Part 2 of this series. The following table shows the projected total returns with the average and the 'standard deviation' that statistically measures the variation of returns compared to the average, with 68% of BDCs within one standard deviation from the average or around 9% to 12%. For more information on this methodology please read: "Total Return BDC Portfolios for Q3 2014".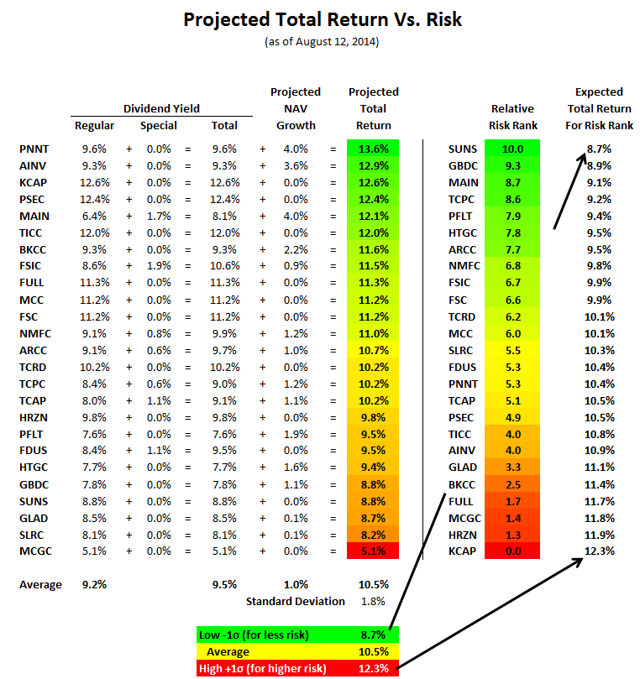 Click to enlarge
The next table uses the projected and expected total returns from the previous table to show the variance between the two and then ranks each BDC according to higher than expected returns. I have included the index weightings for each BDC and put them into groups of return to risk ratios that account for 78% of the index.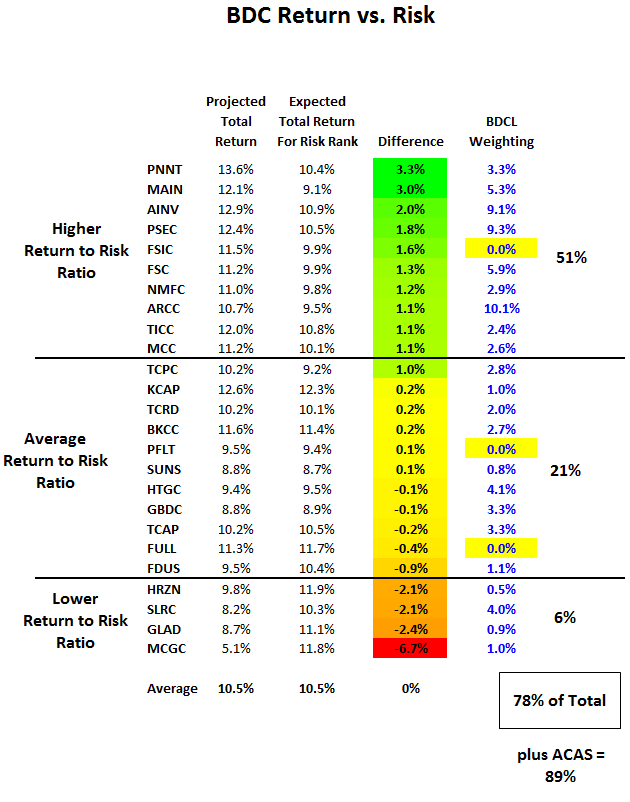 American Capital (NASDAQ:ACAS) is a large outlier in this analysis but has helped to preserve much of the capital appreciation of the index due to its stock price appreciation of 28% since 2012 compared to the average BDC that is slightly lower as shown in the next table. Some BDCs that are not included in the index are FS Investment Corp (NYSE:FSIC), PennantPark Floating Rate Capital (NASDAQ:PFLT) and Full Circle Capital (NASDAQ:FULL). FSIC is a newly public BDC and FULL does not qualify due to its market cap.
The reason I have decided to invest in BDCL is because five of the top BDCs represented by the index have above average risk adjusted returns including Prospect Capital (NASDAQ:PSEC), Main Street Capital (NYSE:MAIN), Apollo Investment (NASDAQ:AINV), Fifth Street Finance (NYSE:FSC) and Ares Capital (NASDAQ:ARCC). I have recently upgraded PennantPark Investment (NASDAQ:PNNT), New Mountain Finance (NYSE:NMFC), TCP Capital (NASDAQ:TCPC) and Medley Capital (NYSE:MCC) due to improved or continuing higher performance. Hercules Technology Growth Capital (NASDAQ:HTGC) is also a favorite of mine, one of the larger weightings and has performed well over the last three years.
The largest exposure to a BDC with a lower return for the amount of risk is Solar Capital (NASDAQ:SLRC) and to a lesser extent MCG Capital (NASDAQ:MCGC).
Actual Total Return Comparison
I have added the following table to my weekly newsletter showing actual total returns by BDC and suggested portfolio including BDCL that currently ranks near the top. The 'Stock Price' return assumes that you purchased the stock at the beginning of 2013 and sold as of August 11, 2014. Dividends do not assume reinvestment and are calculated using the amounts paid divided by the initial purchase price and I have accrued the dividends owed for partial month/quarter amounts. Hopefully BDCs will rally for the remainder of this year and it will be interesting to watch these returns over the next few months.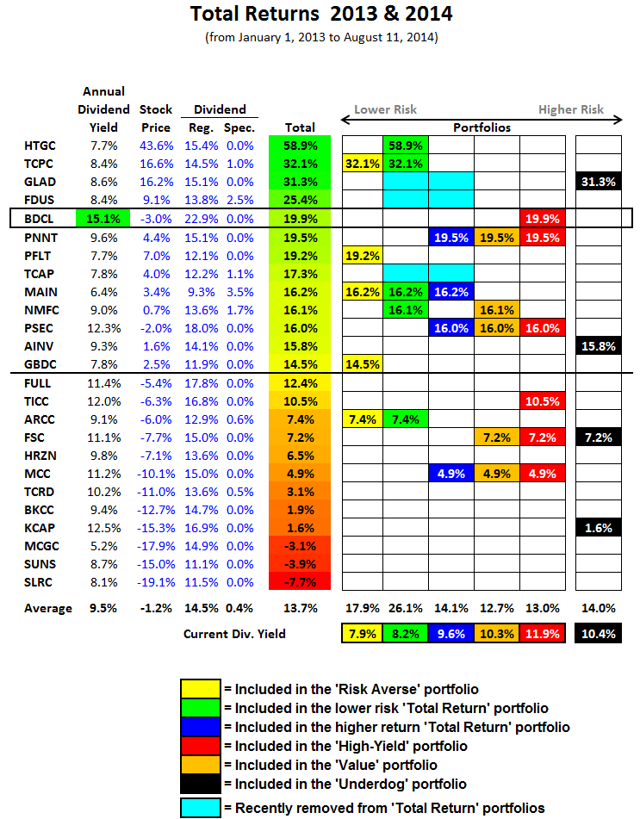 Click to enlarge
A few things that are important to note about the previous table: The averages do not include ACAS or some of the smaller components in the WF BDC index and are only simple averages (not weighted).
As you can see the average BDC is down around 1% and BDCL is down around 3% since January 1, 2013. This makes sense given the 2x leverage and that not all components are taken into account (and skewed a bit from including BDCL). Also the average BDC has a dividend yield around 9% compared to 15% for BDCL and not twice as much due to almost 11% on the index consisting of ACAS that does not pay a dividend and the associated tracking fees of the fund at 0.85% annually.
Personally I use my investments in BDCL to take advantage of the swings in the industry as discussed in "Investing In The Swings Of The BDC Market". However this strategy changed during the Russell reconstitution that disrupted the BDC cycle but created its own opportunities for investors that believe in the fundamentals of the industry. I will discuss this approach in future articles.
Summary:
I believe BDCL is key component to my suggested high-yield BDC portfolio. While the 2x leverage makes it riskier than other investments I believe both the increased return and diversification of exposure to a single company helps to balance this out. As an income oriented investor I do not like having ACAS as a holding or the tracking fees, both of which reduce the potential annual dividend yield by almost 3%. I personally would not invest in many of the components in the index but this could also be seen as unknown opportunities and further diversification of my overall portfolio. One of the primary attractions to investing in BDCL is being able to invest in many BDCs at once without the effort of multiple trades especially for smaller investments.
It should also be noted that BDCL is another way to invest in higher yield BDCs with less exposure to certain unknowns, such as the impact from rising interest rates or economic downturns on CLO investments for BDCs such as PSEC, KCAP Financial (NASDAQ:KCAP) and TICC Capital (NASDAQ:TICC) as discussed in "Is Prospect Capital Ready For Rising Rates?". Of course there is still some exposure but at least the index is diversified among 'safer' BDCs. I have put together a "BDC Research Page" that links to various articles on Seeking Alpha and I will continue to update as well as my "Index to BDC Articles" for more information on specific BDCs.
Disclosure: The author is long BDCL, ARCC, FSC, FSIC, GBDC, HTGC, MAIN, NMFC, PFLT, PNNT, PSEC, TCPC. The author wrote this article themselves, and it expresses their own opinions. The author is not receiving compensation for it (other than from Seeking Alpha). The author has no business relationship with any company whose stock is mentioned in this article.
Editor's Note: This article covers one or more stocks trading at less than $1 per share and/or with less than a $100 million market cap. Please be aware of the risks associated with these stocks.