Big news on the Kinder Morgan, Inc. (NYSE:KMI) front this week: Richard Kinder, founder of the infrastructure energy giant, announced that KMI will acquire all outstanding shares and units of Kinder Morgan Energy Partners, L.P. (NYSE:KMP), Kinder Morgan Management, LLC. (NYSE:KMR) and El Paso Pipeline Partners, L.P. (NYSE:EPB).
As investors happily noticed on Monday, shares and units of the entities involved in the merger jumped by double-digit percentages over their respective Friday closing values: El Paso Pipeline Partners jumped 21%, Kinder Morgan Energy Partners 17% and Kinder Morgan Management 24%.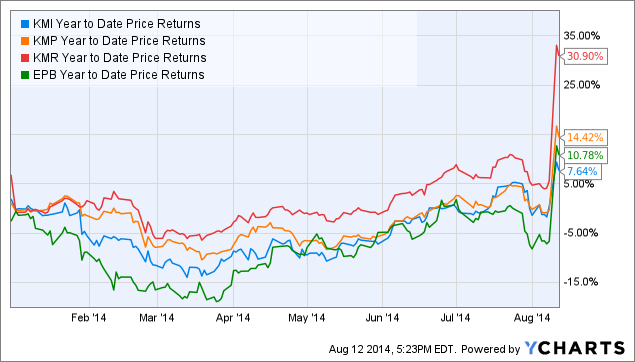 Even the acquiring entity Kinder Morgan, Inc. was up 9% after the company announced the entity consolidation, signaling that investors view the transaction highly favorably.
Just last week, I penned an article on Kinder Morgan Energy Partners and once again recommended the units for long-term income investors. I have also aggressively pushed for a Kinder Morgan investment in March in my article "Kinder Morgan Energy Partners: Buying When Others Are Fearful?" when the units were getting hammered and trading way below the $80 mark as bears raised questions about the sustainability of Kinder Morgan's distribution policy.
The merger deal now allows Kinder Morgan to swallow up its master limited partnerships and also to consolidate its distribution policy: And KMI's distribution guidance looks very good, to say the least.
Deal rationale
The Kinder Morgan merger definitely is a complex transaction, considering the amount of entities involved. The transaction itself has a value of $71 billion, comprised of $40 billion in Kinder Morgan, Inc.'s equity, $4 billion of cash and $27 billion of debt.
Thanks to Richard Kinder's merger deal, investors in KMP, EPB and KMR are benefiting from deal premiums of 12.0%-16.5%. The exchange ratios of shares and units are displayed below.

(Source: Kinder Morgan Investor Presentation, August 10, 2014)
The transaction will materially simplify and streamline Kinder Morgan's organizational structure, which should lead to higher transparency, lower capital costs, a harmonization of distribution policies as well as synergies.
Kinder Morgan plans to shell out $2.00 per share in dividends in 2015, which would represent a 16% increase over the 2014 dividend guidance of $1.72 per share.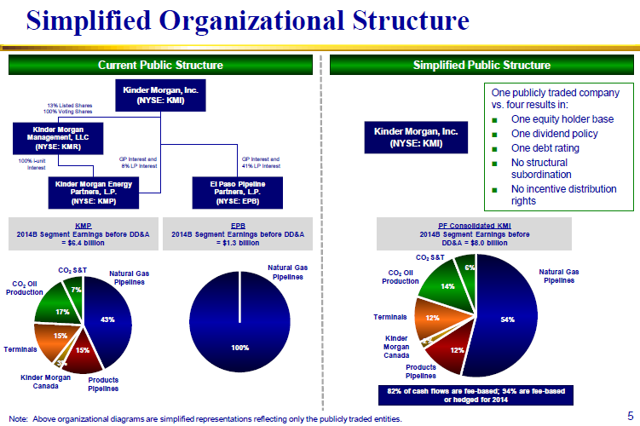 (Source: Kinder Morgan Investor Presentation, August 10, 2014)
Analysts love the transaction, too
Though I find it peculiar that large Wall Street institutions seem to have missed the boat on the Kinder Morgan investments, it is always better for them to come to the party late as opposed to never.
Goldman Sachs, for instance, rates Kinder Morgan, Inc. as a Conviction Buy and raised its target price on the energy company to $50. Given that KMI currently trades at around $39, the shares have another 28% upside potential, even after the initial pop of 9% in the price of KMI shares after the merger announcement.
The responsible Goldman Sachs analyst wrote:
We raise our 12-month price target on KMI by $5 to $50, which is based on a 3.75% target yield on our unchanged 2015 dividend vs. 4.17% prior, on management's willingness to deploy capital to accelerate dividend growth. At the announced pro forma dividend of $2, our revised target price would imply a 4% yield. Key risks include cost overruns or delays.
Bank of America/Merrill Lynch also upgraded Kinder Morgan, Inc. from "Neutral" to "Buy" as a result of the merger announcement.
Conclusion
The Kinder Morgan entity consolidation is a great way to create value for shareholders/unitholders by simplifying the organizational structure, achieving synergies and creating higher transparency. All of this should lead to higher capital returns and stronger distribution growth in the future. Strong Buy even after the merger deal.
Disclosure: The author is long KMP. The author wrote this article themselves, and it expresses their own opinions. The author is not receiving compensation for it (other than from Seeking Alpha). The author has no business relationship with any company whose stock is mentioned in this article.