Nouriel Roubini has been one of the permabears predicting doom in this market for most of the past 7 to 8 years. His popularity skyrocketed with the onset of the financial crisis. His rhetoric didn't change much but people's demand for Roubini's latest prognostications has been a reliable indicator for the direction of the stock market. Whenever investors are turning bearish about the market, they search for Roubini's latest opinions on the Internet. Jumps in Roubini's popularity in Google searches lead the declines in the stock market by up to two weeks. On the other hand, declines in Roubini's popularity in Google searches are an indicator for bullish sentiment.
Click to enlarge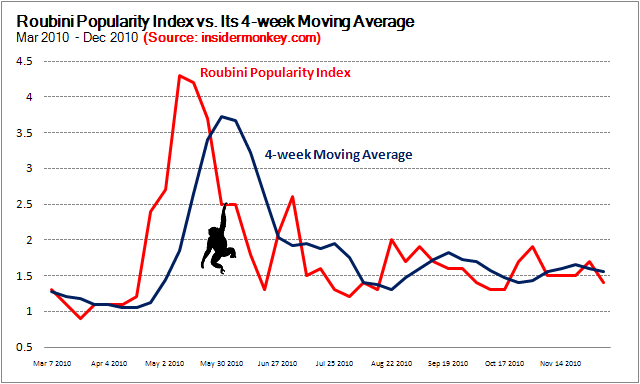 Recently, Roubini's popularity peaked on Oct. 31. This was followed by a dismal November stock market performance. Since Oct. 31, Roubini's popularity went down by more than 25%, reaching the relatively low level that we saw at the beginning of October and August after spectacular increases in the stock market.
Currently the Roubini Sentiment Index is 10% below its four-week moving average, sending a moderately bullish signal for stock prices. The Roubini Sentiment Index saw lower values in March and April 2010, but the European debt crisis helped Roubini to increase his popularity by four-fold in a matter of weeks. His popularity is still 50% more than the lows we saw this spring.
Disclosure: I am long SPY.