Company Profile
Syntel, Inc. (NASDAQ:SYNT) was established in 1980 by Bharat Desai and Neerja Sethi as a provider of software services. With revenues of just $30,000 in its first year, Syntel has grown into an $824.8 million corporation with a market cap of over $3.71 billion, 24,000+ employees, and more than two dozen offices and Global Development Centers around the world.
Since 1980, Syntel has significantly shifted its business model in several ways. Today, around 85 percent of its revenues come from e-Business services and Applications Outsourcing; 15 percent is derived from Knowledge Process Outsourcing.
Today, over 90 percent of its revenues are from repeat or referred customers, one of the best rates in the services business.
[source]
Industry
Trends in the industry
Recent large conferences, like SAP's Sapphire Now 2014, show the increasing interest and demand in Social media, Mobility, Analytics and Cloud computing, or SMAC areas in short. Global 2000 companies, Syntel's focus area, are now facing two main challenges; managing costs of existing IT infrastructures while improving service levels and investing in new technologies like cloud, big data and analytics to keep up with the competition.
Bad or poor data is estimated to cost businesses $600B annually in the US alone. Many companies should be able to improve margins dramatically by optimizing big data analytics and around $200B is estimated in spending through 2016.
Estimates for end user spending on cloud services approximate $150B in 2014 to $180B in 2015 (up from $46B in 2008) or a growth rate which is currently 5 times higher than the global IT growth rate.
How is Syntel taking advantage of those trends?
Syntel has invested in these areas, building new capabilities in Big Data analytics, social media, cloud computing and mobility to enabling its customers to reach clients through new channels and gain new insight in customer behavior and sentiment. Its relatively small size enables Syntel to stay ahead of the curve in an ever changing digital landscape. Recently Syntel announced it has rolled out internal group Digital One. This group, headed by Sameer Aurora, currently vice president of marketing, enables clients to achieve transformations through smart adaptation of SMAC solutions.
What is Syntel's competitive edge?
Syntel's objective is to become a strategic partner with its customers 'for life', managing the full IT services lifecycle. Among other things, 33 years of intellectual capital and deep industry expertise have enabled Syntel to deliver high quality IT and KPO solutions, a key component for which is attracting and retaining highly skilled workers. In order to fulfill this need, Syntel has built a worldwide recruiting and training network over the years, which includes computer-based training from 4 training centers and campuses in India. Its 'Customer for life' philosophy led to 1+ year clients making up for no less than 97% of revenue in 2013.
Syntel's two largest customers are American Express (NYSE:AXP) (25% of revenues) and State Street Bank (NYSE:STT) (16%). This leaves the firm with quite a highly concentrated revenue base, but it's important to note that both companies are in good financial condition. American Express has improved revenues in all 5 of the last 5 years and net profit in 4 of the last 5 years. Q2 profit is up 9% and shareholder equity shows a healthy development. Its credit rating is A+ stable. State Street has improved both revenue and net profit in 4 of the last 5 years. Shareholder equity averages 10% of total assets, which is particularly high for a bank, even for a custody bank. Its credit rating is also A+ stable.
Syntel's high customer loyalty paves the way for reliable and growing revenue stream.
Latest Developments
Over the past 12 months Syntel's shares are up 22%, with a high of $97 and a low of $70, currently trading around $87.
On July 17 the company reported Q2 earnings after which it raised EPS and revenue guidance. Revenue for the second quarter was up 13% while EPS increased by 23%.
In June Syntel joined Accenture's (NYSE:ACN) Global Alliance Partner Program for Property & Casualty Insurance Software in which it will provide delivery services for the Accenture Duck Creek suite. Accenture's suite helps insurers to reduce time to market, operate more efficiently and reduce costs. In order to win this partnership, Syntel had to meet Accenture's strict program requirements and prove it could execute large implementations. Although the insurance industry makes up for only 15% of Syntel's revenue, it's another showcase of Syntel's slogan "You don't have to be XL to Excel", underlining that Syntel is successfully focusing on niche markets to deliver the best possible solutions for clients.
Investment Thesis
Highly profitable company
Gross margin and net profit margin are steadily increasing. Net profit margin in 2013 was 26.6%, while the average of the past ten years was 21.5%.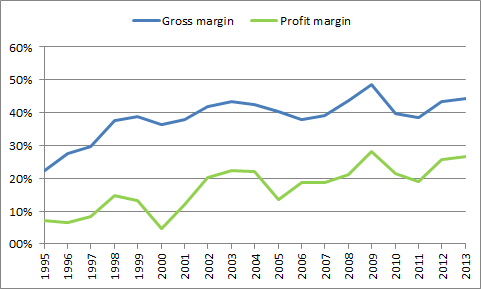 (I chose 1995 as this is as far as the annual reports on the corporate website go back.)
The profit margins of competitors Infosys (NASDAQ:INFY) and Cognizant (NASDAQ:CTSH) however, seem to be in the declining mode. Wipro (NYSE:WIT) has been able to improve margins a bit since 2008, although they are still lower than 2004-2006.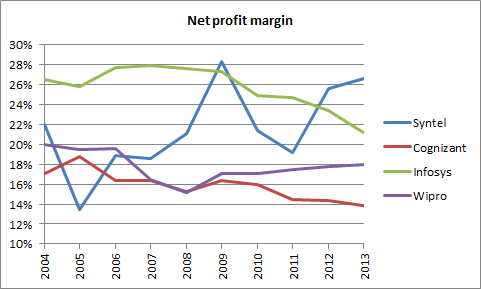 In the past ten years, revenues have increased from $186M to $825M or a factor 4.4 while net income has increased from $41M to $220M or a factor 5.4. Earnings per diluted share have increased from $1.01 to $5.24, which implies an annualized rate of 15.4%.
Return on Equity has never dropped much below 20% and averaged 29%.

Click to enlarge
[source: annual reports]
Room for growth
Syntel has a modest market cap of 3.6B and is by several metrics about 1/10 of the size of the main competitors. So, there is certainly room for growth left.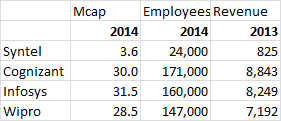 The before-mentioned increasing margins are an indication of customers willing to pay for Syntel's services and the return on invested capital is a sign of management deploying capital in an efficient way.

Click to enlarge
When comparing Return on Equity to the major competitors, again, while ROE of the competition is declining, Syntel's ROE has improved and is highest.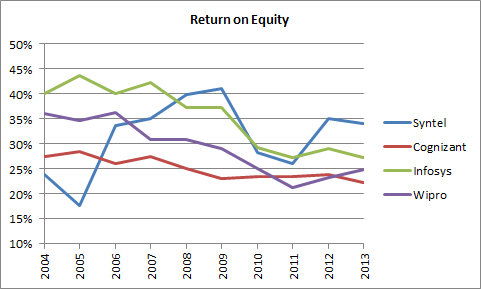 Attractive valuation
Despite Syntel's ratios being better than those of the competition, investors currently pay only around 15-16 times earnings.

* While writing this article, Cognizant came out with its Q2 earnings, after which the stock took a 12% drop on soft revenue guidance.
Compared to its competitors, a fair valuation of Syntel's stock would lie around P/E of 20, which would offer an upside potential of 25-30% in the near term.
Risks
Risks to consider include:
The small size of the company - although this also provides an opportunity to maintain the high growth rates
The concentration in revenue by client - the 10 largest clients generate around 77% of the revenues, however, Syntel has been able to build strong relationships with its customers
The exchange rate risk of the Indian Rupee - the INR lost around 25% of its value in the past ten years, which has actually benefited Syntel as the larger part of revenues are generated in USD and a good portion of costs (wages) are denominated in INR, but obviously exchange rates will remain volatile
Conclusion
As Warren Buffett says: "It's far better to buy a wonderful company at a fair price, than a fair company at a wonderful price". In my opinion, Syntel is a wonderful company, and at these levels even offers a 'margin of safety' to the fair price.
Disclosure: The author is long SYNT. The author wrote this article themselves, and it expresses their own opinions. The author is not receiving compensation for it (other than from Seeking Alpha). The author has no business relationship with any company whose stock is mentioned in this article.