Midstream MLPs are in vogue these days. With North American oil and gas capital expenditure shifting from exploration and production to pipeline construction, many new midstream MLPs are being created, often from more well-known parent companies. These new midstream MLPs often grow by receiving 'drop down' assets from the parent company. A well-known example of this is Phillips66 Partners (NYSE:PSXP), which is a midstream spinoff from Phillips66.
While growth for these newer partnerships may be impressive (not least because of their smaller initial size), these newer midstream MLPs also rarely yield as much as the older, more established players do. It is for this reason that I believe income-minded investors should stick with the more established pipelines which 1) still trade at a reasonable valuation and provide a good yield and 2) can still post double-digit growth in distributable cash flow.
One of those names has to be Plains All American (NYSE:PAA). Plains is a $21 billion partnership and is perhaps the most heavily-weighted to crude oil in its peer group. On average, the partnership handles about 3.5 million barrels of crude oil and natural gas liquids through its extensive network of pipelines and terminals each day.
As a partnership focused mostly on the movement and storage of crude oil, Plains initially benefited only from growing crude production and the steady displacement of waterborne imports. However, in recent years, as it has become clear that the US will soon produce more condensate and light sweet crude than it consumes, Plains is also looking to benefit from exports of condensate and light sweet crude in the future.
A top-tier name

Courtesy of PAA Investor Relations
The above chart shows much of what one needs to know about Plains. Over the past couple years the partnership has accelerated distribution growth to a compounded rate of 9.5%. Plains is not the type of partnership to inflate its distribution, either. Normally, the partnership's distributable cash flow, or DCF, is at least 1.1 times distributions, making Plains one of the more conservative big names. This quarter was no exception, with DCF coming in at 1.1 times and management expecting full year coverage of 1.11 times.
And despite being a fairly high-grower, Plains also offers a pretty good yield, about 4.5%. Although that yield isn't as high as it used to be a few years ago, Plains still offers a yield similar to those of utilities, but with much more growth. This, I believe, will offer some insulation in the case of higher interest rates.
Rain or shine
One looming event on the horizon is a potential glut in domestic condensate and light sweet crude. Plains itself estimates that, by 2018, each day the US will be producing 900,000 more barrels of condensate and light sweet crude than it consumes. Were this glut to occur it would be an entirely man-made crisis: There is a ban on export of crude oil which has been in place for over forty years.
The result of such a glut would be increased price volatility, especially volatility to the down side, and eventually lower production. Of course, this would especially hurt domestic oil producers. Plains would do fairly well either way: In the case of a lifted export ban, more oil will flow around the country, and demand for Plains' pipelines will increase. In the case of an oil glut, there will be an overwhelming demand for the limited pipeline capacity which Plains has. Only in a case of permanently lower production could Plains' business be severely effected. But even then, Plains can simply not build the new infrastructure: Pipelines have a good power-position in the market because they usually only build new systems if that system can be fully booked.
Capex projects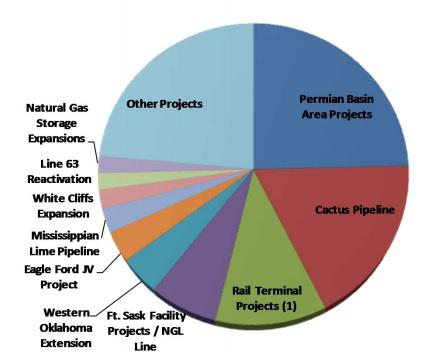 Plains' biggest area of concentration right now is the white-hot Permian Basin, which is experiencing a resurgence thanks to drilling in the Wolfcamp Shale play. The single biggest capital project is the Cactus Pipeline, which will move light sweet and sour crude, as well as condensate, from the Eagle Ford to the Corpus Christi terminal, which is much less crowded than is the Houston terminal right now. Overall, the company has over $1.9 billion in projects, which accounts for about 6.7% of enterprise value and 158% of DCF. These capital projects should keep Plains growing at double digits for at least the next few years.
Valuation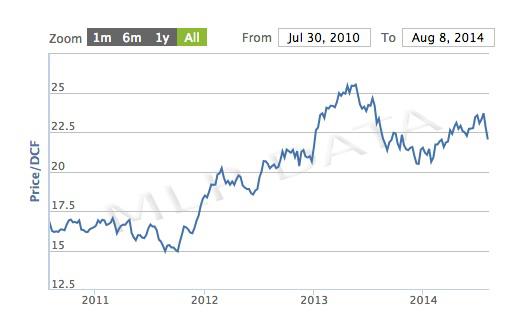 Courtesy of MLP Data
This chart by MLP Data shows Plains' price to DCF ratio. While the valuation certainly isn't as good as it was back in 2011, right now Plains is a bit above 20 times DCF and, in my opinion, looks fairly reasonable, especially when considering the partnership's high DCF growth and low cost of capital. While 22 times DCF isn't exactly cheap, when we consider the partnership's DCF growth of around 10%, we get a "PEG" ratio of two times, which is not bad at all.
Conclusion
While there may indeed come a better time to buy Plains, I believe the partnership can be bought right here. Plains is especially attractive to long-term investors who want a partnership that is behind a solid, long-term growth trend, but at the same time can give a meaningful distribution yield. Plains offers both of those right now.
Disclosure: The author has no positions in any stocks mentioned, and no plans to initiate any positions within the next 72 hours. The author wrote this article themselves, and it expresses their own opinions. The author is not receiving compensation for it (other than from Seeking Alpha). The author has no business relationship with any company whose stock is mentioned in this article.