Originally published on Apr 26, 2014.
This brief post will make the case for an investment in Russia now, and specifically Mobile TeleSystems, which trades as a US ADR (NYSE:MBT).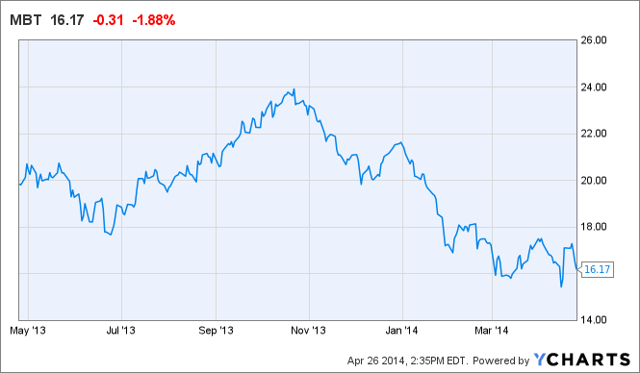 We as investors are emotional beings. When faced with conflict, a powerful inner fight / flight response is natural. When faced with CNN headlines screaming "crisis in Ukraine" and "pending invasion" and CNBC exhorting us to get out of emerging markets and stay in the "safe harbor" of US stocks, it is difficult to do anything but run. It would seem the safe and prudent thing to do.
But this is exactly why most investors underperform the averages over long periods of time.
I had the opportunity to personally visit Egypt immediately prior to the military coup in the summer of 2013. Remember that? "Crisis in the Middle East" - long forgotten in our fast paced Twitter world. What crisis?
While I was there, I notice from an up close and personal perspective, that in spite of many issues and a terrible atmosphere, business carried on. Roads and housing subdivisions were being built. Commerce was occurring. I had many conversations -- with other foreigners, and the advice given to me, in spite of my positive observations, was I'd be a fool to invest. This was pretty unanimous.
I also learned the local people actually favoured the military as rulers, contrary to CNN, and that a change would be a positive step and bring back some certainty. I also viewed Egypt as too strategically important to be allowed to disintegrate.
Through all this I saw a deeply contrarian buying opportunity in a country ETF with a good yield, so I began to invest at the height of the crisis headlines, in the low 40's basis (NYSEARCA:EGPT). After the coup I invested more, and I netted in excess of a 50% gain within 6 months while collecting substantial dividends
I believe a similar pricing opportunity exists in Russia today.
On any metric, Russia's stock market is among the cheapest, most beaten down, out of favor in the entire world, with a P/E ratio in the 5 range. One option for an investment in Russia, would simply be the (NYSEARCA:RSX) ETF, with a yield in the 3.5% range.
However I believe a better opportunity exists within a core and growing industry in any developing country, with a greater margin of safety, and that is in telecommunications, specifically Mobile TeleSystems.
MBT is the leading mobile provider in much of Russia and the surrounding states, including substantial Ukraine operations. They recently announced financial results indicating steady growth.
This stock trades at a PE of 6 with an attractive yield of 5.5%. As recently as October, the stock was trading in the $24 range, my initial target today, from the $16 area now.
I note that in spite of the news intensifying late in the week towards a Russian military buildup, MBT refuses to trade down to the early March lows at 15, indicating much of the uncertainty has been discounted by the market.
Much like in Egypt, I expect that in spite of the headlines, new LTE networks will continue to be built out, and folks will continue in Russia to be tied to their mobile phones day and night, much like we are. I doubt very much the CNN coverage will stop people from mobile usage.
Any good article also needs to examine the risks. There is always a chance, that MBT is completely nationalized by the government in some radical view of the future. However, with the country controlled by powerful, wealthy interests, it is difficult to see widespread future nationalization. Also an obvious risk is a full-on return to a Cold War scenario, which would obviously change the picture. However, I simply do not believe in that scenario at the present time, and believe the risk / reward is heavily tilted to the upside.
To summarize; I see MBT as another excellent opportunity to enjoy a 5% yield, with an upside of at least 50% within a year.
Disclosure: I am long MBT, RSX.