The SPDR S&P 500 Trust ETF (NYSEARCA:SPY) faces several challenges today, two of which were discussed in our week ahead report. Geopolitical concerns continue to give the market and this tracking security a great weight to bear, and the current focus of my attention is on the unwelcome Russian aid convoy headed to Ukraine. On the economic data front, Retail Sales present risk and opportunity today, depending on the result, but I only foresee impact through morning trade. The corporate earnings schedule has Cisco Systems (NASDAQ:CSCO) included, which always has an impact on the broader market and thus the SPY ETF as well; this is due to the broad-reaching discussion offered by its influential CEO. Macy's (NYSE:M) reports today as well, offering investors an insight into the state of the consumer, but the quarter is a difficult one to peg. Keep reading for the details, and to receive these daily and weekly previews, simply follow this column.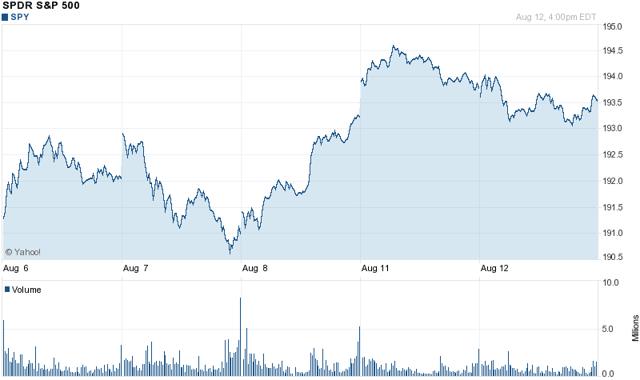 Click to enlarge
The SPDR S&P 500 Trust ETF drifted Monday, as I forewarned in yesterday's premarket report. Today, the Retail Sales data may weigh more heavily than geopolitical topics, which could actually serve to lift stocks if all goes swimmingly regarding the Russian aid convoy headed to Donetsk in Ukraine. Premarket trading is inconsequential until the 8:30 AM ET reporting of Retail Sales, but at that point, you'll know what the market and SPY ETF open will be like.
Geopolitical Weight
According to reports last evening, the Russian convoy of nearly 300 trucks had left Moscow and was on its way to Ukraine. Ukrainian officials indicated they would consider any breach of their border as an invasion, and were demanding the convoy stop at the border, where it would, I suppose, be inspected. At that point, major TV media reports indicated last evening that Ukraine would demand the aid be surrendered to the Red Cross for the last leg of the run within Ukraine. However, this morning, Ukraine's leader said the Russian convoy would not be allowed entry, and considered the act "cynical" from its recent military foe.
So, if all goes as Ukraine demands, which may not be acceptable to the Russians, then stocks could see a lift on what will appear to it as a situation that still excludes Russian invasion and/or annexation of Eastern Ukraine. However, if the situation deteriorates into a shootout at the border or if weapons or unappreciated contraband are discovered onboard vehicles, or if Ukraine simply denies entry of the convoy, we can expect a significant negative impact to stocks. Russia could respond in a similar manner to how the U.S. is responding to calls for assistance in Iraq, using that event as precedent. So, it's highly suggested investors keep an eye on unfolding events through the day.
While individual investors continue to pay close attention to unfolding events in Iraq and in Israel, I do not consider those events as important for the SPDR S&P 500 Trust ETF. The Ukraine situation is quite different, as it includes nuclear power and important energy supplier Russia in the fold, with repercussions possible for the euro, dollar, energy and for gold, and thus for economies and markets.
Economic Driver
Today's economic calendar highlights the monthly retail sales report. SPY ETF traders will want to keep an eye on the monthly read for July. It's still measuring a pre-back-to-school period, so expectations aren't too important in that regard. However, the report is critical for the market and the SPY today, nonetheless. Economists anticipate retail sales will rise by 0.2% in July, after marking the same gain in June. Excluding automobile sales, economists are looking for a more robust pace of 0.4%, which again matches the prior month's pace. And after taking out all the volatile contributors, minus autos and gasoline, retail sales are seen growing 0.3%, versus 0.4% last month. If the data is reported as expected, it should be a positive for stocks and the SPY, due to the inclination of investors to seek reasons to buy and because of its economic importance.
Keeping with retail, Macy's reports results this morning. The recently strong performing department store retailer has an EPS expectation set by Wall Street at $0.86 for the July ended quarter, versus last year's $0.72. The estimate was revised slightly higher by a penny from its level of 90 days ago, and the company beat last quarter by a penny. However, last July, the company missed Wall Street's outlook, so I find it difficult to see from my passive perspective (not having followed the company recently) what result will ensue today. My best bet would be an in-line result, and I wouldn't be betting on this earnings report. However, the result does matter for SPY security traders due to its measure of consumer activity.
Cisco Systems also reports today after the market close. Cisco's earnings report is specifically important to broader market interests like investors in the SPY because of the commentary of its chairman and CEO, John Chambers. Chambers often leads market traders, due to his insights freely offered on the economy, so SPY ETF traders need to pay attention to the report this evening. As for Cisco, analysts see earnings coming in at $0.53 for the quarter, versus the $0.52 earned a year ago. The company has surpassed results regularly recently.
In conclusion, early market focus should be attuned to the monthly Retail Sales read. It will dictate trade at least until the Russian convoy reaches Ukraine. However, as the convoy approaches, traders are likely to get antsy about the prospects of its unwelcome arrival. Thus, no matter what the retail results this morning, I expect the SPY ETF and the market to drift lower into the close of trading. After-hours, I again suggest investors in the SPY follow Cisco's conference call for commentary from its CEO, as what he says could matter in after-hours trading in the SPDR S&P 500 Trust ETF and for Thursday morning.
Disclosure: The author has no positions in any stocks mentioned, and no plans to initiate any positions within the next 72 hours. The author wrote this article themselves, and it expresses their own opinions. The author is not receiving compensation for it (other than from Seeking Alpha). The author has no business relationship with any company whose stock is mentioned in this article.