Since it was last reviewed as a stock to buy, the recovery in shares of Nuance (NASDAQ:NUAN) progressed steadily throughout 2014. In recent weeks, negative headwinds hurt the recovery: Nuance admitted a takeover would be complex, third quarter results were weak, and next quarter's outlook was lighter than expected.
Nuance shares fell sharply after third quarter earnings were announced.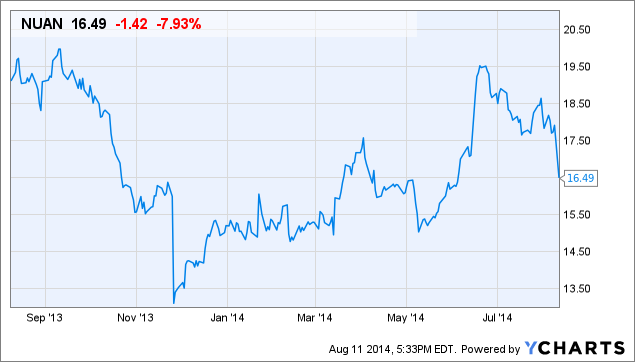 Third quarter highlights
GAAP revenue was nearly flat, at $475.5 million, but bookings rose 16.7 percent to $547 million. Deferred revenue rose 32 percent. Quarterly losses grew to $52.25 million, up from a loss of $34.97 million last year. This is due largely to a surge in stock-based compensation, which rose from $39.2 million to $55.38 million in Q3. Non-cash stock-based compensation nearly doubled, to $10.53 million, in the professional services and hosting segment.
Healthcare and mobile/consumer were the two top contributors to revenue. Healthcare accounted for $240.1 million of revenue, while mobile and consumer solutions added $109.2 million.
The research and development cost line item also rose from $8.7 million last year to $12.96 million.
Nuance ended the quarter with $888.5 million in cash, cash equivalents, and marketable securities.
Progress of transition
Nuance's revenue model transition in health care was a challenge during the quarter. Even with backlog providing a boost, the firm still expects revenue will fall short of analyst expectations. Recurring revenue is not accelerating, but Nuance plans to accelerate sales in the mobile channel.
Nuance said on its conference call on-demand revenue exceeded products and licensing revenue.
Outlook
Nuance forecast lower revenue, but expected bookings would improve in the next quarter. The firm expects gross margin improvements are achievable through better operating efficiency. Bookings benefited from a shift towards recurring and subscription revenue. Dragon Medical, MFP printing solutions, and automotive contributed to a stronger bookings number.
Challenges
Acquisitions did not add as meaningfully to Nuance's bottom line as previously hoped. The imaging business unit, along with a faster-than-expected transition in the revenue model weighed on the revenue forecast for Q3. Nuance admitted Nina mobile solutions was a more complex product for customers. This slowed implementation for the product. Nuance expects that despite the longer implementation time, sales will accelerate over time.
Bottom line
Since a takeover is off the table, at least for now, and the transition in healthcare and from subscription sales is taking longer than previously thought, the downside could accelerate. Investors will be less confident Nuance will realize its hidden value this fiscal year. Nuance remains an attractive value play, but investors should look at selling Nuance now. Prudent investors may add Nuance at prices below $15.
Disclosure: The author has no positions in any stocks mentioned, and no plans to initiate any positions within the next 72 hours. The author wrote this article themselves, and it expresses their own opinions. The author is not receiving compensation for it (other than from Seeking Alpha). The author has no business relationship with any company whose stock is mentioned in this article.