In my last article on Johnson & Johnson (NYSE:JNJ), I argued that the company was a compelling buy based on its overall business model and financial outperformance of competitors such as Procter & Gamble (NYSE:PG) and Kimberly-Clark (NYSE:KMB). However, I argued that based on the company's P/E ratio relative to its 5-Year Average, the stock was somewhat overvalued and investors would do well to wait for a pullback.
However, various commenters proceeded to bring me back down to earth on my prior assumptions and in hindsight I have to say that many of the points that were raised make sense. Firstly, when we make a claim that a stock is overvalued or undervalued, we need to ask ourselves - relative to what? The past five years? As a commenter in my previous article noted, valuations over the past five years have been historically low and thus attempting to compare P/E ratios on such a time period doesn't really work. Moreover, one thing I realised as I started to comprehend this advice - it really doesn't matter! Johnson and Johnson is one of the highest-quality companies going, and is a dividend stalwart having raised its dividend payments for the past 51 consecutive years according to the firm's most recent annual report.
Furthermore, if we're talking about long-term investing, "waiting for a pullback" is essentially meaningless. Think about it - if you invested $1,000 in Johnson and Johnson every year at 7% and let it grow over the next forty years; you are not going to suddenly turn around and say, "Disaster! I bought it at $100 when I should have bought at $99!". In fact, I would even say that for an investment such as Johnson & Johnson, the majority of an investor's returns will indeed come from dividend payments, not capital gains.
Moreover, Johnson and Johnson's innovation and expansion into emerging markets makes me optimistic that the firm still has the potential to produce vibrant growth despite being a mature company:
- As one of the first western companies to expand into mainland China, the firm is uniquely placed to capitalise on the country's growing healthcare system through its Johnson & Johnson China subsidiary.
- Moreover, 22 per cent of the company's sales come from the emerging BRIC (Brazil, Russia, India, China) economies.
- The company has continued to perform well in the U.S. market; with over-the-counter products such as Tylenol and Motrin driving growth of 19.7 per cent.
- Overall, pharmaceutical sales showed the strongest growth in 2013, with Medical Devices and Diagnostics and Consumer segments continuing to show growth.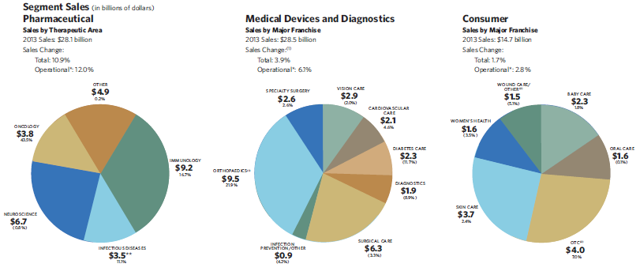 Source: Johnson & Johnson 2013 Annual Report
To conclude, Johnson and Johnson has a great business model and should be considered as a long-term buy, not a trade. The firm's stellar record of dividend increases, along with vibrant sales performance in both domestic and emerging markets, make me very optimistic about the future of this company.
Disclosure: The author is long JNJ. The author wrote this article themselves, and it expresses their own opinions. The author is not receiving compensation for it (other than from Seeking Alpha). The author has no business relationship with any company whose stock is mentioned in this article.