Today, let's take a look at Gold Fields Ltd. (NYSE:GFI). Few companies in any sector have had as rough a past couple of years as Gold Fields, and anyone who bought in at 2012 highs is surely regretting it.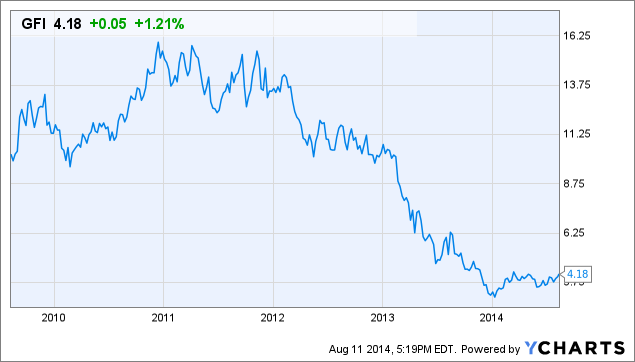 Ouch. The price of gold fell in that period too, but only by about 30%. Gold Fields, by contrast, was cut in half from its highs, then cut in half again in just two short years. It's a big drop and a scary drop, but Gold Fields has come up a bit off its lows now, and the worst is clearly over.
Cash not ounces: The Gold Fields revamp
Gold Fields was roughly tracking the price of gold until mid-2012, when CEO Nick Holland delivered a speech at the Melbourne Mining Club unveiling a massive change in philosophy for the company.
Dubbed the "cash not ounces" policy, Gold Fields was to revamp its portfolio of mines with a focus on cash flow, as opposed to simply producing as many ounces of gold as possible irrespective of the cost.
That may sound like common sense, but the strategy for gold mining majors for years was to produce high-cost ounces to try to lure investors into seeing their stocks as a much higher leverage play on an increase in the price of gold. That was a very successful strategy when gold was shooting up to new highs, but since it leveled off, it's been a recipe for a lot of expensive and unprofitable production.
What went wrong
The "cash not ounces" strategy was highly controversial, and with so many unprofitable mines on the books it required a lot of changes to Gold Fields' ongoing operations, and meant some major write downs, shedding assets that were unprofitable.
That's cut the amount of property on their balance sheet precipitously since FY2012, but has also allowed them to shed $1.5 billion in liabilities. More importantly, it has allowed them to keep production costs from skyrocketing like their competitors have seen in recent months.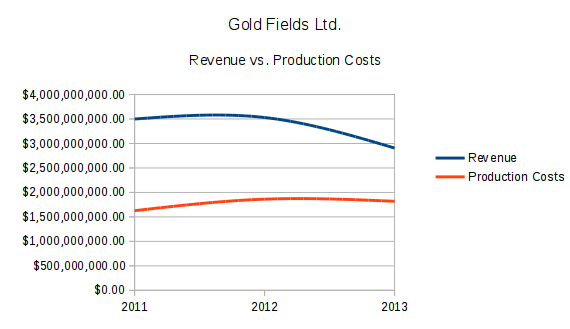 That's going to be a continuing trend in FY2014 and beyond, as revenue will not be going up in the near term, but production costs will be kept in check, allowing a return to profitability on paper, as well as on a cash-flow basis.
South Deep: The future of Gold Fields
Getting new profitable gold mines up and running isn't nearly as simple as the old strategy of getting any gold mines up and running and worrying about costs later. Yet in this regard Gold Fields has a huge trump card in the form of the South Deep mine in South Africa.
South Deep is a long-term project, and delays have meant it won't be on line for full production until the end of 2017. But once it is, it will be a game-changer, with 650,000 to 700,000 in annual ounces of production at an estimated $900 per ounce cost. That's excellent profitability and would amount to about a quarter of overall production once it is underway.
The dividend situation
Gold Fields has made it a stated policy to pay between 23% and 25% of net earnings in the form of dividends. In 2013, when they had net losses, the payment was trivial. Current consensus estimates for FY2014 and FY2015 are $0.20 and $0.36, respectively, and will mean dividends in the ballpark of 5 cents and 9 cents for those years.
That's not a lot, but at 9 cents you're looking at just over 2% yield, and once the South Deep mine gets to the bottom line, in FY2018 and beyond, that's going to increase earnings significantly, and by extension dividends.
Conclusion
The dramatic shift in how Gold Fields operates was a big shock to the balance sheets, and a lot of investors bailed during the downswing. The worst of this shift is over, however, and the company is now positioned for improved earnings in the years to come, and a big surge post-2017. For those willing to invest for the long-term, the current price levels are extremely favorable.
Investors should keep an eye primarily on Deep South, as this will be a source of a large amount of income in the future. If the price of gold continues to recover, this could be an incredible bargain.
Disclosure: The author is long GFI. The author wrote this article themselves, and it expresses their own opinions. The author is not receiving compensation for it (other than from Seeking Alpha). The author has no business relationship with any company whose stock is mentioned in this article.