The market right now is far more focused upon international events and markets rather than the domestic economy. So it is somewhat surprising that markets are where they are after last night's economic data, which showed weakness in Japan and Europe. China saw July retail sales rise 12.2% year-over-year and industrial output up 9.0%. We do get GDP numbers for Europe tomorrow and that should give markets an idea of where the continent stands in regards to its economic recovery.
Chart of the Day:
The weakening of the Euro versus the US Dollar should be helping the EU bloc, but thus far has been muted. If the ECB would be more accommodating, then we could see economic data turn higher.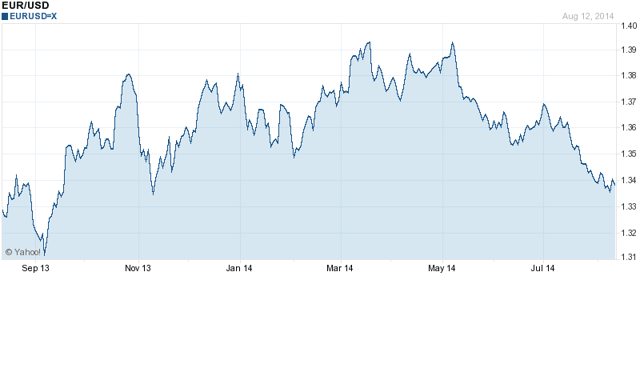 Source: Yahoo Finance
We have economic news today, and it is as follows:
MBA Mortgage Index (7:00 a.m. EST): Est: N/A Act: -2.7%
Retail Sales (8:30 a.m. EST): Est: 0.3% Act: 0.0%
Retail Sales - Ex-Auto (8:30 a.m. EST): Est: 0.3% Act: 0.1%
Business Inventories (10:00 a.m. EST): Est: 0.4%
Crude Inventories (10:30 a.m. EST): Est: N/A
The Asian markets are mixed today:
All Ordinaries -- down 0.28%
Shanghai Composite -- up 0.06%
Nikkei 225 -- up 0.35%
NZSE 50 -- down 0.02%
Seoul Composite -- up 1.02%
In Europe, the markets are higher this morning:
CAC 40 -- up 0.66%
DAX -- up 0.98%
FTSE 100 -- up 0.27%
OSE -- up 0.63%
Stock Crush Saga
With yesterday's release of earnings, King Digital (BATS:KING) lost a lot of investor confidence, as the company reported results which were in line with what analysts were expecting on the EPS front, but light on the top line. To add to the bad news, King Digital also provided revised guidance numbers to the downside. The company has seen its premier franchise "Candy Crush Saga" experience declining sales, and at a rate which exceeds prior expectations.
Why are declining numbers for "Candy Crush" bad for King Digital shareholders? Well, for starters, the title makes up about 59% of the company's revenues. King Digital also faces the daunting task of trying to morph from a one-hit wonder app maker to a multi-title studio. King is on its way to transforming into a studio with multiple revenue generating titles in its portfolio, but the process to completing that transformation is painful... as King shareholders can attest to.
Also of interest for investors is the news that King purchased a smaller studio for $16 million upfront with another potential $84 million due if certain goals are met. Which brings up the questions surrounding why the company announced the $150 million special dividend.
King Digital is going to open up at fresh 52-week lows today, which is justified after the guidance that the company delivered last night.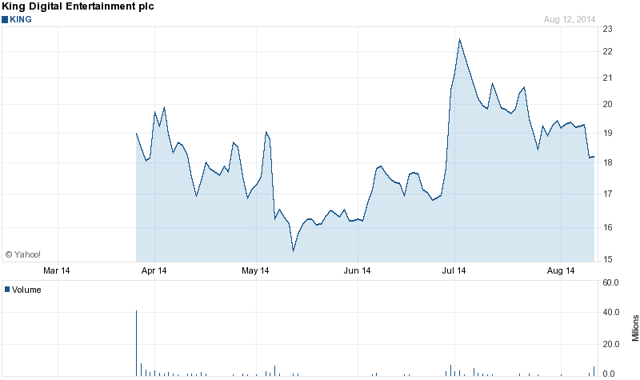 Source: Yahoo Finance
Our thinking is that it is simply a way to reward the management team and long-term employees with some instant cash via the shares they own, but others think that this is the company looking to be more shareholder friendly than rival Zynga (NASDAQ:ZNGA) which has faced its own problems. With "Candy Crush" inevitably facing the same fate as Zynga's "Farmville", it probably would have been smart to keep the cash just in case there are a few stumbles over the next 12-18 months. Another idea would have been to announce a share buyback for the current year in the amount of $150 million to support the share price.
Vehicle Manufacturers
With Tesla (NASDAQ:TSLA), a company with low single digit market share, grabbing most of the headlines these days in the vehicle market, the big American names have garnered far less attention lately. There was the cover-up at General Motors (NYSE:GM) which was headline news for a month or two, and of course, the announcement of the successor at Ford Motor (NYSE:F), but for the most part there has been little in terms of positive market coverage.
Ford has been a strong performer YTD and could move higher so long as US consumers remain interested in purchasing vehicles.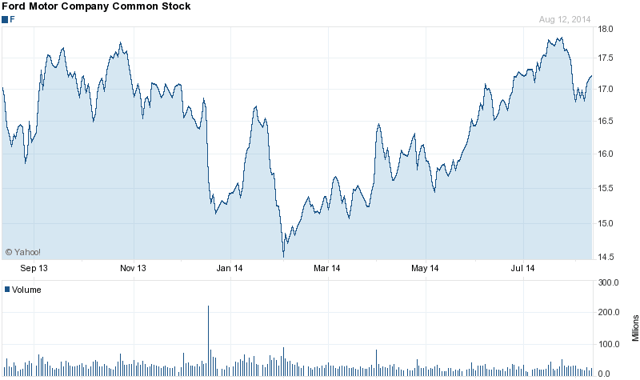 Source: Yahoo Finance
If one looks at the sales figures, the market is quite strong. Also, the last few months have been good to manufacturers' stocks not stuck defending indefensible actions taken in the past. With this said, we were not surprised to see that Stifel Nicolaus upgraded Ford shares from a "Hold" rating to a "Buy". Ford has quietly gone on a winning streak since February 2014, rising from around $14.50/share to a high of over $18/share. With current sales trends and plans in place for a smooth transition, Ford does appear poised to continue the move higher
Disclosure: The author has no positions in any stocks mentioned, and no plans to initiate any positions within the next 72 hours. The author wrote this article themselves, and it expresses their own opinions. The author is not receiving compensation for it (other than from Seeking Alpha). The author has no business relationship with any company whose stock is mentioned in this article.