Despite all the global turmoil of the day, companies like Dexcom (NASDAQ:DXCM) continue to "Stay Calm, and Carry On". Dexcom just reported earnings results on August 7, beating by a penny and seeing revenues up more than 64% year-over-year.
Dexcom, founded in 1999 and based right here in my hometown of San Diego, California, is a medical device company that makes continuous glucose monitoring (CGM) systems. According to Allied Market Research, the continuous glucose monitoring market is expected to grow to $568.5 million by 2020. CGM's are far more accurate and less painful than the old fingerstick method. Companies that make these devices include: Medtronic (NYSE:MDT), Dexcom, and Abbott (NYSE:ABT).
During the last quarter, demand for Dexcom's G4 system was robust, with pediatric sales in particular, ramping up. Dexcom's CGM markets itself as "smart, sleek, simple, and continuous." Specifically, the company's pediatric segment accounted for 25-30% of new patient additions in the first full quarter of sales and is expected to grow as the company further penetrates the pediatric endocrinology market. Dexcom's CGM for children can be used on children as young as 2 years old.
The company also markets computer software and mobile apps to integrate with their monitoring devices and help better track glucose stats and trends.
So Dexcom's product offering are so important and innovative for patients with diabetes, they transcend today's geopolitical concerns. And the stock has rewarded investors this year with a more than 23% return. Let's take a closer look!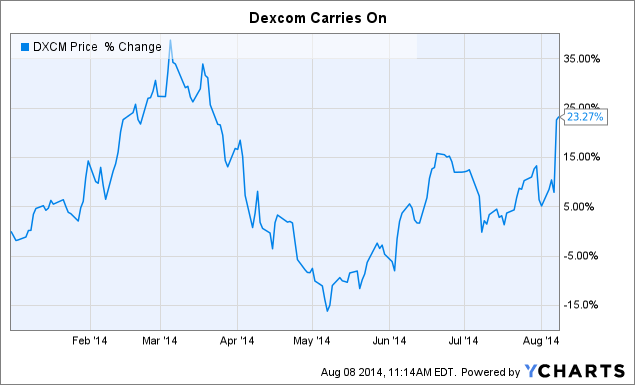 Best Stocks Now Analysis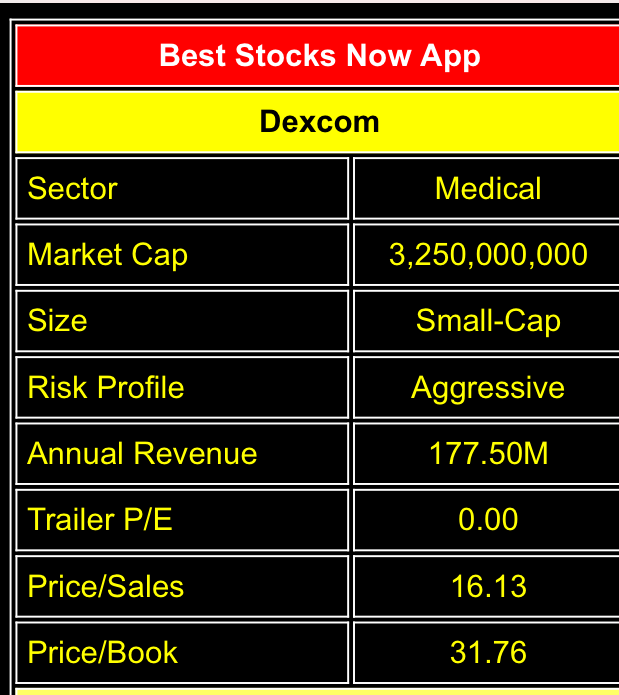 Data from Best Stocks Now app
Dexcom is a small cap medical device company with a market cap of $3.2 billion. Given its size and the fact the company is not yet profitable, its risk profile is Aggressive.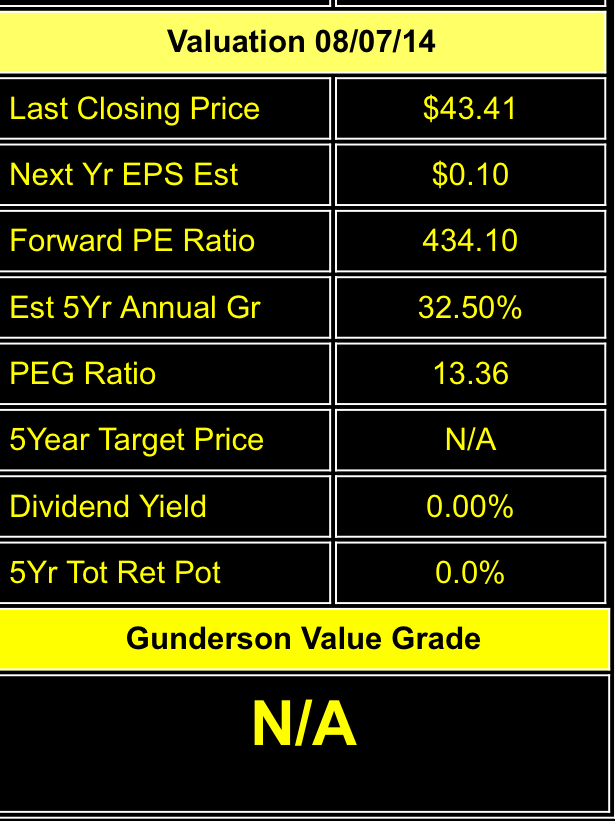 Data from Best Stocks Now app
Being as Dexcom is still operating at a 2Q loss of $.09 share, valuation metrics are somewhat meaningless. The 5-year annual growth rate projected for the company is 32.5% however, highlighting the fact that Dexcom is a growth stock, not a value stock.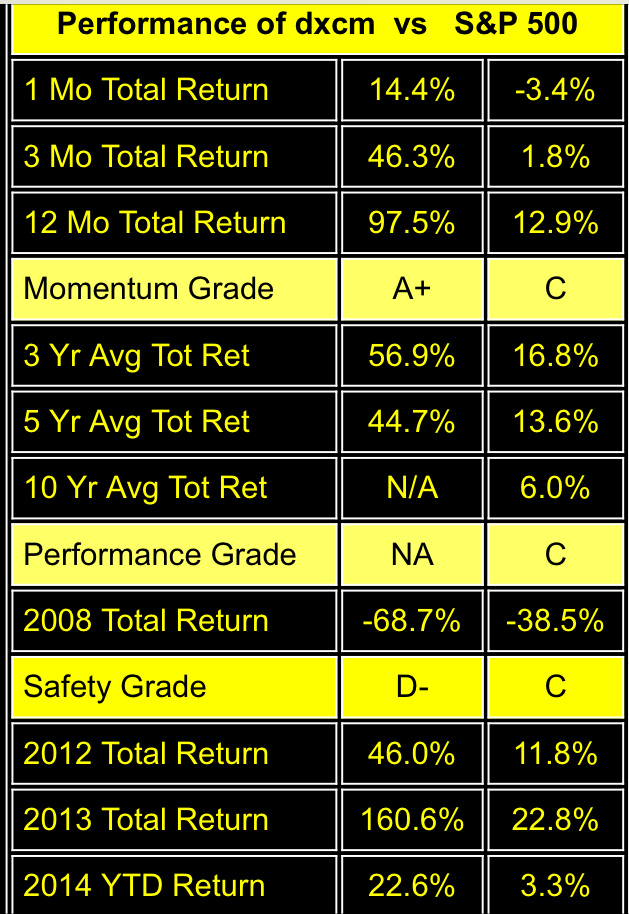 Data from Best Stocks Now
And Dexcom shares have indeed grown! The stock has posted an average 3 year return of 56.9% and a 5-year return of 44.7%. It was up a whopping 161% last year in 2013. It receives a Momentum Grade of A+.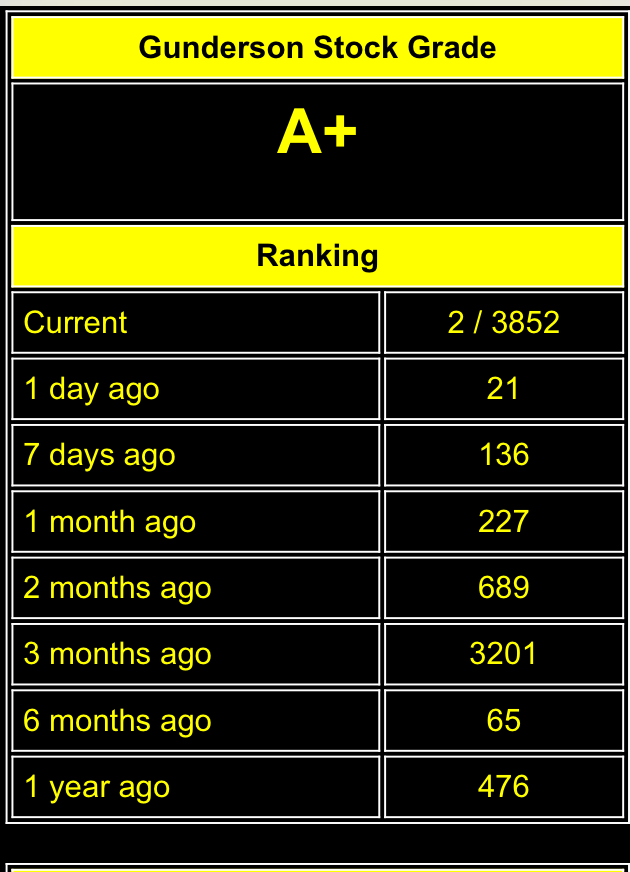 Data from Best Stocks Now app
Currently Dexcom ranks #2 in my 3850+ stock universe. I own the stock in my Aggressive Growth accounts.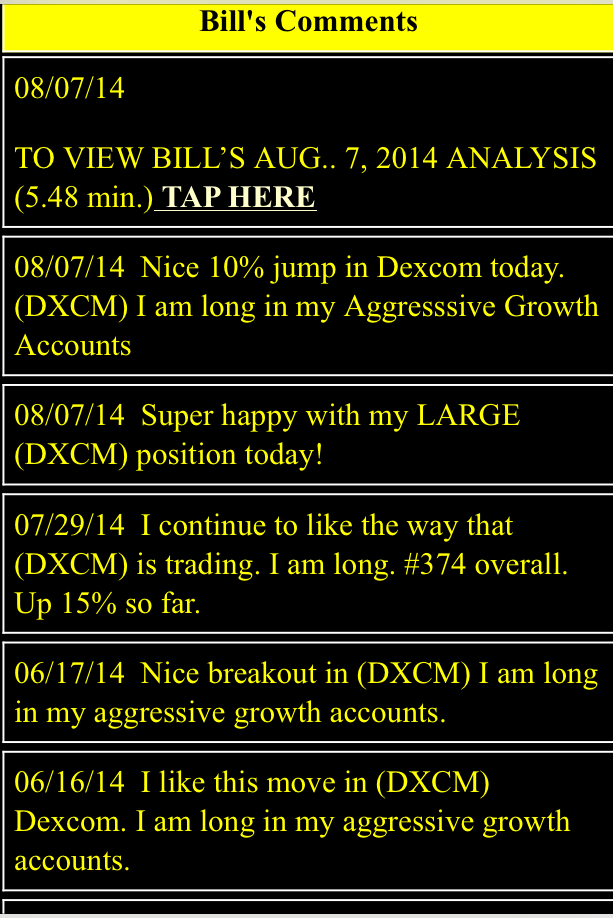 For a change of opinion on this stock, follow me on Twitter @billgunderson.
Disclosure: The author is long DXCM. The author wrote this article themselves, and it expresses their own opinions. The author is not receiving compensation for it (other than from Seeking Alpha). The author has no business relationship with any company whose stock is mentioned in this article.