In 2008, the automotive industry went through one of the worst financial crisis seen in decades. Like all the other automakers, Ford (NYSE:F) went through a dramatic slowdown that resulted in a $14.4 billion loss for 2008. Ford, along with Chrysler and General Motors, was on the brink of bankruptcy, as its shares fell to new lows. By cutting costs and borrowing as much as they could before the credit collapse, the automobile producer was able to survive the economic downturn without needing a government bailout. By the fiscal year of 2013, Ford had miraculously recovered, reporting $7.155 billion in profit and a 30 percent increase in automobiles sold in the Asia Pacific Africa region. The region now accounts for nearly 22 percent of all worldwide units sold.
Regardless of the Asia Pacific Africa region's explosive growth, North America still remains Ford's biggest market, with 3.088 million vehicles sold in 2013. While the North America segment has experienced sturdy growth, it has come at the cost of increased incentives. To maintain its current growth rate, Ford will have to expand its manufacturing and sales in foreign markets. The automaker is now looking towards Africa as the next economic frontier, as industrywide sales are forecasted to grow from 1.5 million vehicles to 2.1 million over the next 6 years. The abundant amount of natural resources, rising middle class, and projected growth in the driving population points to a surge in the continent's demand for automobiles. However, the recent outbreak of Ebola, corruption in Nigeria, and disorganized leadership all pose major threats for new businesses trying to break into the region.
North America
Holding its spot as the number one American car manufacturer, Ford's F-series pickup topped the monthly car sales list for the month of July, a feat that the automaker has held for nearly two decades straight. Last month, Ford sold 63,420 F-series, Ford's signature pickup truck, up 4.6 percent from July 2013. In comparison, General Motors, Ford's biggest competitor, sold 42,087 Chevy Silverados, the same amount they sold in July 2013.
In addition to the success of the F-series, Ford showed a massive increase in large vehicle sales for the month of June, with sales for the Explorer and Expedition up 31.8 and 59.3 percent, respectively. Nevertheless, both the Fiesta and Mustang saw their sales drop by 31.1 and 17.4 percent, respectively. Overall sales came in at 212,236 vehicles for July, missing overly-optimistic analysts' expectations. While this was not an egregious miss, it is a sign that the industry is cooling off. Incentives played a strong role in July sales, with average industry discounts rising to just over $3,000 per vehicle, the highest they have been since 2010. According to Larry Dominique, president of research firm ALG, Ford's incentives averaged closer to $3,919 per vehicle, cutting into the automaker's bottom line. As the industry continues to slow down, Ford will be forced to further discount their vehicles in order to maintain an advantage over their competition.
Africa
Plans for Ford to expand its manufacturing production in Africa, introducing new models like that Mustang sports car, are currently in the works. Jim Benintende, Ford's head of operations in the Middle East and Africa, stated "everything is pointing towards a surge in the African economy" and "we're really focused on this region like never before". Benintende, a Ford veteran appointed to run the African operation this year, plans to expand Ford's factories beyond the two currently in South Africa, with Nigeria being an option. Africa's vehicle market is rapidly accelerating and Ford projects industrywide sales will reach 2.1 million vehicles in 6 years, a 40% increase from the 1.5 million produced last year. Africa's driving age population is also projected to soar 55 percent to 880 million by 2023.
Despite the promising statistics, Africa still remains a difficult place to conduct business, as demonstrated by the recent Ebola outbreak in Liberia and Sierra Leone. The World Bank estimates that the outbreak will shrink the economic growth in Guinea, where the epidemic emerged, from 4.5 percent to 3.5 percent for the year. Additionally, Baidu-Forson, an economist at HIS Global Insight, says other countries hit by Ebola could ultimately require aid from the International Monetary Fund. However, this has not deterred the United States from investing in the continent, as the US is number two in direct foreign investment and trade with the emerging continent.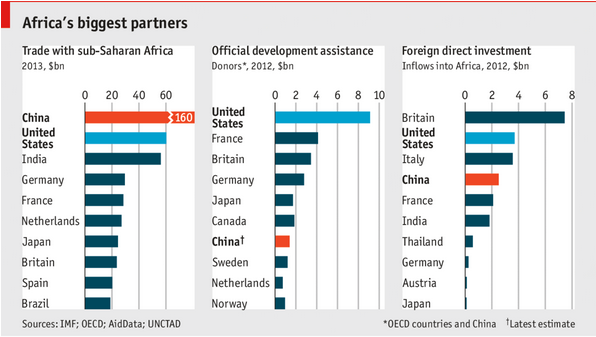 Nigeria in particular is starting to become more integrated into the global economy, and big businesses are taking notice. The half-trillion dollar market, once known as just an oil enclave, is now expanding its manufacturing and services industry. However, the ongoing corruption, civil unrest, and violence make it a difficult place to conduct business for obvious reasons.
The Algorithm
I Know First is a financial services firm that provides daily foresight based on an advanced self-learning algorithm. The financial algorithm, which is based on artificial intelligence and machine learning, analyzes the structure and trends of the market, finds predicable patterns, and recommends trades based upon its machine-derived forecasts. The chart below shows the slightly bullish algorithmic predictions for Ford in the short time horizon, and the slightly bearish algorithmic prediction for the medium-term time horizon, as indicated by the light green and red hues, respectively. The positive number in the middle of the box labeled F is the stock's signal that represents the direction and magnitude the algorithm believes the stock will move. The decimal number on the bottom of that box is the stock's predictability quotient, a relative indicator of how likely the stock will move in the predicted direction. When analyzing a stock's signal and predictability, it is important to compare its present signal and predictability to its own historical signals and predictabilities and then track their daily changes. Further explanations are available here.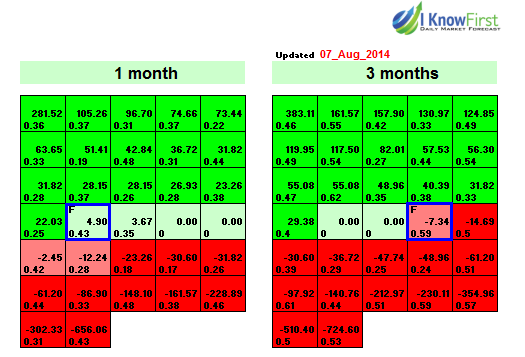 The market prediction system is entirely empirical and not based on human-derived assumptions. This system can also be referred to as a "Big Data" solution for Wall Street by incorporating popular types of convergence averages and moving averages that have been traditionally used to forecast assets with complex and intelligent algorithms that can make these predictions more accurate and efficient.
The human factor is limited to building the mathematical framework and initially presenting the system with the "starting set" of inputs and outputs, which is also utilized for recognizing every other market opportunity. The algorithm then repetitively proposes "theories" and recurrently tests them automatically on years of daily market data. It then validates them on the most recent data, which prevents over-fitting. By separating the predictable part from stochastic (random) noise, the algorithm is able to create a model that projects the future trajectory of the given market in the multi-dimensional space of other markets. The output of the predicted trend is a number, known as the signal, which is used by traders to identify entry and exit points in the market. While the algorithm can be used for intra-day trading, the predictability tends to become stronger over longer time horizons, such as the 1-month, 3-month and 1-year forecast, making this market prediction system ideal for longer-term trading.
The image below shows an algorithmic prediction for F from 3 months ago. Algorithmic traders utilizing our "Dividends Stocks" Package received this prediction.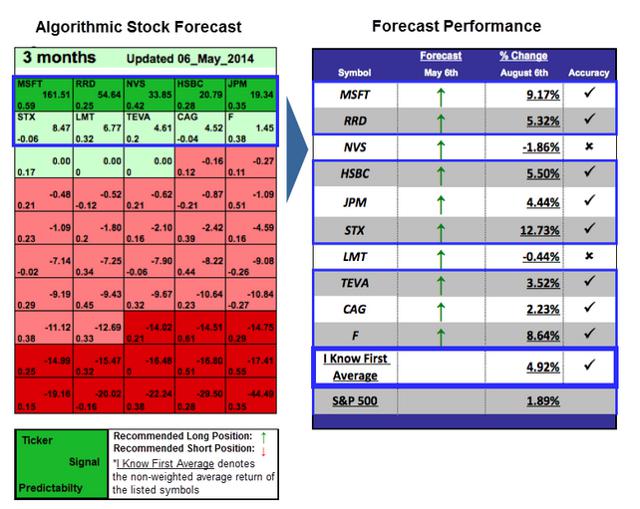 Click to enlarge
F had a moderate signal of 1.45 and a predictability of 0.38 in this 3-month forecast and returned 8.64% accordingly. Daily forecasts are intended to be utilized as a tool to enhance portfolio performance, verify their own analysis and act on market opportunities faster. We never recommend blindly purchasing assets that are endorsed by the algorithm without your own additional analysis.
Conclusion
In the past years Ford has become a much more attractive company. The automaker continues to top car sales lists and has regained its title has the largest US based car manufacturer. As growth in North America slows, Ford will look to emerging markets to maintain the stock's upward trajectory. Africa has been identified by Ford as the next target market, and it will be interesting to see if the automaker is able to successfully penetrate the conflict-ridden continent in the upcoming year. While there are no doubt potential catalysts on this company's horizon, they are not without their risks. With the overall automobile sector forecasted to slow down in the upcoming months, I would wait for the price to come down accordingly before starting a new position.
Business disclosure: I Know First Research is the analytic branch of I Know First, a financial startup company that specializes in quantitatively predicting the stock market. Joe Stempel, an I Know First intern wrote this article. We did not receive compensation for this article (other than from Seeking Alpha), and we have no business relationship with any company whose stock is mentioned in this article.
Disclosure: The author has no positions in any stocks mentioned, and no plans to initiate any positions within the next 72 hours. The author wrote this article themselves, and it expresses their own opinions. The author is not receiving compensation for it (other than from Seeking Alpha). The author has no business relationship with any company whose stock is mentioned in this article.