Thesis: The 25-day SEC-enforced quiet period for XENT will expire on August 17. On August 18, XENT's IPO underwriters will be able to release analyses of the ear, nose, and throat drug device company, likely leading to at least a temporary rise in share price. Research has shown above-market returns of 2.3% in the 8-day (-5, +2) period, surrounding a company's IPO quiet period expiration. Given that XENT is already gaining ground in the market, the event could be an additional boost and create a new buying opportunity.
Buying Opportunity - Intersect ENT, Inc. (NASDAQ:XENT) - PT $13.35
The 25-day SEC-enforced quiet period on underwriter research reports that began with the July 23 IPO of Intersect ENT, Inc. will expire on August 17. On August 18, XENT's IPO underwriters will be able to release analyses of the ear, nose, and throat drug device company.
The publishing of the underwriter reports will likely lead to at least a temporary rise in the price of XENT shares.
Early Market Performance
XENT's IPO priced at $11.00 per share, the low end of its expected range of $11-$13 per share, and posted a solid 17.5% return in its first day on the market. The stock slid to a close of $12.30 per share on August 1, but gained ground over the next several days to exceed its first day close, closing at $13.00 per share on August 5.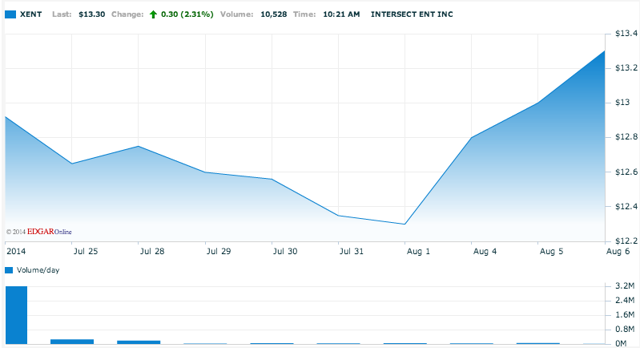 (Nasdaq.com)
XENT's IPO underwriters, including J.P. Morgan Securities LLC; Piper Jaffray & Co.; Leerink Partners LLC; and Wedbush Securities Inc., will likely seek to build on the stock's recent growth through release of positive reports beginning with the conclusion of the quiet period.
Underwriters, Quiet Period Expirations, and Buying Opportunities: Academic Studies
The Journal of Finance (VOL. LVIII, NO. 1; 2003) describes how share prices typically rise before the expiration of the quiet period as investors purchase shares early in anticipation of positive underwriter reports.
Lead author Dan Bradley, PhD, CFA, affiliated with the University of South Florida, and his colleagues point out that analyst coverage is immediately initiated for 76% of firms at the conclusion of the quiet period, typically with ratings of 'Buy' or 'Strong Buy.' Firms with coverage initiated enjoy abnormal positive returns of 4.1% for the two days before and the two days after coverage is initiated. Returns have also been found to rise further when more than one analyst initiates coverage-to 6.4%.
Dr. Bradley's conclusion is backed by the work of Carter, Piwowar, and Strader (2001), who report that the mean analyst rating at the end of the quiet period is a "Buy," with higher returns correlated to higher ratings. Lach and Highfield (2009) note that analyst initiations have been less positively biased since the Global Settlement and NASD and NYSE rules; however, Highfield, Lach and White (2008) still found that the five-day cumulative adjusted returns are statistically significant at approximately 2%.
Bradley et al also note a significant correlation between the quantity and reputation of IPO underwriters and increasing share prices near the expiration of the quiet period.
Our own research, performed on a sample of 2014 IPOs, reveals above-market returns of 2.3% in the 8-day (-5, +2) period (day 0 being expiration). These data are statistically significant at the 90% level. When IPOs for REITs and banks are excluded, returns increase and remain within the 90% significance level. We also noted that more underwriters could reduce the volatility of returns in the quiet period. No significant linear relationship was found between market capitalization and returns or volatility of returns in the same window of time. We also observed no significant linear relationship between the percentage of the company floated at the time of IPO and returns or volatility of returns.
In all cases, investors' early purchases often lead to a perception of rising demand, causing an increase in share prices before the expiration of the quiet period, and creating a short-term buying opportunity.
Business Overview
XENT is a drug device firm that develops and markets devices used in the treatment of ear, nose and throat (ENT) conditions.
The firm is currently focused on a drug-eluting implant technology that provides targeted release of therapeutic agents. The implants can be broken down and absorbed into the body, so no further operation is required to remove them afterwards.
XENT's first products, PROPEL and PROPEL mini, are designed to assist in the treatment of chronic sinusitis. A physician inserts the PROPEL devices during an ethmoid sinus surgery, and the implants then expand within the surgically-enlarged sinus to conform to its shape and gradually release an anti-inflammatory steroid. The implants release the steroid for up to 30 days and are then absorbed by the body. The implants assist in maintaining the pathways opened through the surgery, reduces the need for oral steroids, and reduces the likelihood of further surgeries, which are common among those being treated for sinusitis. Additionally, PROPEL and PROPEL mini help to minimize postoperative inflammation and scarring. PROPEL and PROPEL mini are the first such implants to receive FDA approval for chronic sinusitis patients.
Over 1,000 American physicians have been trained to use XENT's implants and incorporated them into their practices.
For further details, see our previous article on XENT.
Current and Potential Competitors
XENT expects that other device companies will seek to develop similar, competing implants for chronic sinusitis in the future. The firm's products must also compete with other sinusitis treatments, some of which are marketed by firms with access to significantly greater marketing and financial resources than XENT.
Current and potential competitors include the likes of Stryker (NYSE:SYK), Johnson & Johnson (NYSE:JNJ), Olympus, ArthroCare, and Medtronic (NYSE:MDT).
Strong Management
Lisa D. Earnhardt has served as President and CEO of XENT since March 2008. She previously served as the president of Boston Scientific's Cardiac Surgery division, and also worked for the firm in various sales and marketing leadership roles.
Ms. Earnhardt holds a B.S. in Industrial Engineering from Stanford University and an M.B.A. from Northwestern's Kellogg School of Management.
Conclusion: A New Buying Opportunity
We like this stock moving forward.
Though competing implants will no doubt appear in the future, PROPEL and PROPEL Mini are the first of their kind, and XENT has opportunity to establish itself as a leader in its specific field.
The firm has seen soaring revenues since gaining FDA approval, posting a net revenue of $5.9 million in calendar 2012 and a net revenue of $17.9 million in calendar 2013.
Critically, XENT seems to have been successful in its efforts to convince physicians to adopt its products.
The upcoming quiet period expiration will likely make for a strong opportunity for interested parties to invest in the firm.
We invite readers wishing to join the discussion on IPO quiet period expirations to click the +FOLLOW button above the title of this article-- and those looking for the latest developments click +Get real-time alerts.
Disclosure: The author is long XENT. The author wrote this article themselves, and it expresses their own opinions. The author is not receiving compensation for it (other than from Seeking Alpha). The author has no business relationship with any company whose stock is mentioned in this article.