Apple (NASDAQ:AAPL) continues to outperform its industry and the major indices (Exhibit 1). Product innovations, continued demand and consistent operating margins (Exhibit 2) contribute to its success.
Exhibit 1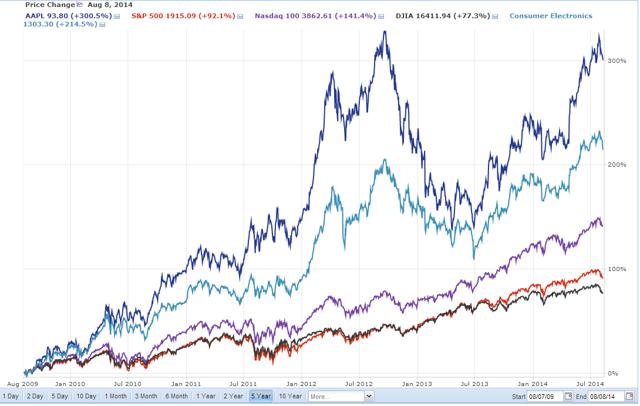 Source: Stock Rover
Exhibit 2

Source: Stock Rover
Research and Development, at over $5.5 billion, is growing nearly 30% on an annual basis and seems to be accelerating with an increase of 38% over the past 12 months. Reasons for the increase are believed to be entries into new product categories, such as wearable devices like the iWatch and advances to the existing product line such as larger iPhones.
ROIC continues to remain strong, albeit 31% lower than the highs in 2011 (Exhibit 3). Additionally, ROA and ROE remain stable at 12.1% and 23.4%, respectively, which is near their 10 year averages. Cost of sales are nearly perfectly correlated with sales at .998 indicating management has a firm control over sales expenses. Furthermore, free cash flow as a percentage of sales continues to be consistent and near the five-year highs (Exhibit 4). Moreover, earnings yield is currently at 6.61 (Exhibit 5).
Exhibit 3

Source: Stock Rover
Exhibit 4

Source: Stock Rover
Exhibit 5

Source: Stock Rover
Industry Analysts have been increasing their opinions on the equity with 21 EPS upward revisions next quarter, 30 for the year and 35 next year with an average target price of $104.79 (Exhibits 6 and 7).
Exhibit 6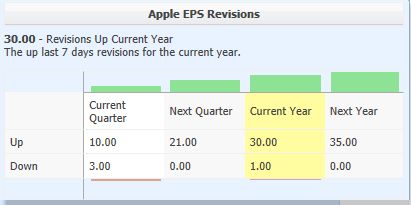 Source: Stock Rover
Exhibit 7

Using a discounted cash flow analysis supported by comparable multiples valuation puts the estimated equity value per share at $110.08. Additionally with respect to its industry, AAPL is undervalued according to EV/EBITDA by 11% and 31% by P/E.
Investment Opinion
Apple's single challenge is creating new products consumers want to buy. Without new products, competitors like Samsung and Xiaomi will continue to erode market share and eat into profits. Furthermore, Apple's success has been more about popularity than significantly superior products and that popularity seems to be fading as Google (NASDAQ:GOOG) (NASDAQ:GOOGL) surpassed Apple as the most popular brand according to the 2014 BrandZ Top 100 Most Valuable Global Brand ranking.
Apple's continuous investment in research and development has proven to consistently deliver returns to investors, nearly 40% on an annualized basis, and I feel it will continue to do so. However, that feeling is with a bit of anxiety as more competitors with outstanding products enter the market. Be that as it may, I believe the shares are worthy of an investment at current prices and will make a nice addition to a diversified portfolio.
Conclusion
Apple has performed brilliantly over the past 10 years. Consistent development of high demand products, innovative technologies and efficient operations have proven to be an outstanding business model. Apple provides investors with compelling growth opportunities and not to mention a decent dividend yield. Current corporate fundamental indicators and market valuations point to attractive future growth possibilities.
Disclaimer: Michael Lee is an investment strategist at Long Street Capital Management, LLC ("LSCM"). This article is prepared by Mr. Lee as an outside business activity. As such, LSCM does not review or approve materials presented herein. The opinions and any recommendations expressed in this article are those of the author and do not reflect the opinions or recommendations of LSCM.
None of the information or opinions expressed in this article constitutes a solicitation for the purchase or sale of any security or other instrument. Nothing in this article constitutes investment advice and any recommendations that may be contained herein have not been based upon a consideration of the investment objectives, financial situation or particular needs of any specific recipient. Any purchase or sale activity in any securities or other instrument should be based upon your own analysis and conclusions. Past performance is not indicative of future results. Either LSCM or Mr. Lee may hold or control long or short positions in the securities or instruments mentioned.
Disclosure: The author has no positions in any stocks mentioned, but may initiate a long position in AAPL, GOOG over the next 72 hours. The author wrote this article themselves, and it expresses their own opinions. The author is not receiving compensation for it (other than from Seeking Alpha). The author has no business relationship with any company whose stock is mentioned in this article.