After reporting revenue and earnings for the second quarter of its 2014 fiscal year on Aug. 13, shares of Macy's (NYSE:M), one of the world's largest department store chains, fell more than 5%. Although the retailer's results were worse than expected, is it possible that Mr. Market is overreacting to the business's performance and that, in the long-run, Macy's could make for a strong prospect?
Revenue and earnings fell short but weren't all that bad
For the quarter, Macy's reported revenue of $6.27 billion. Even though this came in 3% above the $6.07 billion management reported the same quarter a year earlier, the company's top line was just shy of the $6.30 billion. According to its press release, the rise in sales came in light of a 3.4% increase in comparable store sales (4% if you include its store-within-a-store setups) as the retail market saw a turnaround from severe weather earlier this year, but this was partially offset by some store closings.
| | | | |
| --- | --- | --- | --- |
| | Last Year's | Forecasted | Actual |
| Revenue (billions) | $6.07 | $6.30 | $6.27 |
| Earnings per Share | $0.72 | $0.86 | $0.80 |
Profits missed the mark even more. For the quarter, Macy's saw its earnings per share hit $0.80. This represents an 11% gain compared to the $0.72 reported the same quarter last year but clearly missed the $0.86 analysts hoped to see. In addition to benefiting from higher sales, the company's bottom line saw some improvement because of a decline in its selling, general and administrative expenses from 33% of sales to 32.3% and because of a 6% drop in share count from 389.3 million shares to 365.4 million.
Heading into the second half of the year, Macy's management team expects comparable store sales to rise between 2% and 3% which is reducing the company's outlook for fiscal 2014 from comparable store sales growth of 2.5% to 3% down to the 2% to 2.5% range. Despite this setback, however, management believes the company's earnings per share will come in between $4.40 and $4.60 for the year, placing the $4.47 Mr. Market expects on the lower end of the scale.
This setback could be a buying opportunity
Although investors might be scared that Macy's performance for the quarter indicates poor growth moving forward, it would be unwise to discount the business so quickly. Between 2010 and 2013, Macy's saw its sales climb 12% from $25 billion to $27.9 billion even as store count fell 1% from 850 locations to 840. The contributor to Macy's top line growth was its comparable store sales which rose, in aggregate, 18% during this time frame.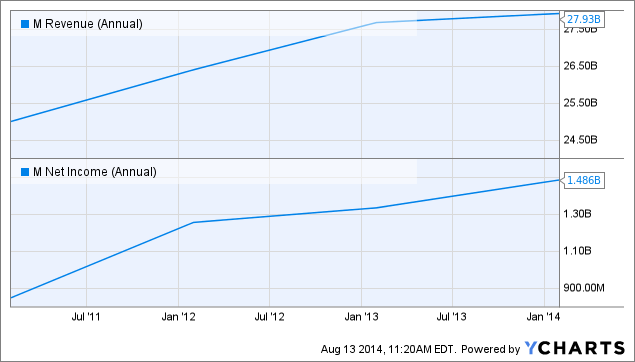 M Revenue (Annual) data by YCharts
Looking at profits, Macy's performance was even more impressive. During this four-year period, the retailer's bottom line skyrocketed 75% from $847 million to nearly $1.5 billion. This growth was due, to some extent, to the company's higher sales, but the biggest contributors were its selling, general and administrative expenses which fell from 33% of sales to 30.2% and its interest expense which dropped from 2.1% of sales to 1.4% as management reduced debt outstanding by 3.5% and refinanced higher interest-bearing obligations.
Takeaway
In a previous article I wrote on the company, I stated that it would be interesting to see whether or not management can continue growing the business at a nice clip. Right now, it appears that the answer to that is no, but with its long-term performance and forecasted growth, it's not necessarily a bad prospect either. If anything, with a P/E of 15, Macy's is just a little pricey.
Disclosure: The author has no positions in any stocks mentioned, and no plans to initiate any positions within the next 72 hours. The author wrote this article themselves, and it expresses their own opinions. The author is not receiving compensation for it (other than from Seeking Alpha). The author has no business relationship with any company whose stock is mentioned in this article.