Zynga (NASDAQ: ZNGA) is one of the stocks that have been mercilessly punished by the market in 2014. This punishment has been so severe that the market values Zynga only about $1/share as a gaming company, excluding its cash and real estate. This level of punishment has attracted the attention of a well-known market veteran, Jim Cramer, as he succinctly put it during his "Stop Trading" show on CNBC: "Zynga has a lot of things going for it, including a strong balance sheet, improving cost structure and the stabilization of its core business… this is a name that had been given up for dead... Zynga is worth a look."
When Cramer made these statements in early April of this year, Zynga was trading around $4.19. Although I agreed with Cramer that Zynga was undervalued even around $4/share back in April, I decided to wait until Zynga's valuation drops closer to its bare book value, which usually provides a solid bottom since book value represents net assets of a company, excluding liabilities, intangible assets, and goodwill. After Zynga revised down its 2014 revenue guidance due to delays in new games, stock dropped further despite meeting its revenue and bookings guidance for the quarter, while user and monetization metrics kept improving. At this point, downside risk is secured by the book value while all the delayed new games and existing franchises provide a significant upside potential. With more than $1 Billion in cash and breaking even on a cash flow basis, Zynga can afford to delay new games, especially if they are delayed to increase the quality of these roll-outs and more efficiently use the marketing budget.
Bearish Sentiment At Its Peak
After reviewing the countless articles published about Zynga, one can easily see that they overwhelmingly favor a bearish stance. This is not surprising given that Zynga is trading around its 52-week low and no author dares to counter the trend. Making the case for a long position in a stock that is trading around its 52-week low requires much more due diligence than making a bear case using the rearview mirror to explain why the stock tanked closer to book value.
When it comes to investing, risk versus reward is the most important factor which determines the investment potential. If a company is executing very well, generating higher levels of revenue and profit every recent quarter, but trading at very high levels of valuation with perfection already priced in, then we can't automatically assume that investment in such a company is a better idea than investment in companies that execute relatively worse but trade at much lower levels of valuation with most downside already priced in. Many bearish articles about Zynga often make a comparison between Zynga and King Digital Entertainment (NYSE: KING), and conclude that KING is a better investment just because KING executes better, while ignoring the vast differences in the existing market valuation. There is no doubt that KING executes better, but this is potentially more than priced in its lofty valuation. Another common theme in bearish articles is that they look at Zynga's user metrics year over year, which shows deterioration. However, when one looks at changes in user metrics (DAU: daily active user, MAU: monthly active user, MUU: monthly unique user) from a quarter-over-quarter perspective, it can be clearly seen that deterioration turns into improvement. Zynga's Q2 earnings slides clearly show this yearly and quarterly trend: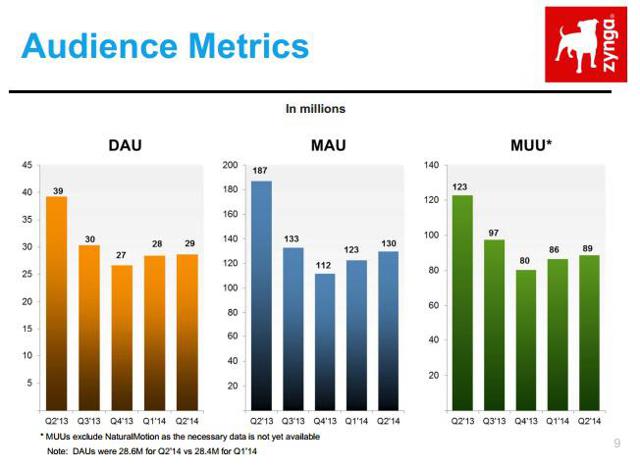 Click to enlarge
Source: Zynga 2014-Q2 Earnings Presentation
I have to highlight the fact that this improving quarterly trend is despite the lack of new game launches, which means that once Zynga starts launching the massive number of new games from its pipeline, then we would most probably see a sharper improvement in all of the above user metrics. I am not the only one expecting this sharp improvement. For example, one of the bearish Zynga analysts, Stephen Ju from Credit Suisse notes: "…what appears to a cadence of ~ten games set for release in any given year, we have to note that the possibility of upward revisions to estimates is increasing given the more 'at bats' the company will have."
When it comes to bearish sentiment about companies for revising down their guidance, one needs to be careful regarding the reason behind the revision. Zynga dropped another 10% after revising down their 2014 revenue guidance during extended trading, which is mostly recovered during the regular trading in the next day. Clearly, some investors had a knee-jerk reaction that all downward revisions are equally bad; however, the reason behind Zynga's downward revision was a delay in the launch of new games to ensure that these new games satisfy the highest quality standards, so that marketing budget is used more efficiently. The net impact of this delay is simply shifting revenues from 2014 to 2015. I would have been much more concerned if the downward revision is driven by new launches not performing; luckily that is not the case with Zynga. CEO Mattrick clearly articulated this aspect in his interview with Venture Beat. According to CEO Mattrick, the delay in the launch decision is quite well-calculated and purposeful: "If we see there's an area where we can innovate or refine and get to a better consumer result, we're doing it. It's painful in the short term, but I believe we'll build a better business, a better relationship with consumers, by putting the choices in that medium to long-term frame."
Slow Turnaround Story
Zynga hired Don Mattrick in 2013 in its efforts to turn around the company and transition from its online gaming focus to the fast growing mobile gaming market. In hiring Mr. Mattrick, Zynga is following the trend seen in many other tech giants where companies hire outside professionals to replace their founders running the company. Mr. Mattrick is a highly accomplished gaming professional who is recognized for moving Microsoft's interactive business from an operating loss into a sustained and profitable business for the company. In the six years since Mattrick joined Microsoft's gaming division, the Xbox 360 installed base has grown from 10 million to more than 76 million worldwide, while the Xbox LIVE membership has increased from 6 million to over 48 million.
Mattrick's turnaround strategy for Zynga has two stages, first to launch mobile versions of popular existing games, then to roll-out brand new games. Although it has been a slow turnaround, I have to highlight the most important fact that under Mattrick's leadership, Zynga has been generating more and more of its revenue from mobile. For example, Zynga has achieved second sequential growth in its mobile audience and revenue metrics as of Q2 2014. In terms of platform mix, mobile bookings grew from 36% of total in Q1 to 50% in Q2, which represented the very first time that Zynga's majority of bookings came from mobile games.
Zynga's daily bookings revenue per user (ABPU) has been steadily improving as shown in the below chart: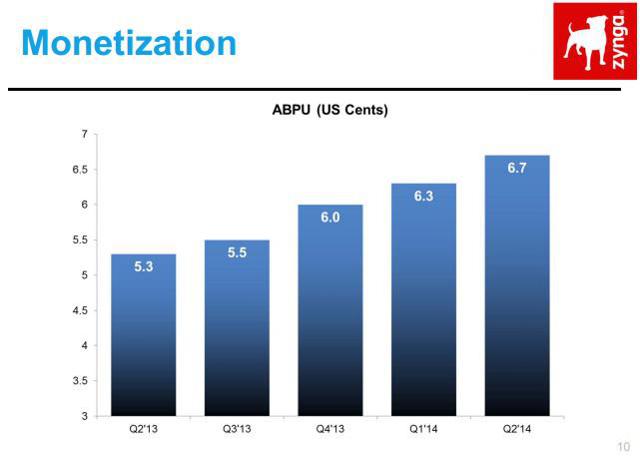 Click to enlarge Source: Zynga 2014-Q2 Earnings Presentation
Improving levels of monetization show that Zynga is getting better at extracting higher revenues from its game players. As pointed out by another Seeking Alpha article, if one of Zynga's new games gains popularity, it will reap exceptional revenue from it due to higher levels of monetization.
In addition to improving monetization, Zynga's booking revenue has been improving over the last three quarters. Zynga records the sale of virtual goods as deferred revenue and then recognizes that revenue over the estimated average life of the purchased virtual goods. Bookings revenue is the fundamental top-line metric that Zynga uses to manage the business, as it is a better indicator of the sales activity in a given period.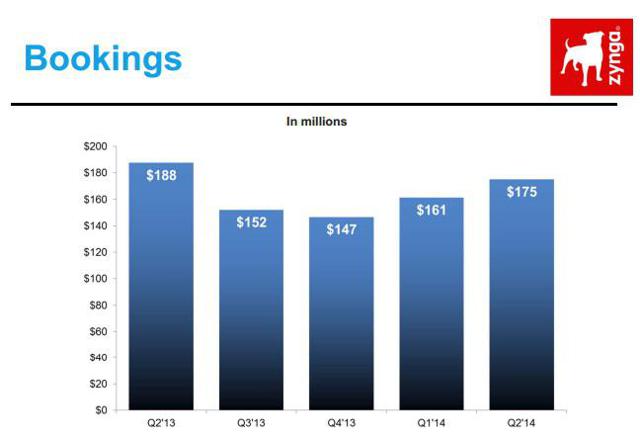 Click to enlarge
Source: Zynga 2014 Q2 Earnings Presentation
Heavy Investment into Future Pipeline
One of the common questions asked during the earnings conference calls is regarding the size of the workforce at Zynga compared to other companies. CEO Mattrick's standard answer is that half of that workforce is dedicated to existing franchises, while the remaining half is dedicated to future games. In addition to the capabilities and brands in content genres with Farm, Words, Casino, Racing and People, Zynga is further diversifying their product portfolio in order to reach more consumers and widen their demographic reach across more entertainment genres.
Zynga recently announced that it is entering the Sports category, where they are currently developing mobile games in both football and golf. Zynga announced multi-year licensing agreements with the National Football League and NFL Players Inc. These licenses will enable Zynga to bring real NFL teams and athletes, including their names and likeness, to players, creating an authentic team manager football experience. Zynga also announced it has signed an exclusive, multi-year, multi-platform partnership with golf icon, Tiger Woods. In addition to golf and football, Zynga is expanding its offerings in the Runner category and has entered into a multi-year agreement with Warner Bros Interactive Entertainment to license the Looney Tunes brand for mobile. Zynga expects to launch its Looney Tunes mobile game before the holiday season.
Savvy investors can clearly see how these new genres are a perfect fit with the acquisition of Natural Motion, which was completed in early 2014. Natural Motion has a middle ware animation engine, called Euphoria, that has been developed by using artificial intelligence algorithms in order to enable life-like movements. Euphoria was quickly picked up and used extensively in games for PlayStation, Xbox 360 and many others. Rockstar Games announced it had licensed this engine for many of their new and upcoming games with the first announced title being Grand Theft Auto IV. Subsequent Rockstar Games titles that use the engine include Red Dead Redemption, Max Payne 3 and Grand Theft Auto V. Now that Zynga owns Euphoria, it makes sense to use this engine in new games that involve humans such as football and golf.
Conclusion
Considering the depressed valuation of Zynga, breaking even in cash flow, more than $1 Billion in cash, improving user metrics, monetization and booking numbers, and the significant workforce allocated to new games, Zynga proves itself to be a top pick as a bottom play with significant upside potential.
Disclosure: The author is long ZNGA. The author wrote this article themselves, and it expresses their own opinions. The author is not receiving compensation for it (other than from Seeking Alpha). The author has no business relationship with any company whose stock is mentioned in this article.
Additional disclosure: Please read additional disclaimer in my bio.