ConocoPhillips (NYSE:COP) is one of the best companies operating in the exploration and production industry [E&P]. The company has made significant changes to its asset portfolio to improve accordingly with the market trends as the E&P industry changes. This industry is moving more towards oil and liquid plays as they offer better margins and cash flows. In the past two years, COP has disposed of its numerous non-core assets and acquired various assets to focus more towards high margin oil and liquid plays. In the past year alone, the company's organic reserve replacement was at 179%. Working with the plan of making limited investment towards gas while investing heavily on oil and liquid-rich plays, ConocoPhillips had invested approximately $14 billion in 2012 and $15 billion in 2013.Furthermore, the company is looking to invest about $17 billion this year.
Considering the massive investments towards liquid plays, they accounted for around 56% of total production at the end of last year. The company is further looking to expand its oil and liquid production this year. Its recent investments in liquid plays, especially in the oil sands in Canada and the Lower 48, contributed to higher production levels, and the reserves will continue to generate high production from this year onward. This year, Conoco still intends to make investments in its legacy assets and ramp up its unconventional plays with additional projects startups in Canada, the United Kingdom, and Malaysia.
Conoco's strategy and disciplined capital allocation has been working for the company and things are dramatically turning around. In Q1 of this year, it generated 3% production growth and its Eagle Ford & Bakken production increased by 41%. And, in the Q2, the company generated 6.5% production growth excluding Libya. Also, its combined production from Eagle Ford & Bakken increased by 38%%. In addition to that, the focus towards liquid plays resulted in big profits for the company because it has generated 14% growth earnings per share in the second quarter. The company has also its sold Nigeria business and announced a 5.8% increase in dividends.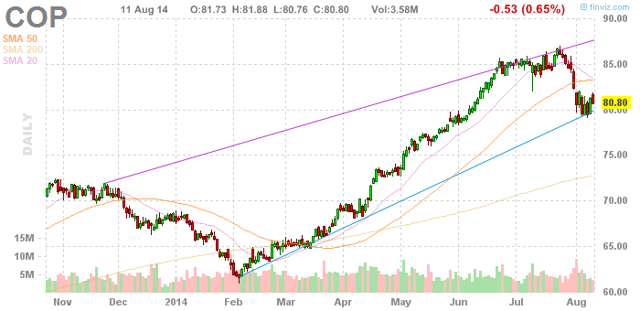 The chart above tells the whole story. The strong surge in share price is a vote of confidence to the ConocoPhillips business strategy. It has gained a lot of value since the company announced its last year's results. By doing this, COP has demonstrated that it is on the path to making big profits in the coming days thanks to its correct shift in business strategy. COP has generated very strong results in the first half of the year and looks to generate even better results in the future as most of its projects become online in the second half of the year and in 2015.
Its major projects in the United Kingdom, Canada and Malaysia are on the way for startup in the following two quarters. It is also making progress in its projects including Surmont 2, Eldfisk II and APLNG - which are expected to start in 2015. The company's exploration and appraisal activities are also ongoing in Angola, Australia, Senegal, the Gulf of Mexico and the Lower 48. All these activities signify that Conoco is right on track to generate consistent growth of 3% to 5% in production and hefty increase in earnings and cash flows.
Before making any conclusion, we have to look at the potential risk. The company has been operating in the E&P industry, the industry that currently has the momentum due to the growth in economy and shift towards liquid plays. The companies in E&P have been generating big profits with the move towards high margin liquid plays. Furthermore, it is anticipated that the industry will continue to have a healthy growth rate as oil and liquid plays will continue to offer healthy margins and cash flows. As demand for energy resources is increasing both in developing and developed countries, it will result in growth for E&P companies. ConocoPhillips has strong footholds for future growth with the massive investments in these growth opportunities.
Its cash position also looks strong as its operating cash flows provide full cover to its capital requirements and dividend payments. Moreover, it has raised significant amount of cash from the disposal of assets to support investments and dividends. In the first half of 2014, it generated $9.8 billion in operating activities when capital expenditure was at $8.1 billion and dividends payments at $1.7 billion. Therefore, I can say that their dividends are sustainable because it has been generating hefty amounts of cash.
In Conclusion
I believe that the existing market correction presents an attractive opportunity for investors to pick Conoco's stock for hefty dividends and also steady price appreciation. The company's share price is still trading at a discount compared to the industry peers and has strong upside potential. ConocoPhillips has set very strong footholds for future growth with its massive investments. It is on the right path to generate 3-5% growth in production and much better growth in earnings.
Disclosure: The author has no positions in any stocks mentioned, and no plans to initiate any positions within the next 72 hours. The author wrote this article themselves, and it expresses their own opinions. The author is not receiving compensation for it (other than from Seeking Alpha). The author has no business relationship with any company whose stock is mentioned in this article.