Overview
Alliance One International (NYSE:AOI) processes, packs, stores, and sells leaf tobacco to manufacturers of cigarettes and other consumer tobacco products throughout the world. The company was founded in 1904 and is headquartered in Morrisville, North Carolina.
Although the company has been around for a long time, I feel that investors should steer clear of this stock for the following reasons.
#1 - Lack of Dividend
Alliance One International is one of the few tobacco stocks that does not pay a dividend. And when compared to other stocks such as Altria (NYSE:MO) and Philip Morris (NYSE:PM) that pay 4%-5% steadily growing dividends, there has to be significant upside potential to consider this stock over those. I don't feel that the upside potential is there for AOI.
#2 - Revenue
Over the past five years, the company's revenue has decreased by 2.95%. Over the past year, revenue has fallen by 7.27%. In the company's latest earnings call, it was stated that quarterly sales and other operating revenues decreased 35.1% to $249 million.
#3 - Long Term Earnings
Over the past five years, the company's earnings have decreased by 164%. Stretching the historical timeframe out even further, the company's earnings have decreased by 370% over the past ten years.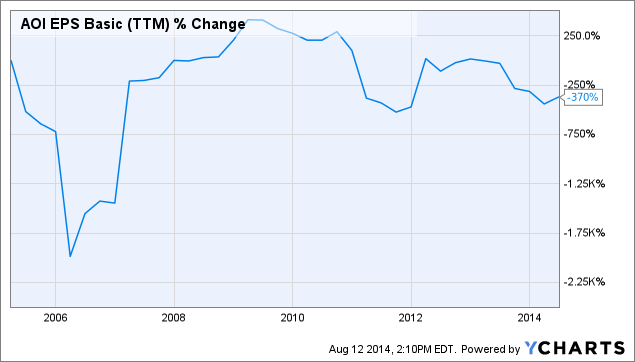 AOI EPS Basic (NYSE:TTM) data by YCharts
#4 - Earnings Loss
Alliance One International has reported negative earnings in four out of the company's last five fiscal quarters.
#5 - Cost of Goods Sold
While the company's gross profit increased during the last quarter, the long term trend associated with cost of goods sold has not been good. Over the past five years, this value has increased nearly 5% and over the past ten years has increased by nearly 95%.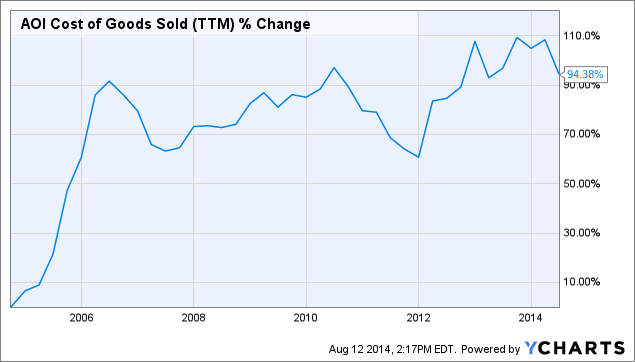 AOI Cost of Goods Sold (TTM) data by YCharts
#6 - Total Expenses
Over the past five years, total expenses for the company has increased by over 7%. Increasing expenses while revenues are decreasing is a disastrous combination.
#7 - Book Value
The book value of Alliance One International has decreased by nearly 30% over the past five years.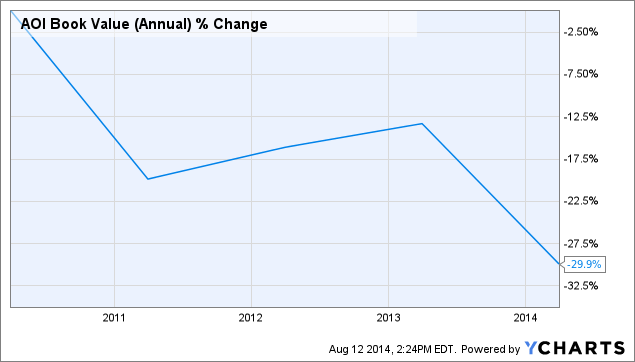 AOI Book Value (Annual) data by YCharts
#8 - Returns on Assets and Equity
The company has a negative return on assets of 3.40% and a negative return on equity of 25%.
#9 - Fundamentals
Ycharts has an advanced metric called The Fundamentals Score that scores the strength of a company's overall foundation. More details related to this score can be found here. AOI's fundamental score recently dropped from a 7 to a 6, which points to deterioration of the overall health of the company.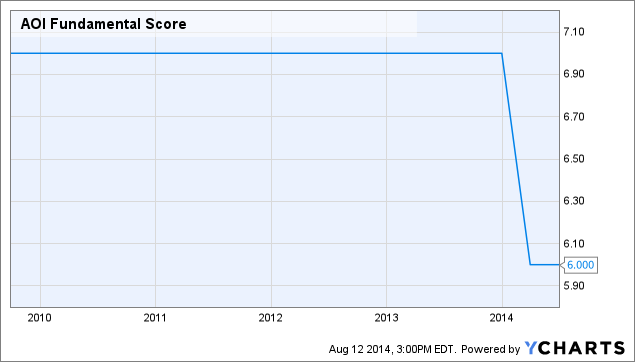 AOI Fundamental Score data by YCharts
#10 - Historic Price Returns
Over the past six months, Alliance One International's stock has dropped 20.7%. Year to date, the stock has dropped 28.5%. Over the past year, it has dropped 40.3%. Over the past 5 years, it has dropped 43.5% and over the past ten years it has dropped by 61.4%. This is definitely not a trend long term investors like to see.
Conclusion
In my opinion, there isn't much to like about Alliance One International. I guess the one silver lining would be its current valuation. Because the stock has seen a long term decline in its price, it is actually priced at a reasonable valuation. If you believe the stock is at its bottom, then it wouldn't make a terrible investment.
However, I personally don't like to time markets and/or stocks and prefer to invest in companies that have solid histories of increasing revenues, earnings, and dividends over the course of several years.
Alliance One's problems with declining revenues doesn't seem to be going away. Because of this, I believe the company will continue to see more negative quarterly earnings than positive ones into the foreseeable future. Also, I fully expect the stock to be trading below $2 within the next six months.
The tobacco industry, in general, is a risky long term play and in my opinion Alliance One offers less in the way of upside potential than other stocks such as MO and PM to warrant purchase consideration. Even though the stock looks attractively priced based on its future PE ratio and price to book values, I haven't seen any evidence that the company can reverse the downward trend it has faced over the past several years.
I recommend avoiding this stock as I believe your money will be stuck in neutral or reverse for quite some time, while other tobacco stocks at least offer a high dividend yield to make up for some of the associated risks of the tobacco industry. As always, I suggest individual investors perform their own research before making any investment decisions.
Disclosure: The author has no positions in any stocks mentioned, and no plans to initiate any positions within the next 72 hours. The author wrote this article themselves, and it expresses their own opinions. The author is not receiving compensation for it (other than from Seeking Alpha). The author has no business relationship with any company whose stock is mentioned in this article.