Overview:
Domestic energy production has increased as technology has improved allowing producers to access shale resources. Improving technology has also improved margins at exploration and production companies. Natural gas producers have been handicapped by low domestic natural gas prices. However, companies are racing to build facilities to export liquefied natural gas and allow the sale of natural gas at higher prices available outside of North America. Also, the United States has started to allow condensate exports, increasing the discussion of oil exports in the near term. Meanwhile, geopolitical events are keeping oil prices elevated. Production growth and margin improvement coupled with stable prices have led to record profits for many energy companies. The energy sector has been the strongest performing sector year to date as strong company results have translated into strong stock performance.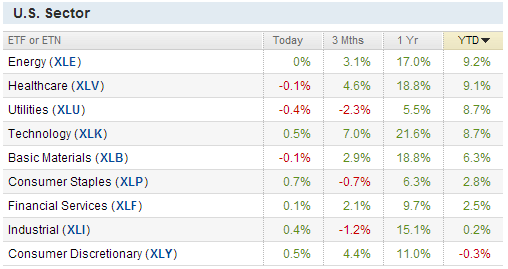 Source: Seeking Alpha
There are several closed end funds that invest primarily in the energy sector. They are all trading at discounts to their net asset value and offer distributions above 5%. These funds are only lightly levered compared to many other CEF categories. This is likely due to higher volatility in the energy space. Most of the funds use options to some extent to generate extra income to increase distributions.
The graphic below lists several metrics that can help quickly evaluate closed-end funds including distribution, leverage, premium/discount, 1 Year Z-Statistic (from Morningstar), historic returns, and fund expense ratios. Data for the Energy Select Sector SPDR (NYSEARCA:XLE) and iShares Global Energy ETF (NYSEARCA:IXC) are also included to provide ETF options for investing in the same space. The ETF results can also be used as a benchmark to evaluate performance.

Click to enlarge
Source: Morningstar
Recent returns for the CEFs have been attractive but the funds that have 3 year and 5 year track records have not outperformed the XLE over those longer time periods. Part of the performance difference is likely related to the higher expenses in the CEFs. Another key issue could be related to call options sold on portfolio stocks holding back performance during the strong bull market over the past five years.
The Petroleum & Resources Corporation (NYSE:PEO) is the oldest and probably the best known closed end fund in the group. PEO started trading in 1929. The fund has the lowest expense ratio in the group and trades at the largest discount to NAV. The fund is also essentially unlevered reducing its risk profile. PEO's performance has been solid recently but middling over the long term. The current 15.33% discount to NAV combined with the 6.23% distribution (mostly made up of capital gains) makes this fund an attractive potential addition at current levels.
The BlackRock Energy & Resources Trust (NYSE:BGR) and the VOYA Natural Resources Equity Income Fund (NYSE:IRR) are options strategy funds that invest in energy and resource stocks. Neither of these funds uses leverage. The funds have expense ratios around 1.2%, which put them in the middle of the group. BGR has posted reasonable returns, but may have been held back by its option strategy. An in depth profile of BGR is available here. IRR boasts the highest distribution at 9.35% and a double digit discount but has shown the lowest long term performance in the group. IRR has underperformed XLE by a wide margin for all reviewed time periods.
The Tortoise Energy Independence Fund (NYSE:NDP) is a relatively new fund, launched in July 2012. NDP targets equity securities of North American energy companies that are engaged in energy exploration and production. The fund specifically targets companies with a significant presence in North American oil and gas fields, including shale reservoirs. NDP has put up strong performance since its launch and trades at a double digit discount to NAV. NDP appears to be the most direct play on energy stocks poised to benefit from energy production increases in North America.
The Cushing Renaissance Fund (NYSE:SZC) is another relatively new fund, launched in September 2012. SZC has shown the best performance of the funds reviewed over the last one year. The fund takes a little different approach to investing. SZC is focused on companies poised to benefit from increased domestic oil production. The fund invests in both the energy companies working to boost their production, as well as industrial companies that are expected to benefit from lower energy and feedstock costs. This is a broader way to invest in companies poised to benefit from the North American shale revolution. This fund could also provide some protection against lower energy prices, as it invests in companies that would benefit from the lower prices as well as E&P companies. The current discount of 8.21%, while above the fund's 1 year average, offers opportunity. This fund appears to warrant additional research.
Conclusion:
The energy sector has displayed strong performance so far this year. Stocks could continue to benefit from increasing domestic production and technological improvement. Energy stocks could also protect against some geopolitical risks that could hurt the rest of the market. However, if production grows too quickly or the economy stumbles it could drive oil and natural gas prices lower hurting profitability. Some of the CEFs in the space currently offer attractive discounts to invest in this theme. PEO is the oldest energy CEF and the current 15.33% discount looks attractive. NDP and SZC are unproven but invest specifically in companies benefiting from energy production growth in North America.
Disclosure: The author is long NDP. The author wrote this article themselves, and it expresses their own opinions. The author is not receiving compensation for it (other than from Seeking Alpha). The author has no business relationship with any company whose stock is mentioned in this article.