For the past ten years, investors have shunned Argentina. This comes as the country defaulted on its debt and has been battling its creditors in U.S. Federal Court. Back in 2002, the country defaulted on its sovereign bonds, and while it's restructured most of this debt, there are a select group of hedge funds that want full repayment. Despite this overhang, smart money is starting to look at Argentina as a favorable country to invest.
Most recently, billionaire investor Dan Loeb has turned his attention to Argentina. In his second quarter letter to his investor, Loeb laid out his thesis for investing in Argentina. He said:
"We believe the holdout creditors and the government are finally likely to arrive at an agreement by year-end. Doing so would undoubtedly benefit the Argentinian economy. Beyond this, after a decade of virtually no foreign investment, an impending change in political leadership at the end of 2015 should lead to more market-friendly policies. This should increase foreign direct investment and boost the economy. We hope to uncover additional investment opportunities in Argentina as it emerges from its long malaise."
Loeb is joining a chorus of other investors that are making favorable bets on Argentina. At CNBC's Delivering Alpha Conference, Fortress Investment Group's Mike Novogratz said investors should bet on the country's stocks, bonds, and currency.
A couple of the best ways to play Argentina for investors are YPF S.A. (NYSE:YPF) and Telecom Argentina S.A. (NYSE:TEO). YPF is the country's national oil company and Telecom Argentina is its leading telecommunications provider. Both stocks are down over 15% since the start of August.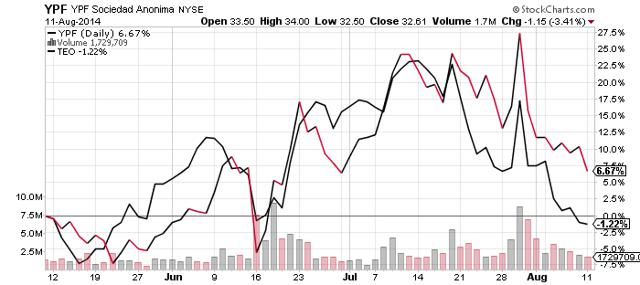 YPF believes it has enough cash and unused credit facilities to withstand a sovereign default that would block it from international debt markets. The company has some $1.5 billion in cash and has a $1 billion credit line with the government. The micro picture for YPF is also very positive. In June, its production was up to 24,000 boe/d, compared to 19,000 boe/d in 1Q.
Telecom Argentina is a leading provider of wireless and fixed line telecommunications services in Argentina. Fixed line makes up about a quarter of revenues, with wireless making up the other three-quarters.
Around 95% of its wireless revenues are generated from Argentina, with the other 5% from Paraguay. Its revenues growth from earlier this year was driven by the increase in smartphone penetration and higher data traffic for Argentina. TEO has also been making investments in higher speed ADSL networks, which should start to gain traction over cable services in Argentina.
Bottom line
Billionaire Dan Loeb is joining billionaire investors Carlos Slim, George Soros and Richard Perry as owners of YPF. Shares of YPF still look cheap. Shares of YPF are trading at only 10.4 times next year's earnings versus an industry average of 13.7. Shares of Telecom Argentina are even cheaper. They trade at just 9.6 times next year's earnings compared to an industry average of 18.7. Both stocks look very enticing for long-term disciplined investors.
Disclosure: The author has no positions in any stocks mentioned, and no plans to initiate any positions within the next 72 hours. The author wrote this article themselves, and it expresses their own opinions. The author is not receiving compensation for it (other than from Seeking Alpha). The author has no business relationship with any company whose stock is mentioned in this article.