All four of the major banks in the U.S. are up over the last five years. These include Citigroup (NYSE:C), Bank of America (NYSE:BAC), Wells Fargo (NYSE:WFC) and JPMorgan (NYSE:JPM). The European counterparts haven't been so lucky. However, for investors that missed the rally, the European banks could be offering a similar opportunity. The iShares MSCI Europe Financial Sector ETF (NASDAQ:EUFN) is down nearly 7% over the last three months. Meanwhile, the Select Sector Financial SPDR ETF (NYSEARCA:XLF) is up 4%.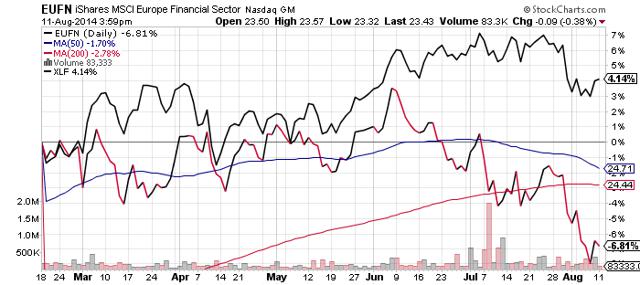 Click to enlarge
One of the leading European banks is actually up over the last half decade. UBS AG (NYSE:UBS) trades at a P/E ratio of 11 based on next year's earnings estimates and a P/B ratio of 1.3. However, two major European banks still trading at discounts to its U.S. peers are Barclays PLC (NYSE:BCS) and Credit Suisse Group AG (NYSE:CS).
And all three of the European banks listed above have grossly underperformed the S&P 500 year to date.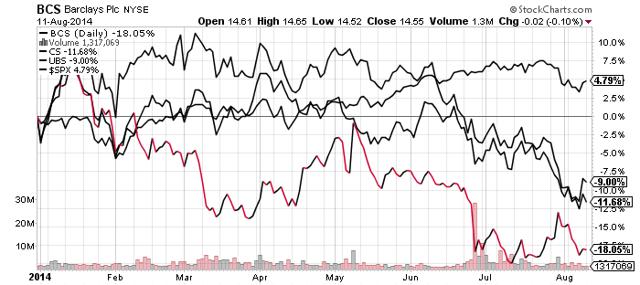 Click to enlarge
Of the three, Barclays could have the most room for improvement, which means the best potential for stock appreciation. All four of the U.S.'s major banks trade at a forward P/E of 9.4 and P/B of 0.74 or higher. Barclays trades at a forward P/E of just 8.2 and its P/B ratio is a mere 0.7. It's one of the cheapest major European banks around.
It's down 18% year to date, more than any of the other major banks listed. In May, it announced a string of job cuts and restructuring of operations to help cut costs.
Barclays has been seeing improvement in the UK, but much of Europe has been weak for the company, especially in the investment bank segment. Barclays believes it can get its return on equity up to 12% by 2016, from the current 3%.
In May, it announced plans to cut jobs to help lower expenses. This seems to be an extension of its 2013 Transform program that's meant to reduce headcount and lower expenses from £16.8 to roughly £15 billion by 2015 end. During 1Q of this year, operating expenses were down year over year.
Credit Suisse is not quite as cheap as Barclays, but still trading at a very compelling valuation. Its forward P/E is 8.6x and it trades right at book value. The other key for investors is that Credit Suisse offers a dividend yield that rivals the major U.S. banks, yielding 2.7%.
The beauty of Credit Suisse is that it's a leader in the private banking market, which is more stable and less capital intensive. It's been reducing its exposure to risk-weighted assets and raising capital, which will be a positive should Europe implement more stringent stress tests.
UBS is working on a similar strategy as Credit Suisse, increasing cost efficiency. It's looking to reduce corporate operating expenses by CHF 1.4 billion before the end of 2015. It's also done a solid job of increasing its capital position.
Since the second half of 2011, the bank has doubled its Basel III common equity tier 1 ratio from 6% to 13%. At the same time it has reduced its risk-weighted assets from CHF 400 billion to CHF 227 billion at the end of the last quarter. It expects its Basel III RWAs to be below 200 billion by 2018. UBS is looking to get its return on equity to over 15% by the start of 2015, which would be more than double its current 7%.
Bottom line
The financial crisis left a foul taste in many an investor's mouth and for good reason. However, for investors that had a steel stomach and invested in banks on the major selloff, they've made a pretty penny. Those investors that have turned their attention to the European market could be set to capitalize on a rebounding banking sector there. The likes of UBS, Barclays and Credit Suisse all trade below U.S. counterparts. European banks have lagged stock price returns over the last few years compared to U.S. and could be poised for a break out.
Disclosure: The author has no positions in any stocks mentioned, and no plans to initiate any positions within the next 72 hours. The author wrote this article themselves, and it expresses their own opinions. The author is not receiving compensation for it (other than from Seeking Alpha). The author has no business relationship with any company whose stock is mentioned in this article.