Just like anybody in the medical field, I come up close with all sorts of drugs and medical devices. As an internist, I get to see nearly the full breadth of medical technologies and medications being made available to our patients, and gain a familiarity with the frequency by which they're prescribed as well as general health trends.
But even though I have that familiarity, I tend to stay away from most healthcare and biotechnology stocks. As the bull market gets longer and longer in the tooth, it becomes harder to find companies with stocks trading below fair value, or at the very least aren't purely speculative plays betting merely on the probability of regulatory approval. That doesn't mean I don't look; it's just that I think that (unlike a few years ago) the bargains aren't there.

But by modifying value screens a bit, one can hit upon some interesting opportunities. I ran the above criteria through Finviz, and stratified results by market capitalization (large, mid, and small). Here are 2 companies of varying market capitalization that appear to be trading below my calculations of their fair value. These are merely quick overviews of the names and how they relate to my field in Internal Medicine, and how I personally see trends shaping up in my neck of the woods.
GILEAD SCIENCES (GILD):
Gilead needs no introduction to regular readers at Seeking Alpha. The biotechnology behemoth is already well know for its bleeding edge treatments for infectious disease, most particularly Solvaldi, its nearly curative, non-interferon-based treatment for hepatitis C. And if hepatitis C were all that Gilead was working on, that would already be a lot. In the United States alone, the CDC, United States Preventive Services Task Force (USPSTF), and National Institutes of Health recommend at least a 1-time screening for hepatitis C for individuals born between 1945 and 1965, and other overseas authorities have issued similar recommendations. As a practicing physician, I can assure you that this has already fundamentally altered the practice of primary care docs-- there are a lot of people who were born in those decades, and a not inconsiderable number of those I've screened in this way I've actually found to have an asymptomatic infection.
Though the overall incidence of new cases of Hepatitis C is thought by the CDC to have dropped to about 17,000 new cases per year, infection rates among young adults may actually be increasing, and overall, the prevalence of HCV seropositivity in the US alone is estimated to be approximately 2.7-3.6 million individuals, not counting homeless and incarcerated individuals. (The long-term liability of untreated disease is nothing to sneeze at, either; even if asymptomatic, 20-80% of chronically infected patients will develop cirrhosis.) If even a quarter of these individuals were treated with Gilead's $84,000 regimen, revenues for Solvaldi alone would reach anywhere from $56 billion to $75 billion over the next several years.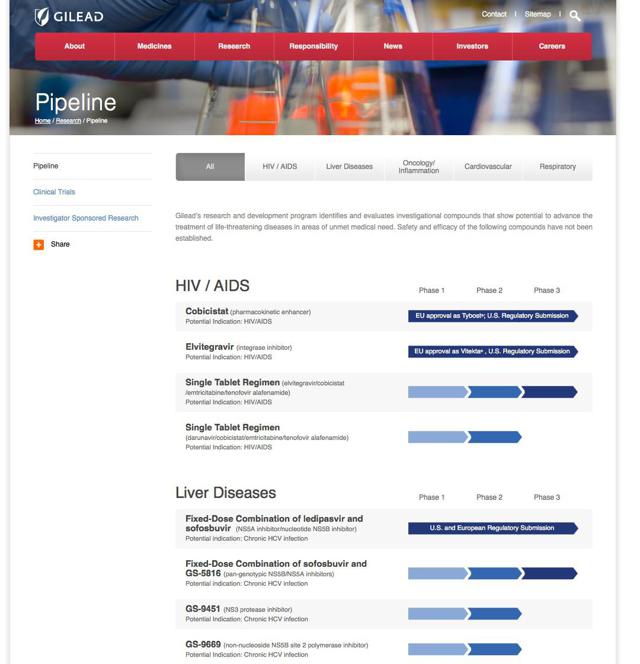 There's more, but you get the idea.
But Gilead's pipeline extends far beyond just Solvaldi. The company's anti-HIV armamentarium is extensive, and an uptick in prescriptions of its flagship medication, Truvada, seems likely after a recent recommendation from the CDC to use the medication as pre-exposure prophylaxis against HIV. My population presently doesn't have a lot of HIV, but I can say from personal experience that while I was training, this recommendation would have been HUGE for a number of my younger patients. And while the company faces revenue and margins pressure in the next few years with patent expirations and increased competition in the burgeoning HCV marketplace, Gilead's extensive pipeline into HIV, liver diseases, and orphan conditions like idiopathic pulmonary fibrosis (e.g., simtuzumab, a LOXL2 inhibitor that theoretically combats connective tissue formation) suggests that its growth days are far from over.
Quick Valuation:
Using my base/bear multi-stage DCF model, I estimate a FVE for GILD of approximately $92-116, with an average value of $100. I assume an 8.5% cost of equity. I believe increased emphasis on HCV screening continue to drive use of Truvada, which should only become more palatable as interferon-free regimens become the norm. Though I doubt that the CDC's Truvada recommendation will alter the HIV drug landscape considerably, it should offset strong competitive threats from Glaxo, and Gilead's future HIV medications should also be able to shoulder the load once Truvada's patents expire in a few years (2018).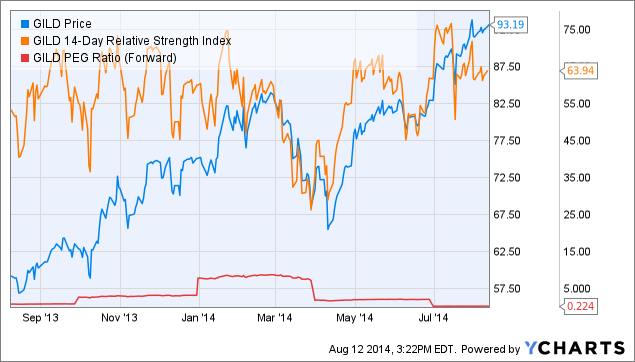 What is truly impressive about GILD at this point is that the potential growth has not yet been truly baked into the stock price yet. Though the stock is only just slightly below my estimate (and consensus estimates of $110, according to Finviz), the stock trades with a current PEG of 0.85, and forward PE of about 10-11 (my own estimates are a little less rosy, with a forward PE of about 13-14, but that's still pretty awesome for a growth stock like GILD). Reverse DCF suggests a priced-in 10-y EPS CAGR of 13-15%, which does seem well within GILD's grasp, but certainly isn't setting the bar very low, either.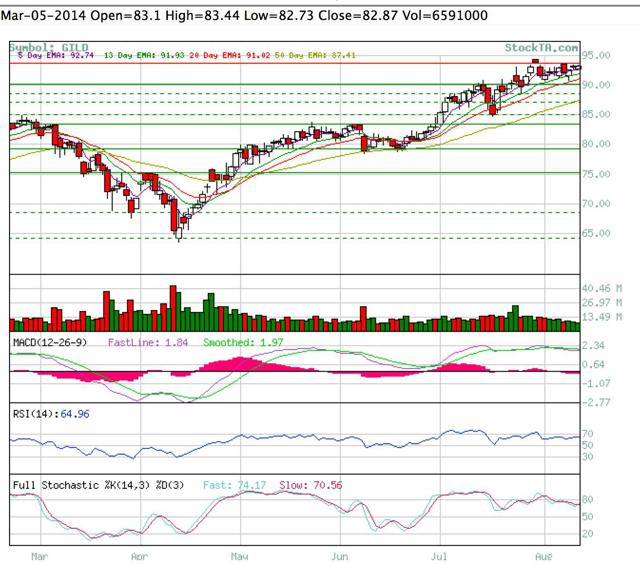 Without doing a deep dive into GILD's patent cliffs, competition, and other risks, it seems that the name is at worst fairly valued at present, and offers material upside at this time, though with the RSI being where it is, and the MACD starting to show some weakness, a better entry point may come in a bit. Certainly this is a name worth doing some more due diligence.
Resmed (NYSE:RMD):
As big as Gilead's potential HCV market is, there's an even "bigger" market in healthcare that I encounter on a daily basis. I'm talking about the diseases associated with obesity, natch-- and while everybody thinks about diabetes, hypertension, and heart disease in relation to obesity, there are other health risks associated with America's growing waistline. Don't get me wrong; I spend most of my days in clinic dealing with these first 3 problems, but I almost inevitably end up asking my patients, who almost uniformly have BMIs of over 30:
When was the last time you had a sleep study?
Since I've been doing this for a while, most of my patients have been studied within the past few years, but a considerable number of patients who come to me complaining of daytime fatigue, frequent napping, and non-restorative sleep still have never even considered the possibility that they might have obstructive sleep apnea. But the statistics say that they should at least think about it. OSA is a disease inherently linked with obesity, as increased body mass (particularly, around the neck and thorax) and decreased elastance of airway connective tissues result in airway collapse, nocturnal hypoxia, and with it, disturbed sleep and pulmonary hypertension. The disease is easy enough to visualize: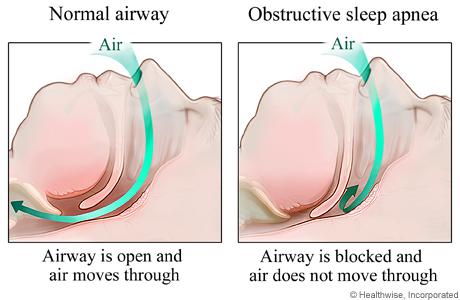 Yeah, it's pretty much that simple.
Studies conducted as recently as 2009 and 2013 indicate a North American prevalence of disease between 20-30% in males and 10-15% in females. Granted, the definition of disease here was rather broad (an apnea-hypopnea index greater than 5 events / hour), but even with stricter restrictions (say, an AHI of > 15 alone or AHI > 5 with symptoms), OSAS is pretty much everywhere, in about 15% in males and 5% in females. If we simply extrapolated this number to the general population of the US over age 18 (I know, I know, multiple statistical fouls here), and assumed that even only 25% of those people received treatment for OSAS, that's still over 6 million potential patients who will need treatment for OSAS for a long, long time.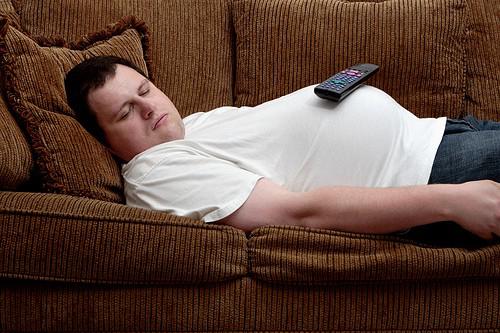 No joke, this is my typical patient.
That's where companies like Resmed come in. Resmed is a leading manufacturer of medical devices specifically designed to treat sleep apnea (though it does branch out into other devices designed to treat other breathing disorders). It designs and manufactures nasal and full face masks and other components for continuous positive airway pressure therapy. The concept of the therapy is just as straightforward as the disease: force air down the patient's throat and literally splint the airways open.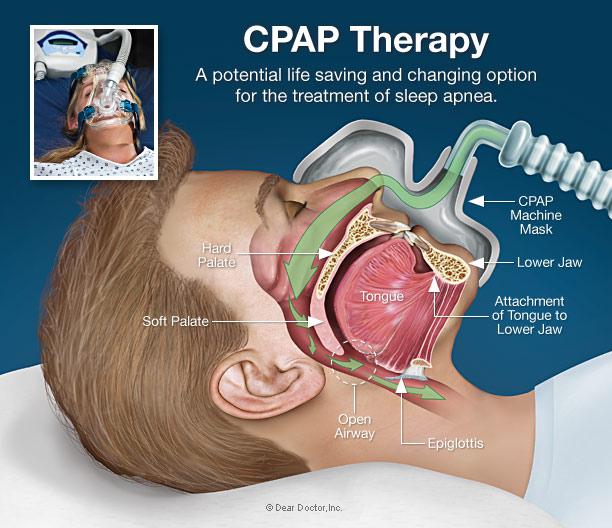 If the guy in the cartoon looks very calm, it's because he's sleeping for the first time in years.
Well, if the treatment is so darned simple, what makes Resmed so special? It comes down to fit and technological expertise. After I've referred one of my patients for initiation of CPAP therapy, I ask them if they're actually using it. And more often than not, their initial answer is:
No.
Their complaints vary, but they generally hate wearing their CPAP because, frankly, the masks are scary and uncomfortable. If you've never worn a CPAP mask, I suggest you try it on: It's like wearing a soft plastic version of the face-hugger from Aliens. Oh, and because the thing is forcing air down your throat, just like in space, nobody can hear you scream.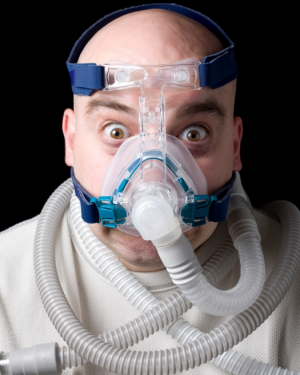 Kinda like this.
So really, the only way for me and other docs to get our patients to wear these hideous, horrible, life-saving devices comes down to one thing: comfort. Though the CPAP/BiPAP devices industry could become commoditized rather quickly, Resmed differentiates itself through advances in mask design and respirator functions that provide instant feedback to patients regarding their CPAP efficacy and other aspects of care.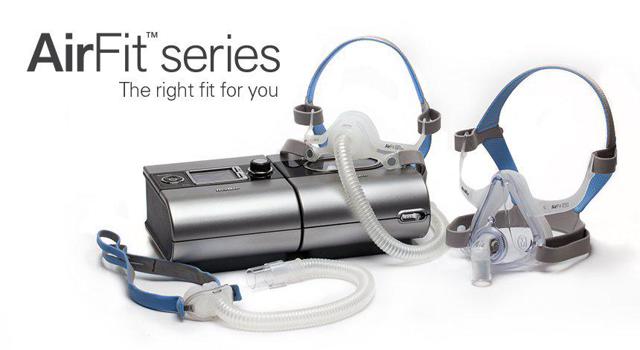 Don't let a little thing like "comfort" make you think that this is small potatoes. Patients develop loyalty to their respirator brands, and even small bells and whistles (such as the ones that Resmed offers) make a big difference in terms of how often patients use their machines-- which is directly related to the health benefits they'll get from them. And though the Affordable Care Act will probably affect device selection for many future patients, Resmed's continued innovation will likely continue to drive brand loyalty and, with that, excellent returns on capital.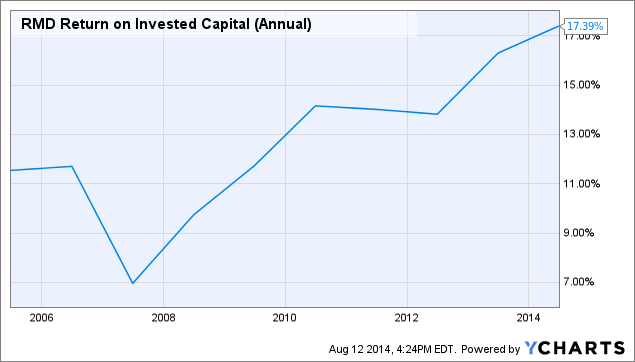 RMD Return on Invested Capital (Annual) data by YCharts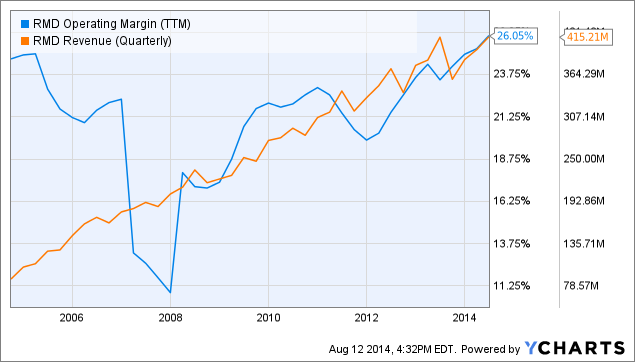 RMD Operating Margin (NYSE:TTM) data by YCharts
And it's not as if there's not continued room for growth for RMD. If NHANES is right, we Americans are only getting fatter.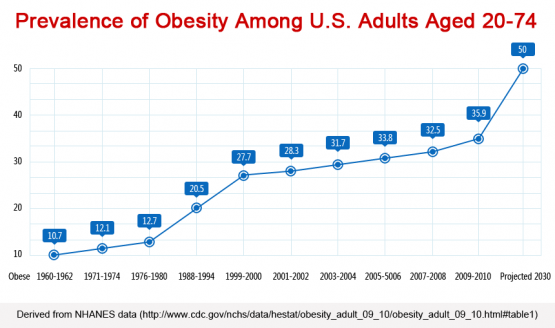 There's nothing I can add to this graph. I mean, that's just terrifying. I mean, an exciting business opportunity.
So, a rapidly growing market, sticky customers, growing margins, and steadily increasing revenue stream. What's it worth?
QUICK VALUATION:
My fair value estimate for Resmed is about $56 per share. Again, using a Base/Bear multi-stage DCF model, with a 9% cost of equity assumption, I model steady revenue growth to grow by at about a 7% CAGR over the 5-year forecast period, as obesity trends continue in the US and as the ACA drives an increasing number of obese patients to be screened for OSAS by their primary care physicians. I project margins to hold steady at their current levels as increased late entry competition heats up, placing pressure on additional growth, though I expect brand loyalty to continue to bring RMD's patients back to their favorite devices. The FVE implies a forward PE of about 23, slightly below the historical blended PE of 26.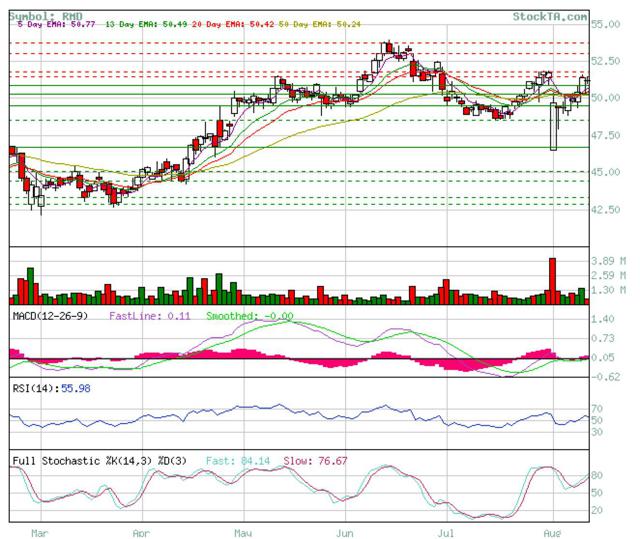 Short-term, looking at the technicals, the RSI is in moderate territory, but the MACD is starting to pick up some steam. There seems to be some good support in the $49-50 range, which would offer about a 10% margin of safety from my personal FVE.
Conclusion:
Speaking purely from my own personal experience, I can say with some authority that secular trends favor continually increased screening of patients for HCV and OSAS, which in turn will drive increasing numbers of patients to treatments for these diseases. The market, so to speak, for GILD's and RMD's products is growing. Though both of these companies face execution and regulatory risks that I didn't get into here, they both appear to be trading at relative discounts to fair value estimates of $100 and $56, and I'm personally going to do a bit more due diligence on them, and possibly initiate a position when the margin of safety improves a bit more.
Disclosure: The author has no positions in any stocks mentioned, but may initiate a long position in GILD, RMD over the next 72 hours. The author wrote this article themselves, and it expresses their own opinions. The author is not receiving compensation for it (other than from Seeking Alpha). The author has no business relationship with any company whose stock is mentioned in this article.